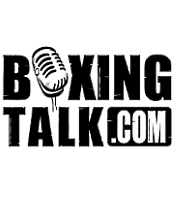 It's been four weeks since I stepped out into the big, bad world of boxing promotion on my own in order to join my brother Eugene in the family firm, Maloney Promotions.  In that time, I've regained my enthusiasm and love for the sport. I've been to a number of shows that I wouldn't have bothered going to before, including a couple of amateur events. I've spent a lot of time in the gym, watching young fighters train and I've also spent a lot of time talking with them.  My phone is ringing twenty fours a day and I'm constantly out and about meeting people, talking to sponsors and speaking with the press.
For me, it's like starting all over again. The first time around, in 1989, I signed an amateur heavyweight by the name of Lennox Lewis and took him to the undisputed heavyweight championship of the world.  Now, I dream of discovering another world champion to go along with the three that I've already developed, Lennox Lewis, Paul Ingle and Scott Harrison. Maloney Promotions have a few fighters in the stable who could fit that bill, such as Graham Earl and David Haye, who we believe carries the potential of a unique double world title opportunity in the cruiser and heavyweight divisions.  I find that David is a very good listener and seems to understand the business of boxing while he and his people are keen to discuss ideas and learn.
Probably the most exciting result I've had since going independent and joining my brother has been Graham Earl's win over world ranked lightweight Yuri Romanov.  The incentive to prove his detractors wrong helped Graham sharpen his determination to a whole new level and 48 hours before fight time, he told me that the only way that he could lose to Romanov would be if he were to be carried out on his shield. When the referee, Richard Davies, held Graham's hand up in victory, I allowed myself a very large smile because if the decision had gone the other way, there would have been a number of people out there waiting in line to crucify me.
Graham's total focus and resolve reminds me of an instance in 1993 when Don King, speaking to his fighter Tony Tucker in the ring after a loss to Lennox Lewis in Las Vegas, said, "You should be ashamed of yourself! You got the chance to fight for the world heavyweight title, the chance to bring pride back to America, yet you lost to a limey! You should have laid your life on the line and gotten carried out on your shield. You're a disgrace!"
Graham Earl wasn't fighting for anything close to the purse that Tucker was receiving to face Lewis but he put up the performance of a heavyweight champion. Graham has been signed with me since he was 18 years old and I must admit that it felt great to watch him put on such an excellent performance to beat a dangerous fighter like Yuri Romanov. I've made a promise to Graham that as long as he beats the European Champion, which I fully believe that he is capable of doing, he will fight for a major world title by the end of the year as believe that he will become a world champion.
With Earl's win against Romanov, he certainly made Maloney Promotions stronger.  Even this past weekend in Manchester when I was watching our fighter, Ali Nuumbembe, in the ring, I had people come up to me saying how much the enjoyed Graham's win over Romanov and how it was one of the best performances they had seen by a British boxer in a long time.
Over the last two years, Earl has been nominated for fight of the year but maybe this time, he may actually win that award. But Graham and I know that if anything goes wrong in this next fight that everyone will forget the result of the Romanov clash and all of his dreams will go out the window.  That is the cruelty of boxing, much different from English soccer or even American football, in which the athletes can lose one game and it's not the end of the world as they have next week to make up for the result. 
Boxing is unique in sport in regard to the athletes being judged on their most recent performances and if a fighter loses, they find themselves dropped out of contention to participate in the major fights. That is why doing things at the right time is so important in boxing, and like other managers in my position fully know, they and their fighters have to live with the decisions that are made. 
Getting back to the present, March, or "March Madness" as we're calling it, looks like it will be a busy month for the Maloney organization, kicking off with British Bantamweight Champion Martin Power at the York Hall in London on March 10th, David Haye's first European title defense on March 24th at the same venue and then the fight the whole of Britain is talking about, Carl Froch vs. Brian Magee at King's Hall in Belfast on March 31st for the British and Commonwealth title.
And over the next few days, Maloney Promotions will make a major announcement for our British Light Middleweight Champion Jamie Moore, who we have very big plans for. Stay tuned to my website,
www.frankmaloney.com
, for more.
These are the sorts of things that I'm really enjoying again, the wheeling and dealing and the signing of young fighters. Over the last couple of weeks, I've signed four or five young amateurs including a six foot seven inch, 19 year old heavyweight called Scott Belshaw, from Lisburn, Northern Ireland who will be making his pro debut on the Froch - Magee card. 
I for one know that I'm only as good as the fighters that I sign and the results that they deliver in the ring. I can make all the noise that I like in the papers and on websites but if my fighters fail to deliver in the ring then I will end up with a lot of egg in my face as my reputation goes down hill and people will say that I wasn't strong enough to stand on my own.
If there's one thing that I've learned during my years in this business, it's that people will line up to take credit for a win while no one wants to take responsibility for a loss. As the late John F. Kennedy once said in a speech - "Victory has a thousand fathers, defeat is an orphan."