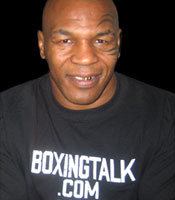 The minute I heard word from Showtime announcer Steve Albert that Mike Tyson wouldn't be coming out for the 6th round against journeyman at best, Kevin McBride I realized that now, more than ever and once and for all, the ride Mike Tyson has given boxing would be coming to an end for good. I've never been one of those delusional hardcore Tyson maniacs who believe that Tyson, in his prime, would have steam rolled greats such as Muhammad Ali, Joe Frazier, George Foreman and Joe Louis.
Instead I've always liked to see myself as a rational and truthful fan of Mike Tyson. And the truth is that after James "Buster" Douglas sent Tyson's career crashing down with an uppercut that would have broken any normal mans neck in Tokyo in 1990 Tyson's career was finished. Anything shy of his two wins over Razor Ruddock wasn't the Mike Tyson I grew up watching.  That Tyson was consumed with material goods and women when he should have been spending his time in the gym perfecting the craft that changed his life.
The list of excuses for Tyson and why his career has ended the way it has is longer than the wait list for season tickets to Green Bay Packer football. We have all heard that Tyson was manipulated by his friends and former wife Robin Givens or that Don King was responsible for putting Tyson up to firing his longtime trainer Kevin Rooney or that he was justified in biting Evander Holyfield's ears or in trying to break Frans Botha's arms.   But excuses don't become reasons just because you're famous and you can knock someone out with either one of your hands.
I've tried telling that to other Tyson fans that I've grown up. Each one of them has an excuses as to why Tyson lost all six times.
In Tokyo, at 42-1 odds it was that Tyson was more focused on Japanese women than Buster Douglas.   I can't forget the "Long Count" protested by Don King.
Against Evander Holyfield in the first fight it was the dirty tactics used by Holyfield and his noggin.  The rematch was the same story.
Lennox Lewis beat Tyson down for 8 rounds because Tyson was drugged.
Englishman Danny Williams got lucky with Tyson hurting his knee in the first round.
And now with Kevin McBride the story is that Tyson just got old.
Put whatever you want into the excuses for Tyson's defeats.  But what people have to realize is that when you sign your name on the dotted line you had better come to fight. Whether or not you're in your prime or not, you are going to be in a fight and if you can't perform how you should then you shouldn't be fighting. Mike Tyson is sadly learning this the way other greats like Muhammad Ali and Joe Frazier did.
Yet last night when Tyson lost I wasn't even shocked. In fact, I don't think I really cared too much that he had just been beaten by the biggest duck in the heavyweight pond. The only thing I could think of during all of the excitement of Tyson losing was everything that Tyson has meant to me, my family and our friends.
From the time Mike Tyson left the jail in Indiana in March of 95' to the time he was quitting on his stool against Kevin McBride I have been connected to the people around me in a way that only the sport of boxing or a fighter like Mike Tyson can connect someone. Through it all we never cared about Tyson breaking records or being regarded as the best fighter to ever lace up a pair of gloves.  Sure, those accomplishments were nice to have, but Mike Tyson meant so much more.
What Tyson meant was that every Saturday that he fought there would be a big get together. My family, my neighboors, my aunts and uncles and all of our closest friends would chip in to cover the usually high Pay-per view expense to order the fight. It didn't matter if Tyson was fighting Bruce Seldon or Lennox Lewis. There would be a great get together with everyone regardless if you followed boxing or only knew of Mike Tyson as being "the guy who bite the other guy." You were invited even if you wanted nothing more than to see Tyson get his block knocked off.
I would sit in the living room with everyone and listen to my Grandpa tell me stories about 'the good ole' days of boxing." He would tell me how exciting a young Tyson was but wouldn't hesitate to tell me how Muhammad Ali - his favorite fighter  - would have 'whooped him a good one."   My Uncles would argue over the pound-for-pound lists for hours up until the main event featuring Tyson would start. My friends would make sure the VCR worked because it was a must to tape the fight so later on we could all watch the usually devastating knock out over and over again.
The years have passed and it became evident that Tyson was never going to be a great fighter again.  He would still revolutionize the pay-per view industry like no other athlete has ever, but that doesn't make you a champion in this sport.  Despite everything, Tyson-McBride was still treated like every other Tyson fight that I've been apart of.  It was more like a monthly holiday every time Tyson would fight and now with McBride finishing off Tyson it's apparent that those days are gone.
The memories are what I will be left with. I will never forget the Tyson-Golota fight landing in Auburn Hills, Michigan, which is only about two hours away from Grand Rapids, where I live.  That wasn't the greatest fight I've been to live, but to see Tyson live is something every fan should be able to experience.
Boxing didn't begin with Tyson and it's not going to end because his 20 year career has likely come to an end. But fight nights are going to be different for me because Tyson was the wick that sparked my passion for the sport. I'm sure I'm not the only one who can relate to what Mike Tyson has done for the fans of boxing. With the good and the bad, in the end Mike Tyson is going to be missed.  Probably not today or anytime soon. But when it's all said and done, if you've seen Tyson there's a good chance you will have a story to tell someone who missed out on his era.
Send questions and comments to: tyson180@aol.com