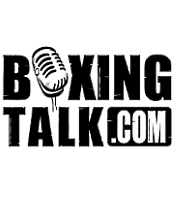 Part 1: Co-manager Gary Gittelsohn
On Thursday, Kingsley Ikeke will make his HBO debut on HBO Latino's Boxeo de Oro. Ikeke (#16 in the Boxingtalk ratings at middleweight) will face little known Rene Arostegui, a fighter of so little repute that Team Ikeke could find no film of the power puncher for Kingsley to study. In the last two days, Boxingtalk was able to get Ikeke's thoughts on the upcoming fight and where he stands in the middleweight division. We also had the opportunity to speak with Gary Gittelsohn, formerly a silent partner with Nelson Oliveira in managing Ikeke but who has now emerged publicly as Ikeke's co-manager. In part 1 of this series, Gittelsohn explains how he became involved with Ikeke and what is happening with some of his other clients, Brian Viloria, Clarence Vinson, Luis Perez, Jerson Ravelo, Rosendo Alvarez, and Fernando Montiel.
SOG: Gary, as you know I have been doing a lot of things with Nelson and with Kingsley over the last year or so.
Gary Gittelsohn: I think Kingsley is just a terrific talent. Unfortunately not many people know about Kingsley. He is really the best of the unknowns and we are looking to correct that by getting him into the conscious of people and one of the best ways to do that is by getting him on this HBO Latino main event.
SOG: Now, I do not know much about his opponent. I know he is a big puncher.
GG: Well, he has a gaudy record. We do not know that much about him either. In fact we have not been able to get any film on him, but our intelligence suggests that he is a big puncher, a durable guy, but at the same time he has never faced anyone really in the class of Kingsley. We are very confident with what we have with Kingsley. At this point, I do not know if there is anyone that we would avoid with Kingsley. We are that confident of him.
SOG: When did you first start to take notice of Kingsley?
GG:  I first started noticing Kingsley, I guess about one and a half, two years ago in a meaningful way. The first time I had ever been exposed to Kingsley is I watched him when he fought Anthony Hanshaw on an ESPN show which was a highly disputed loss for Kingsley. Most of the viewing public felt that Kingsley was robbed, that it was a hometown decision for Hanshaw. It really stuck in the back of my mind that this was really a surprising result as I thought Hanshaw was a very capable fighter, especially then, and I thought he would have a much easier time. I had not heard very much about Kingsley at that time and when I saw him outbox Hanshaw I kind of took notice of him. I took notice of him again while he was sparring at Freddie Roach's gym in Los Angeles and everyone would kind of stop doing what they were doing to watch him, because he is just an unusual physical specimen. You just do not see many 6' 4" middleweights and I saw that he was really doing a lot of damage to his sparring partners and that he was really comfortable in the ring and it came a point when I saw him sparring with Shane Mosley when he was preparing for one of his fights with Delahoya and Kingsley was pretty much having his way with Mosley and I thought, man this is really something. So Nelson (Oliveira) began talking, and he shared some of his frustrations with moving Kingsley the right way, and I immediately liked Nelson and we became friends and I made it my business to help him with Kingsley. To get him to a place where he wanted to be. I helped them negotiate a settlement when Felix Sturm pulled out of a contract to fight Delahoya and as part of the settlement we worked out a favorable promotional agreement with Golden Boy and they have been living up to their end of the bargain.
SOG: Nelson is a very good guy, and I know what you are talking about when you say you like him immediately.
GG: He is great, and he has been such a loyal soldier to Kingsley. He has been so instrumental in helping Kingsley. He reminds me of when I first started managing boxers. He so dedicated and loyal and faithful and he is exactly the kind of partner I love to have.
SOG: Every now and then I will write something about Jermain Taylor and Nelson will call me laughing because he cannot believe they put it on the site.
GG: Well, you know look. Jermain is a very talented guy and I love Jermain, but I think there are certain glaring deficiencies in Jermain's record, and I am not saying that Jermain is not a future world class star, I believe he is but he has not been really contested. He has not had a steady diet of middleweights, and some could argue that he has never faced a middleweight. Even fighting Joppy some year or so since his last fight, which was a complete destruction by Bernard Hopkins, and Joppy is a very small middleweight it is once again a junior middleweight that was very carefully hand picked. At some point Jermain is not going to be able to pick his opponents, and we will hopefully see Jermain move to another level of his career which I feel he is capable of.
SOG: As far as Thursday night goes, this is the chance for Kingsley to make a statement. If he makes that statement, what direction are you heading towards?
GG: Well, we are positioning Kingsley for a couple of things. One of those things is that the HBO people will be down there and we going to introduce them to Kingsley up close and personal so that when they are in a position to comment on perspective opponents for Jermain Taylor or Bernard Hopkins or for any major middleweight fight the name of Kingsley Ikeke will come to their lips. So first and foremost, we want to introduce Kingsley to HBO so they can see him fight and secondly it is a wonderful opportunity because the WBO convention is in Florida at the same time and we intend to continue to position Kingsley higher in all the ratings associations so that when the opportunity comes along for a mandatory position or a world title fight or a elimination bout for a mandatory slot we will be able to get that.
SOG: You have a lot more fighters out there that are making moves, how is everything going with them.
GG: They are great, everything is fine. Brian Viloria is ranked number two in the world and will be fighting for a world title this year. The WBC has just ordered that he fight Luis Maldonado for the right to be the mandatory to fight the flyweight world champion Pongsaklek Wonjongkam. Brian is going to be fighting on December 4 on the Showtime card. He will not be televised, but he will be on the undercard of Castillo-Casamayor. Clarence Vinson is going to be fighting, for  I think the NABF bantamweight title, on November 18. I think it is a Univision fight on Golden Boy's card in Corpus Christi. Jerson Ravelo just came off a nice win in Las Vegas and we are looking for another fight for him to get him back up and running after a layoff due to injury. Rosendo Alvarez lost his title on the scales in his last fight and is looking to fight at 112 pounds now, and we are talking with Don King about that. I have Luis Perez who is the IBF 115 pound world champion and we are looking to get him a meaningful title defense in the coming months. Fernando Montiel is campaigning to get back his 115 pound title that he lost to Mark Johnson and we are hoping to get the guy that beat Johnson [WBO titlist Ivan Hernandez] in the ring in the next couple of months and we are making some real progress there. So everyone is working, everyone is making money, and they are moving in what I feel is the right direction.
SOG: I was going to ask that about Montiel?
GG: He is a great talent and he had a bad night against Mark Johnson. It was the worse night of his career and it was still a split decision. We were scheduled to fight Mark Johnson on the Morales-Barrera undercard as the co-feature on the PPV card, but Mark Johnson went ahead and lost his title to Choko Hernandez and as a result the fight is not meaningful anymore. We offered the fight to Hernandez, but he does not want to fight Montiel, so we may be going to the WBO convention to petition them to position Montiel to face Hernandez as quickly as possible. If not Hernandez, it will be one of the other 115 pound world champions.
SOG: Gary, thank you for taking the time to speak with me about Kingsley and the rest of your fighters and I wish them all luck in the future.
GG: Anytime Jeff, you stay well ok.
CLICK HERE FOR MORE OF THIS EXCLUSIVE INTERVIEW
Send questions and comments to: stateofthegame@yahoo.com