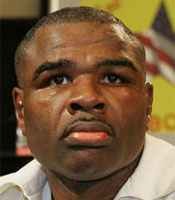 In all the sports known to man, it's doubtful that any of them perpetually symbolize the 'here today, gone tomorrow' world we inhabit more than the sport of boxing.  Or, if you'd rather your world be stereotypically summarized with a different catchy phrase, try: 'what have you done for me lately'.  And so, understanding all of this, enter Glen Johnson.  Ever the fighter, ever the courageous warrior, always willing to fight, no matter where, no matter who, regardless of any odds, Glencoffe Johnson, aka The Road Warrior, is doing what he does best this Friday; he's fighting to keep from falling into the abyss of boxers who took center stage in the world of pugilism, only to be off stage moments later.
You may, or rather you should remember Glen Johnson, the all-action all the time light heavyweight who exploded into the public's conscious with a brutal knockout of none other than his 'Royness' Roy Jones Jr. back in 2004.  Johnson followed up that victory with the only natural fight out there for the public, a duel against the man who had 'beat him to the punch' in punching Jones' ticket out, the Magic Man, Antonio Tarver.  Assuming his typical role as underdog (as if that description has ever fazed him), Johnson once again surprised the 'experts', outworking a perhaps overconfident and certainly rusty Tarver over twelve rounds to take a split decision in December of 2004.  As reward for his back to back wins over two of boxing's biggest stars, Johnson was dubbed the fighter of the year in 2004, in addition to being the undisputed light heavyweight champion of the world.
After so many years of fighting on boxing's undercurrent, as the out of town fighter who often got jobbed by the judges, Johnson, thankful for his opportunity to fight for the undisputed world titles, returned the favor to Tarver.  This time, things would be different as Johnson would end up losing his belts in June of 2005 via unanimous decision, against a better conditioned, more serious version of the 'Magic Man', Tarver.  But even still, in three fights with Jones Jr. and Tarver, Johnson's record will always read 2-1, with 1 knockout, and frankly, that ain't bad.
But in spite of all this, when Johnson returns to the ring (at the Seminole Hard Rock arena in Hollywood Florida) following a knockout over George Khalid Jones this past September, he won't be doing so on a world stage platform, where he arguably still deserves to be.  Knowing this, Johnson is hoping that his performance against fellow Jamaican Richard Hall, will merit a return to the cable networks, or larger pay-per-view cards. 
But before Johnson can claw and scrape his way back to a spotlight that should have never left him, he has to get past the hard punching Hall, which is far from a guarantee, as one look at Hall's ledger indicates (25 knockouts in his 27 wins against only 5 losses).  But facing tough fighters who aren't particularly well known comes about as natural to Johnson as any other fighter in the sport today.  Johnson has always marched to the beat of his own drum, which even at 37 years of age, beats pretty fast and at a relentless pace when he's in a boxing ring. 
Those who will be tuning into Johnson's pay-per-view card this Friday, are probably hard-core boxing fans who appreciate true fighters, in every sense of the word, more so than big mainstream names, such as two fighters I can think of who will be squaring off the very next night in Las Vegas.  Regardless of whether Johnson is appreciated by hard-core boxing fanatics, or whether his pay-per-view card will go largely unnoticed while it competes with the big show about to go down in Las Vegas Saturday night, Glen Johnson deserves to still be on center stage, and this scribe hopes, that he's afforded a chance to see Johnson in action against another marquee-name opponent before this old school warrior decides to hit the road, for good (dedicated to Simon Youssef and to John and James Thorsen).