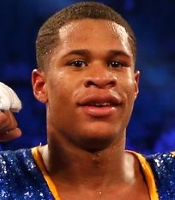 Greg Leon: It's been a while since we had you on Boxingtalk, so first of all congrats on your recent victory over Zaur Abdullaev. Give us some thoughts on that performance. Devin Haney: "I thought that my performance was good. I went in there and did what I had to do. I was just warming up and getting into my groove when the fight was stopped." Greg Leon: At what point in the fight did you know it was just a matter of time before somebody was going to have to stop the fight? Devin Haney: "I knew between the first and second round that it was way too easy to hit him and he was unable to get out of my range."
GL: Now you're coming right back on November 9th because you didn't take too much damage. Tell us all about it.
DH: "I ain't take any damage in my last fight so I'm right back. I feel good, I want to stay active."
GL: Who will you be fighting as you make the first defense of your interim title?
DH: "As of now we're waiting for the WBC to franchise Vasiliy Lomachenko [make him the WBC franchise champion] and I'm going to become the world champion and that's what it looks like is going to happen. It would be the actual world title, but I actually don't know who I'll be fighting just yet."
GL: If they make Lomachenko super champion or whatever other champion they want to call him, would you consider yourself the world champion if your status just got elevated as opposed to winning it the old fashioned way?
DH: "Of course I wish I could win it the old fashioned way, but it's been my dream to become world champion and I won't let nobody take it away from me. I've worked for this and when I fought for the interim title I knew the title could bump up and become the world title and I'm just so happy right now."
GL: What do you have to do to improve as a fighter?
DH: (long pause) "At the end of the day I'm a perfectionist and I want everything to be right. My last two fights have been great performances, but of course there's always room for improvement. One day you go into the gym and look master one thing and then the next day it's something else. I'm just always looking for ways to get better in all areas."
GL: I think you've been looking special. The only question mark is what happens when he gets hit by a good fighter? It's not something you're looking to show us, and you may go you're entire career without showing us, but that's my only question when it comes to you.
DH: "I want you to be wondering that my whole career. I want you to wonder what would happen if I got hit my whole career, so it's a good thing to me and I take it as a compliment, so thank you."
GL: You're welcome. Where are you next year at this time?
DH: "I'm happy that it's looking like I'm going to become world champion so that's a big accomplishment. I just want to fight the best fights possible and be in the biggest fights, I'm ready so let's do it. I want to move up to 140 eventually and get a title there, so hopefully by the end of 2020 I'm getting a world title there too."
GL: How much longer can you hold 135?
DH: "Another two or three fights. Not much longer though. How do you think I looked at the last weigh in?"
GL: Good memory. Much better. In the two fights before that one you looked dead on the scales, so whatever you're doing keep it up!" When do you see yourself topping a pound for pound list?
DH: "If I get a fight with Lomachenko and beat him. I know a lot of people think he's the best guy in the game right now so when I beat him they've got to put me at number one. Maybe that fights happen in 2020, it could be never, that's up to him."
GL: Closing thoughts for the fans.
DH: "I'm right back on November 9, tune in to DAZN. I'm going to put on another show and then look to make the biggest fights possible going into 2020."
Send questions and comments to: boxingtalkg@yahoo.com