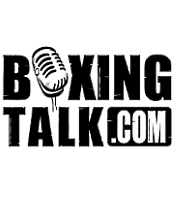 Reminiscent of a prime, muscular built-Evander Holyfield, the man who defeated the Real Deal last October, James "Lights Out Toney is looking leaner and meaner than he has in years.  Going through sparring partners quicker than Rosie O'Donnell goes through an all-you-can-eat buffet, Toney had the time after a recent training to speak with BoxingTalk about his Thursday bout with the undefeated Rydell Booker.  The always colorful Toney spoke with BoxingTalk about what a victory against Booker will mean for him, what the future of the heavyweight division is in store for, why he wants to  fight Vitali Klitschko and Mike Tyson, and his dreams of duking it out with announcers Larry Merchant and Jim Gray.  This is truly one interview you do NOT want to miss.
BoxingTalk: This is Darren Nichols from BoxingTalk with James Toney.  James, first of all I saw you a few months ago at the Kirk Johnson fight – you were there as a spectator - you look in tremendous shape now.   It looked like you were relaxed a little bit then, but now you look in tremendous shape.  What did you do to get ready for this fight?
James "Lights Out" Toney:  Well back then…when was that?  That was in July right?
BT:  Yeah
JT: Back then I was in the process – I had just got the OK from the doctor, from Doctor David to go full strength in my training and since then I've been full go.  Everyday, fourteen days on, one day off.  Training to stay well, you know.  I've had a great camp.  No complaints.
BT:  Very good.  Now, you are going to be fighting in just a couple weeks.  Are you ready to go?  Could you fight right now if you wanted to?
JT: If I wanted to fight right now I could.  I'm ready to go.  I'm training with the best trainer in the world Freddie Roach.  I have a great camp behind me, and my pops are harder.  I got a great camp around me.  We all…we're focused.  That's the most important thing.  That's what I'm saying for this game, is focus.  Stay in focus, and get ready for Klitschko.
BT: Now you got Rydelll Booker, one of the things going for him is that he's undefeated…22-0.  How are you preparing for him?
JT: Rydelll Booker, he scares me.  I ain't lying to you.  He's undefeated with 12 knockouts is impressive, but I'll be ready 100%.  I'm ready to go.  I'm focused.  Like I said, focus is the main thing.  If I'm not focus then we have problems.  We're focused. 100%.  He's a good fighter.  Everybody is tearing him up because they don't know what he's done, but you know, that's them.  Everybody rises to the occasion to fight James Toney. 
BT:  You know, I've never heard you say those words before:  "He scares me."  Does he really scare you in any way?
JT: No, you know I'm just playing with you man.  That guy don't scare me.  I ain't scared of nobody.  I'm scared of nobody but the Man upstairs - enough said.  Rydelll Booker is good, he's a good credible opponent.  I'm looking forward to him showing up, and I guess he's been saying that he's going to jump on me, he's not scared of me, and not intimidated by me.  Come fight night things are gong to change.
BT:  Is [Vitali] Klitschko a possibility for December?
JT:  No, we're talking about fighting Klitschko in April.  He's going to be fighting Danny Williams, and I'm going to fight somebody credible, but I'm not looking forward to that right now…right now I'm all about Rydell Booker because that's who I've got to handle right now.
BT: If you had a chance would you like to get Larry Merchant and Jim Gray in the ring and fight them together?
JT: You know what I want to do?  I want to get a round robin with all the sportscasters where the winner gets the rights to call fights.  First, the winner first has to get in the ring and last two rounds with me to earn the right to call a fight. I think it's a rip off for the sport of boxing that HBO is doing by not letting the real fighters call the fights.  They got jackasses like Larry Mercant and Jim Lampley-guys who have never put on gloves in their entire life. They've probably put on snow gloves or ski gloves, but no boxing gloves up in the right, and they're calling the fights.  That's not right.  It should be Bob Pappa from ESPN, Al Bernstein, guys who are credible.  Rich Marotta, Sean O'Grady.  Those are the guys with a boxing license, everybody else is just garbage man.  Make sure you quote this and send them an email to their addresses that I've said this about them.
BT:  With Klitschko, I know you think he is garbage, but he's really the only fighter out there for you.  Do you feel the heavyweight division is as in poor of shape that everybody says it is?
JT: I believe it is, but you know that's because of Don King.  Don King is nothing but a bunch of garbage, but me and Klitschko aren't involved with Don King.   Me and Klitschko are the only fight that everybody wants to see, and it's going to happen.  It's going happen.  He's gonna do his thing, I'm gonna do my thing, I definitely am going to bring my "bad," I hope he brings his "bad," and we'll be ready to go for April.
BT:  Would you deal with Don King knowing he has three major (heavyweight) belts?
JT: I don't care about the three major belts.  The belts don't make me.  See, here's one thing:  The belts make Chris Byrd, the belts make John Ruiz, they make Lamon Brewster, and Vitali Klitschko.  For James Toney, the belts don't make me because I've been out there long enough.  I've proved myself time and time again.  Now, if people realize that the belt don't make the person than the boxing world is going to wake up.  The belts don't mean nothing.  I don't care about no damn belts.  I care about the WBC because the WBC is not controlled about Don King.  Don King is upset about that, but  there's nothing he can do about IT.  THERE'S NOT A DAMN THING YOU CAN DO DON BECAUSE I'M THE #1 CONTENDER, SO DON KING YOU CAN KISS MY BIG BLACK ASS.
BT:  Klitschko is the Ring Magazine Heavyweight Champion.  Are you wanting to fight Klitschko since he's considered the linear champion?
JT: The reason I want Klitschko is because all you reporters from BoxingTalk think that he's the baddest heavyweight out there.  Like I said, I'm the guy going to the school looking for the toughest mother f---er out there.  I'm the new guy in school looking for the toughest guy I can find. 
BT:  You're favorite word for your opponents in the heavyweight division is "garbage," but is there anybody out there who would be a tough fight for you?
JT: Me, myself, and I. When I'm right nobody can touch me.  I'm not going to mistreat anybody.  Chris Byrd's got skills, he's got good talent.  Klitschko's got good talent, but he's only got good talent against "B" and "C" level competition.  When you fight well ready and tough competition like myself, it never is successful.  Only a handful of fighters rise to the occasion when a good fight comes.  Only a handful of fighters do that.  Those are the real fighters.  I'm the only real old school fighter left beside Bernard Hopkins.  If you look at Bernard Hopkins, he ain't in the old school because he didn't fight the best in his era…I did.  I fought the best while at middleweight, super-middleweight, and light heavyweight.  I could have cleaned out the heavyweight division ten years ago, but we'll never know.  But I'll tell you this, I know I could have.  I could have won the heavyweight title in the '70's – that's how good my skills are.  My skills are great
BT:  Do you feel your legacy is sealed right now, or are there other fights out that could help out with your legacy?
JT: My legacy is sealed and I'm going to the Hall of Fame, but I can enhance it by winning the heavyweight championship, beating Klitschko, and beating the best out there.  I'm not satisfied with just heavyweights.  I want the best out there.  The best the media wants to see me fight, that's who I want to fight.  If you feel that's John Ruiz after I beat Klitschko.  If you feel that's Chris Byrd, then let's fight.  Byrd was offered $6-million to fight me, and they turned it down.  And I got to say, why did Chris Byrd turn it down?  Because of Don King.  You got to look at my situation.  If you're going around saying you're the baddest heavyweight in the world, then sign the damn contract. 
BT:  Even after his recent loss, would you still want to fight Mike Tyson?
JT: Tyson is always going to be the man people want to see.  He's the draw, and I fully believe that when Tyson gets himself back together it would be a hell of a fight, it would be an easy fight.  In the meantime, I can't worry about what everybody else is doing.  All I want to do is worry about what James Toney is doing, that's all I want to worry about. 
BT:  So, you've got this fight coming up, you got your fight in December, and then again in April…
JT:  I've got to make up for last time.
BT:  You got the BoxingTalk guys out there, is there anything you would like to say to BoxingTalk?
JT:  No doubt.  I love BoxingTalk.  I love all the news channels out there about boxing.  To all the James Toney fans out there, thank you for your support.  I'm not going to let you down, I'll be back, I'm bigger and badder than ever before.  Tune in September 23rd to Lights Out Television…AAAHHHH!
BoxingTalk thanks Lights Out for speaking with us.  We wish him continued success both in and out of the ring.
MEMBERS CLICK IMAGE FOR VIDEO OR HERE FOR THE FULL TRANSCRIBED VERSION
Send questions and comments to: Fool4Rush@aol.com