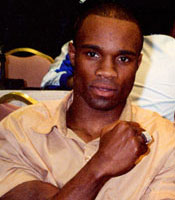 Followers of the sweet science should note that one of its most talented former titelholders is back and looking to reclaim his throne. Enter "Vicious" Vivian Harris. After a seven-month layoff, Harris returned to the ring on January 20 at the Pechanga Resort and Casino in Temecula, CA against rugged Marteze Logan. Harris effectively outboxed and outskilled Logan en route to a ten-round unanimous decision (100-89 on all three judges' cards). For Harris (26-2-1, 17 KOs), the bout helped shed some ring rust, while preparing him for his next fight on his comeback to the top of the junior welterweight division.
"My performance was good and the fight was a good comeback fight for me. Logan's someone that moves around the ring a lot. He fights other people, but with me, he was just moving around," says a pleased Harris. "I just wanted to get ten rounds in and I did. With this comeback fight, I brought it back, throwing good punches, hitting him with some good shots, staying energized, and preparing for the next fight."
Against Logan, Harris sought to box and box only. And the result was a success. Throughout the fight, Harris patiently picked his shots, frustrating his opponent for ten rounds. "The plan wasn't to get him out of there. My game-plan was to box and take it to him for ten whole rounds," says Harris. "If he gets hurt, he's hurt, and if he's not, don't even worry about it. Who cares if there's a knockout or not, you know what I'm saying?"
A frustrated Logan threw several illegal blows but Harris remained poised, allowing the referee to do his job and take care of the roughhouse tactics. In the sixth round, the referee deducted a point from Logan for excessive rabbit punching. "Everytime we'd get close and I'd hit him, he'd hit me behind my head. Usually I'd get real upset and try to get you out of there, but I stayed with my game-plan," says Harris calmly. "I had to use my skills like a champion and take him to school. He kept hitting me behind my head, but the ref was a good ref, so he took away a point."
Despite the missing fanfare for his latest bout, Harris trained just as hard for Logan as he would for anyone else. Though Harris weighed in at the contracted 143 pounds, he was able to make the junior welterweight limit of 140 pounds before the bout, which points to the intensity of his training, despite not fighting for any kind of belt or mandatory position.
"It was real easy for the weight to come off for me. I was making 140 before the fight, so the two days I was there [at Pechanga], I could eat," says Harris with a bit of a laugh. "I'm a hard worker, I'm always near weight. I don't drink, I don't smoke, I don't do certain things because I'm training. I felt good. I'm feeling real good."
After a tumultuous 2005, Harris says he is finally at peace with himself. With one fight already under his belt, Harris hopes 2006 will be much different than the year before; a year in which nothing seemed to turn out right. A year in which there was so much turmoil, it was hard for Harris to concentrate on lacing up a pair of gloves and doing what he loves most: stepping inside the ring to fight. Viciously.
2005 was supposed to be a triumphant year for Harris. In 2004, negotiations fell apart for a fight with Ricky Hatton, so Harris traveled twice to Germany to defend his then WBA crown against Oktay Urkal. So as 2005 began, Harris was hopeful that he could land a meaningful fight to showcase his adept boxing skills to the public, who had not seen him on American television since his victory over Diosbelys Hurtado in 2002.
Instead, 2005 turned out to be a vicious nightmare.
Harris would sign to fight Carlos Maussa for short money on the Gatti-Mayweather Jr. pay-per-view card last June, hoping that if Mayweather Jr. beat Gatti, he could land a fight with the Pretty Boy in the fall. But nothing went according to plan. Though Mayweather Jr. defeated Gatti, Harris lost earlier that night via seventh round knockout. Harris was immediately written off by many as overrated. Fellow 140 pounders refused to fight Harris. Fans ridiculed his performance. And though Harris tried to enforce his rematch clause, he was unable to get in the ring with Maussa a second time, while Maussa would go off to England to fight Ricky Hatton this past November.
And thus, a frustrated Harris would spend the rest of 2005 in total anonymity, as if the boxing world had purposely forgotten about him. But if you know Harris, you know he's too stubborn to be dismissed or ignored.
Looking back, Harris acknowledges his shortcomings against Maussa were a product of lacking a certain focus he now has. "My last fight is in the past. For that fight, I didn't follow my game-plan or the way I live life. I just didn't follow it. I was really thinking about a Mayweather fight, wanting to fight his stupid ass, not knowing he wasn't going to take a fight with me. So when I was getting hit in the ring, I was thinking, 'I can't lose this, I can't lose this.' But I was losing the fight. And then my corner was messed up. I was getting the wrong information and I wasn't getting calmed down," says Harris with a sigh. "But I learned patience. I've learned to be calm. I've learned to just focus on one fight alone and that's it. When a fight's over, I can focus on the next one."
According to Harris, the reason why he never got that next fight is because things never ran smoothly with Main Events, his then-promotional company. Harris feels that if Main Events would have supported him more, he could have fought Maussa once more to reclaim his belt. "After the fight, Main Events didn't look out for me. They hustled to send Maussa to England so he could fight for money and they could make money off the dude without me getting my rematch. But see, I didn't even have to fight Maussa, I just did it because I thought I could fight Floyd [Mayweather] to make money [if I were to win].  We were just two set of people, I guess. Main Events didn't care about Vivian Harris—but Vivian Harris cared for them," said Harris, although in fairness, he continually criticized Main Events on this website even before the Maussa fight.  "Main Events was always trying to make all the money, so I had to look out for myself."
But before the Maussa fight, Harris had twenty-five wins, one loss, a draw and seventeen knockouts. Why would Main Events choose not to extensively promote a tall, handsome, talkative young man who had an abundance of talent? Though Harris doesn't know himself, he thinks Main Events simply didn't consider him their next big star.
"Main Events looked at me differently. They looked at me like I wasn't that white kid or that Spanish kid. They looked at me like I'm not the type of dude that could be the next Oscar de la Hoya. But I was the talented one out of the whole group, the one that was training hard, winning fights, and doing things like going to Germany twice and bringing back the title. Everyone else was getting beaten, not training, not making weight or disrespecting their own promotional company," says Harris. "It's like the story where a man was waiting for God. And anytime anyone came to his crib, he'd say, 'No, you're not coming in. It's only God I'm looking for.' And the last person that came to his crib turned and told him, "You're looking for God? You're not looking for God, because I just came out your crib like four times.' Meaning, God doesn't have to look like a certain anything."
So now that Harris has moved to a new promotional deal with Gary Shaw Promotions can help him return to the elite at junior welterweight. "I get along great with Gary Shaw. Everything's real good, you know what I'm saying? Gary Shaw is a great promoter and I know he's going to bring me some good fights," says Harris happily. "Whoever Gary has in front of me, whoever he has next, that's what it is. My main goal is getting back my championship."
Knowing the type of success and contentment Shaw has brought to his fighters, such as Winky Wright, Jeff Lacy, Diego Corrales and Manny Pacquiao, Harris is at ease knowing all he has to do is worry about fighting and winning. But can we expect to see the top junior welterweights agreeing to fight Harris? Harris sure hopes so. In fact, he hopes they underrate him, so that he can have an opportunity to fight them and redeem himself.
"I want the right people to disrespect me, so they can sign to fight me. But clowns like Miguel Cotto, Ricky Hatton and Floyd Mayweather are running away. I can understand why they don't want to see Vivian Harris. They know what I can do," says Harris firmly. "Every champ can come back and I definitely will."