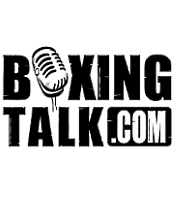 "Consider me the Glen Johnson of the 140lb division"
Last week Boxingtalk.com had a chance to catch up with Paul "The Truth" Delgado before he traveled to New York to take on Brooklyn, NY's undefeated Dmitriy "The Star of David" Salita in a Jr. Welterweight bout scheduled for ten rounds. "I'm going to win every round against Salita" stated Delgado who added "The decision is going to be so unanimous they can't even give it to him" Delgado, 24, fights out of Norcross, GA and makes it quite clear he will not be intimidated by the full capacity New York crowd expected to be on hand Thursday night "I have been doing this my whole career. You can consider me the Glenn Johnson of the 140lb division, I aint going no where, and I am going to everybody's backyard." Read on to see what else Delgado had to say in this one on one exclusive.
RC: What's going on Paul the Truth?
PD: Nothing much man, just grinding, doing it the blue collar way.
RC: How has training coming along for your fight this Thursday November 18th against Dmitriy Salita?
PD: Training is going great man, I have been training really really hard, and I am in the best shape of my life man. I am ready to put on a great show in New York man.
RC: The last time we spoke before you fought Paulie for the second time, you said you were in the best shape of your life then, and now you are saying the same, why in this case as you get ready to take on Salita is it any different, is it because you feel it is a do or die situation for you?
PD: The reason why I am in better shape than I have even been in now is because three fights ago when I fought on ESPN against Jeff Frasier, I ran out of gas. I got a little big headed and didn't train, I knew I was the better boxer and didn't prepare myself. So I went through that humbling experience about three fights ago and ever since then I have been doing a better job in conditioning myself and being ready.
RC: No disrespect to George Walker 8-2-1(5) and Miguel Alvarez 4-3-1(3) who you faced after the (Jeff) Fraza 16-2(9)fight, but they records don't indicate, and I can be wrong, but I don't; see any indication that they are any where near as good as Salita, with that said are you prepared to step it up a little bit more this time around preparing for someone of Dmitriy Salita's stature?
PD: Ooh definitely, definitely, I mean even though they wasn't of Dmitriy Salita stature, we trained as if they were Vivian Harris. That is how we prepared ever since we taste that defeat on ESPN. We realize that we have to take everybody seriously no matter what stature they are at. And that is the new Paul Delgado.
RC: What can you tell us about Dmitriy Salita?
PD: What I know is he is a very fundamental fighter, nothing flashy, nothing fancy, decent speed. He has never fought anyone close to Paul Delgado, and he is in for a long night
RC: You said he has never faced anyone like you, does that mean you will rank yourself ahead of his last two opponents in Ruben Galvan and Rocky Martinez?
PD: Definitely, they were human punching bags. Not just youth, well of course I have youth and they got the experience, but they are shot fighters. They have been around and they are shot, they are on their last leg. I didn't have a very extensive amateur career, so I am learning the hard way, I am learning in the pros. I have definitely come a long way since you last saw me in New York against Paulie (Malignaggi). Let me remind you that that was my worse performance ever in my life. I have never been that inactive in a bout. I didn't really throw any combinations, I didn't throw no punches, that is the past but there is a better me now.
RC: Watching him on tape, is there anything you have seen that make you feel that you will be able to take advantage of in your upcoming bout?
PD: Yeah, he doesn't like to fight. He basically fights like he spars. He takes his time, he picks his shots, but he doesn't like to mix it up basically. He wants to fight when he wants to fight, so we are going to make him fight when we want to fight.
RC: I mentioned earlier if this was a do or die match up for you, do you that this may be it for you as far as getting the recognition you would like?
PD: Actually, I am going to do this. I am going to do this. I haven't' even considered that. That is not even in consideration.  I am ready to do this now, this is my time.
RC: Paul, I can't help but notice you seem to have a new spark to you, what is the biggest motivating factor as you prepare for this fight?
PD: Yeah, I am hungry again. You know life has been good to me, and you know when life is good to you, and you have things…. I really don't box for monetary gain, I box because I love it, and there was period there that I lost the passion for it a little bit. Since then I have regained that spark, that's what it is, I got hungry again. You know I don't need boxing what so ever, but I enjoy it, I love it and I find myself improving, and as long as I am improving I feel like I have a shot.
RC: What do you attribute this spark to?
PD:  Actually I would say the spark comes from realizing that this is real. This is not the amateurs, this is real, and I have to work hard if I want to be in this game. I can't take any fight lightly, no matter what level it is at. It is serious, it is serious business, and I got a wake up call on that card on ESPN against Fraza that this is serious business, and I shouldn't be taking this lightly no matter who I am up against, that is what really motivated me. That loss was probably the greatest thing that ever happened to me put it that way.
RC: He is the headliner on the show, and you will be in his hometown, is that a major concern for you if this fight goes the distance?
PD: No, not at all. I am going to win every round.
RC: Do you have a prediction for this fight?
PD: I am going to win every round.
RC: So that means you will be winning by unanimous decision?
PD: Definitely win, I don't know how or when, but I know I am going to win. The decision is going to be so unanimous they can't even give it to him.
RC: Earlier on you said you are preparing for this fight like you are preparing for Vivian Harris, do you consider him the best in the division next to Kostya Tszyu?
PD: Yeah I definitely agree, right next to Tszyu, and that is the standard in the Jr. Welterweight division for me. That is the standard, that is how I train now, if you are going to be the best then prepare as if you are going to fight the best.
RC: Paul, come November 18th you will be stepping into a ring in front of many very very hyped up New York fans rooting for their hometown fighters, it is almost guaranteed that there will be a huge sell out crown on hand…
PD: Ooh I know…
RC: There should be a lot of fun and excitement, but I think I might be the only person that speaks to you while you are there that isn't yelling or…
PD: (Cutting in laughing) you know what I have been doing this my whole career. You can consider me the Glen Johnson of the 140lb division, I aint going no where, and I am going to everybody's backyard.
RC: Is there anything you would like to say to the people out there that might have it twisted?
PD: I just want to tell them to be open minded and don't be mad and disrespect Paul Delgado once he does his thing to Dmitriy Salita.
RC: Is there anything else you want to say in closing?
PD: I want all of New York to be there, Jewish, Latinos, you name emm, everybody come out and come see a great show, and Dmitriy Salita is going to taste his first defeat. And Ray, you holla at me when I get up there so we can go celebrate after the fight.
As a matter of fact as you called me I am watching the tape with Galvan, the human punching bag and I'm not impressed.
RC: What did you think about his performance in that fight?
PD: I mean he did what he had to do, the guy threw punches in spurts and he came to loose basically. It looks like to me in Spurts Galvan caught him with some shots and hurt him. His chin is suspect that is what I see. I don't see him taking a great shot; I mean if he was all that good he would have been fighting a whole lot stiffer competition. I give (Paul) Malignaggi way more credit than him, Malignaggi has taken some chances in his career.
RC: Malignaggi versus Salita is a big New York fight sometime later on down the line that their promoter Lou DiBella would like to make, without being bias because you lost to Malignaggi twice, how would you see that match playing out between the two?
PD: Malignaggi would beat him, Malignaggi is a better fighter than him, he is a better all around boxer, and he is slicker than him. He has got better defense, this kid (Salita) gets hit with counter right hands over his jab all of the time, his jab is one dimensional, it is just straight down the middle, I mean he is so predictable. Paulie has a beautiful jab, and he has quick feet. He runs, he is great sneaking out the back door.
RC: So you don't give him a chance against Paulie?
PD: No I wouldn't he is not going to get shot, because there is going to be a Malignaggi – Delgado part III, that is for sure, and after the fight we are going to let Malignaggi know it aint over yet.
RC: Other than if you defeated Salita, what else will warrant you getting another shot at Malignaggi, grant it you had a very good competitive in your first bout, and in the second he certainly got the best of you when many expected much much…
PD: (Cutting in) I was not myself, but definitely there is going to be a part three. I am working my way right back to where I need to be and eventually he is going to have to fight me again. I am going to beat Salita, and then I am going to ask DiBella for any other 140lb fighter he has, (Emmanuel) Clottey, (Jeffery) Resto, you name emm.
RC: Paul, can you be making a mistake looking past Salita already thinking about Paulie, Clottey and Resto?
PD: Nah, I am not looking past him, I am just watching his tape that's all. I am not looking past him at all. The work has already been done man.
Send questions and comments to: rayocampbelljr@hotmail.com