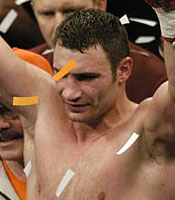 ORIGINALLY PUBLISHED BY BOXINGTALK ON AUG. 8, 2005, WITH VIDEO LINK ADDED BELOW: There is something of an urban myth going around in boxing about Vitali Klitschko's supposed knockout loss at the hands of British kickboxer Pele Reid. It has been the subject of many internet gossipers across the boxing community, and little seems to be known about it, except that Reid was supposed to have KO'd Klitschko in a kickboxing fight many years ago before either became professional boxers.

When quizzed about it, WBC heavyweight champion Klitschko allegedly asked, "Who's Pele Reid?", and when he was reminded that Reid allegedly KO'd him in a kickboxing match, Klitschko answered, "It was so long ago that I forgot all about him. I lost that fight because of a kick to the thigh, not because of any punch. Lennox [Lewis] is the biggest puncher in the world and he couldn't knock me out."

Well it's time to separate myth from reality and set the record straight. I saw the fight on video a week or two after it happened, and I also interviewed Reid for a martial arts magazine earlier this year, and he spoke about what happened. So here it is...the TRUE account of what happened, from an eye-witness and from the guy who was in the ring with him.

Firstly, a few facts about the fight. It was in Varna, Bulgaria at the WAKO European Kickboxing Championships, 1992, where each member country is allowed to enter a representative fighter. In the +89 kilogram light-contact division (which at this event was fought on a matted area, rather than in a boxing ring), Reid was the British representative, while Klitschko was fighting for CIS (Russia). Both were singled out as top seeds immediately because of their sheer size: we all know Klitschko is listed at 6'7" plus, and Reid himself is a perfectly proportioned and muscular 6'4" and weighs 235 pounds or more.

Reid was initially taken back by the big Ukrainian's size, and took up the story: "I breezed through the semi-finals, and Klitschko did, too. He happened to walk past me after our matches and I thought, 'man, this guy's big!'. Then he looks down at me and smirks like he's measuring me up. I was like, (sucks teeth) 'Look at this boy here trying to look at me!'. He looked at me like he was gonna bust me up and I knew then that I just had to put him down."

Reid and Klitschko met in the finals. After a quiet opening round that saw both taking a good look at what the other had, Klitschko began to open up. The Ukrainian lifted his leg to kick, left it out there for too long (the kickboxing equivalent of pawing with the jab), and Reid saw the opening, connecting with a perfect spinning kick that landed right on the tip of Klitschko's jaw. The Ukrainian went down, and had it been regular boxing or kickboxing rules, there was no way there would have been any kind of ten count. As it was, being a light-contact match, the ref just waved the fight off and Reid was the new European Champion.

With the help of an amateur video recorded by one of the members of the British team, I witnessed the knockout. The picture was perfect and there was no mistaking what had happened...Pele Reid knocked out Vitali Klitschko, not with a kick to the leg, but with a bonafide spinning kick to the jaw.
EIGHT YEARS AFTER THIS STORY WAS WRITTEN, THE VIDEO CLIP SURFACED ON YOUTUBE
Don't believe me? I took this excerpt from the January 1993 issue of Martial Arts Illustrated, where a brief mention is given to the fight by writer Peter Lewis:
"Our fourth Gold came from Pele Reid when, after some superb fights, he met Klitschko of CIS (Russia) in the finals of the 89 plus category...an opponent even taller than Pele! With little trouble, Pele KO'd the huge Russian in round two with a reverse spinning kick to take the gold."

After several more big medal victories around the world, Reid turned to pro-boxing and ran up a 13 fight knockout streak before losing to British champion Julius Francis. Suffering a further knockout loss to Orlin Norris, Reid bowed out with a 16-4-2 record and entered the K-1 Kick/Thai-boxing Arena.

Klitschko, as we all know, went on to win the WBC heavyweight title given up by Lennox Lewis on his retirement, which he still defends to this day. But next time Vitali talks about never having been knocked out, remember that little-known Pele Reid once achieved what Lennox Lewis couldn't (albeit with a kick instead of a punch), and flattened the Ukrainian in two rounds.

Send questions and comments to: mattwinsper@yahoo.co.uk