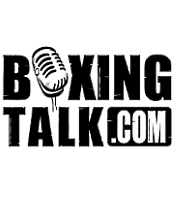 Luan Krasniqi, 229,25, Ger D12-M Timo Hoffmann, 260,25, Ger

Krasniqi retained the EBU title on a majority decision draw. Judge Philippe Verbeke from Belgium had it 115-113 for the challenger while judges Esa Lehtosaari (Finland) and Brit Ian John Lewis both saw it 114-114. I had expected Krasniqi to come out fast but instead it was Hoffman who got off first, using his reach and scoring with jabs that made Luan's left eye begin to swell 30 seconds into the first. In the second the champion got more into it and the slower and not very slick challenger looked wideopen at times. Still, he won the round on mr Verbeke's card. The third and fourth saw Krasniqi scor with hard accurate righthanders flush on the steelchin of Hoffmann, who amazingly at worst was momentarily stunned and never lost his composure. Krasniqi faded a bit in the fifth and there rumors at ringside he had hurt his right hand. They were never confirmed but Luan had lost the timing in his right hand bombs - or Hoffmann was more alert. Or both. Either way Timo worked his way back into the fight with steady pressure. Krasniqi showboated and told Hoffmann to keep punching but his face was marked up and he was fielding punches he should have avoided. Luan had a good spell in the eighth but was tagged in Hoffmann's corner and took a big right on his swollen eye and the pain seemed to make him lose his balance. He quickly regained it and again showboated to show he wasn't hurt. Krasniqi was cut on the right cheek in the ninth and dug deep now - both corners knew they needed a strong finish. Hoffmann looked the stronger in the tenth but Luan, at this stage trailing on points, had that little extra in him and came on strong in the last two messy, hardfought rounds to salvage a draw.
The press conference afterwards underlined the genuine dislike between the two that dates back to the amateur days. Hoffmann demanded a rematch while Krasniqi, hiding his badly swollen face behind sunglasses, said he would look for bigger things. His promoter Klaus Peter Kohl also indicated that a rematch wasn't the first thing on the agenda. Wilfried Sauerland said, sure go ahead and look for a world title shot but after you fail to secure a deal with Don King, who will ask for four or five options on your guy, you will be back in Germany and a moneymaking rematch with Hoffmann. 
Felix Sturm, 162, Ger  KO 3 (2.06) Hacine Cherifi, 161, Fra
Sturm took out Cherifi with a single left hook right underneath the ribcage, near solar plexus, of the Frenchman who went down in strong pain and stayed down for the full ten. -I've been working on my power, said Sturm. He stayed with Cherifi for the first time in the fight in the third and as Hacine tried to pour it on, after clearly losing the first two, he took the body punch cleanly. Nice job, Felix - but you won't get away with it against any of the big boys. 
Stipe Drews, 178,5, Ger  W8-U  Ovill McKenzie, 178,5, UK
Drews outboxed his much shorter opponent and won on scores of 80-71, 79-72 and 80-71. McKenzie had a point deducted in the second for a headbutt that left Drews cut by the right eye.
Ruediger May, 200,5, Ger  W8-U  Roman Bugaj, 210,5, Pol

May won on scores of 80-73, 80-73 and 80-72 and outboxed Bugaj most of the way - but looked a bit fragile when the strong Pole was able to work his way in.
Marco Cattikas, 148,75, Ger  W4-U Andreas Schulz, 147,75, Ger

40-36 on all cards for Cattikas, a new signing to Spotlight Boxing.
6x3: Alexander Abraham, 158,75, Ger KO 4 (0.50) Dariusz Sierpinski, 163,75, Pol
Sierpinski did relatively well against Abraham, a notorious poser, but hurt his arm as he got stuck in the ropes - and went down and was counted out. Abraham, far superior boxingwise, hardly did anything during the fight but flexing his muscles.
4x3: Marco Huck, 191,75, Ger  TKO 1 (2.26)  Wlodec Kopec, 193,75, Pol
Kopec was all in all down five times - with three regarded as legitimate knockdowns. His performance was at best doubtful but the first knockdown was caused by right to the head after "break" had been called. After that Kopec just lost interest.
The Sauerland fights on the undercard, May, Huck and Abraham were supervised by the Austrian Federation, TVA, while Universum's part, Cattikas, Drews, and Sturm were under the control of the German Federation, the BDB.
The EBU had a council meeting in Berlin so there were lots of knowledgable people on hand at ringside. Most had Hoffmann ahead by a point or two, some had it a draw. I was pretty alone in feeling that the bigger punches of Krasniqi had won him the fight.
The feud inside the WBA and the WBA Int'l / EBA was discussed at ringside. On surface the roots for the conflict is that the WBA Int'l is a registred company in Spain which means it's not in control of the WBA. However, that have been the case for close to four years now so why a row about it now' No-one, outside of the inner circle, seems to know. The feud burst open during the convention in Yalta, Ukraine, and was probably made worse by not overly good arrangement. If half of the stories told are true it must have been pretty terrible there with cold hotel rooms, colder food and the need for lots of USD to get past the customs or get any kind of service.
Cuban heavy Juan Carlos Gomez, dressed in white, was ringside in Berlin smiling and looking as happy as ever. Also on hand were WBO Interim 168 lb ruler Mario Veit.
Italian welter Sven Paris goes for the vacant WBA I/C title December 17 in Marsala against Argentinian Fabian Saporiti.
Norwegian Thomas Hansvoll is looking forward to a fight against Dane Steffen Nielsen in February in Denmark. Hansvoll have however indicated to Norwegian press that he will make his heavyweight debut a one-time happening before dropping down to cruiser again.
Mika Tossavainen is off the December 10 show in Kuopio, Finland, with a hand injury. Headlining are heavies Jari Markkanen and Allan Gronfors clashing for the national title.