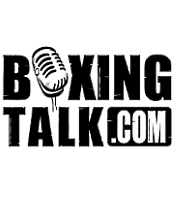 A Meeting Between Trinidad and Cintron
On the eve of the Cotto-Pinto card, a meeting between the Puerto Rican icon Felix "Tito" Trinidad and the Puerto Rican phenom, Kermit "the Killer" Cintron , exuded waves of nationalistic pride and fervor the fanatic island only dreams of being displayed in the ring.  As the camp Cintron waited patiently for Trinidad to finish training, Tito silently came from behind Kermit, tapped him on the shoulder and ducked to avoid detection.  The joking but friendly gesture began the meeting with laughs around the room.  As Tito stood up and an embraced the younger counterpart of his native land, Trinidad's eyes began to open in almost shock and awe.  "I can't believe how big you are," Tito explained.  "How do you make 147lbs?"  Then Kermit basically shrugged it off, implying that his ability to make weight comes with ease. 
The two newly found friends then compared fist size.  The comparison was not even close.  Tito repeated, " I can't believe how big you are."  Trinidad then began to explain that he loves the way Kermit represents Puerto Rico inside and outside the ring and that Cintron "will be the next Puerto Rican star."  
For a kid who started boxing only five years ago, which at the time was probably the pinnacle of Trinidad's finest hours in the ring, one could only imagine what the young phenom was feeling at that moment.  On a weekend in which the icon returns, the island of Puerto Rico seems to be experiencing the resurgence of their finest boxing hours with young and old.  Between Trinidad, Cintron, Cotto, Calderon, Santos, Ruiz and others on the way, the eve of Puerto Rico's chance to dominate at many weight classes seems to be on the horizon.  The meeting between the icon and the phenom pushes the island closer to its' dream of dominance and unity, something all fight fans desire and visualize. 
Trinidad by KO over Mayorga
Cintron by many, many, KO's over multiple divisions
Send questions and comments to: matthew_goldstein@hotmail.com