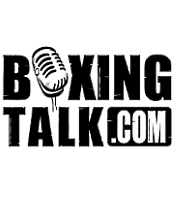 PRESS RELEASE:
Continuing in it's quest to revolutionize the business of boxing promotion and put the power back in the hands of the people who have worked tirelessly to entertain legions of fight fans, Golden Boy Promotions is pleased to welcome Marco Antonio Barrera and "Sugar" Shane Mosley as equity partners in the Los Angeles-based company launched by Oscar De La Hoya in 2001.   "My dream has always been to have a company that not only put on great fights for boxing fans, but that also treated the athletes fairly," said Golden Boy Promotions President Oscar De La Hoya. 
"With the newest members of our management team - Marco Antonio Barrera and Shane Mosley – joining Bernard Hopkins and myself, we have all the pieces in place to change the way business is done in the sport of boxing for the better."   Barrera, the current WBC junior lightweight champion and a former champion in the junior featherweight and featherweight divisions, will assume the role of President of Golden Boy Mexico.  He will be in charge of recruiting and developing talent in his native country, and will also put together a series of events showcasing the top boxers from this legendary hotbed of fistic talent. "I have been fortunate to work with great people like Oscar during my career, and I'm blessed to be where I'm at today," said Barrera.  "Now it's my turn to be that shining light for the young fighters in the sport, and to do my part to help them reach their full potential."  
"People forget that Marco Antonio was going to be a lawyer before becoming a full-time boxer, but now he'll get to use his sharp mind and business acumen in boxing," said De La Hoya.  "It's like he's come full-circle in his life, and boxing will be the beneficiary."   Mosley, who has held world titles in the lightweight, welterweight, and junior middleweight divisions, has taken the position of President of Fighter Relations.  Mosley will act as an adviser to Golden Boy's existing roster of fighters, as well as playing a vital role in the future scouting and development of United States boxing talent in the amateur and professional ranks.  
"Oscar and I have had our wars in the ring, but outside of it, we've always been friends with a mutual respect for each other," said Mosley.  "To have this opportunity to give back to the sport I love is an honor for me, and I am committed to the same type of excellence in my new role that I have always exhibited in the ring."  
"Shane Mosley took the hard road to boxing superstardom, and his knowledge of the ups and downs of the business will help our current and future fighters immensely," said Golden Boy Promotions CEO Richard Schaeffer.  "And I would be remiss if I didn't acknowledge the instrumental role Jin Mosley played in facilitating this unprecedented partnership. 
I wish more wives were this helpful and concerned when it came to their husbands' careers."   Golden Boy Promotions' newest executives will share the same MGM Grand ring on Saturday, September 17, when "Parade of Champions" features Barrera's junior lightweight unification bout against IBF titlist Robbie Peden, and Mosley's welterweight bout against unbeaten Jose Luis Cruz.  Both bouts will be televised live on HBO Pay-Per-View beginning at 9pm ET / 6pm PT.   Ticket prices for "Parade of Champions" are set at $350, $250, $150, $75 and $50.  Tickets can be purchased through the MGM Grand ticket box office,
www.mgmgrand.com
or
www.ticketmaster.com
.   
Barrera, Mosley, and De La Hoya stand united with undisputed middleweight champion Bernard Hopkins (who was named President of Golden Boy East in November of 2004) in changing the landscape of the boxing business for future generations of fighters, following the example of United Artists - which revolutionized the entertainment business in 1919 behind legendary stars Charlie Chaplin, Mary Pickford, Douglas Fairbanks and D.W. Griffith.   For more information on Golden Boy Promotions, please visit
www.goldenboypromotions.com
     CONTACT