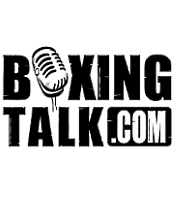 "I mean to hurt him in a bad way."
Earlier this week, BoxingTalk ran a story on Robbie "The Bomber" Pedan that got the juices flowing in Nate "The Galaxxy Warrior" Campbell. He was not shy in the least about sharing his views of Pedan both personally and professionally, and what will happen once these two meet up in the squared circle again. Campbell may seem overconfident in the words he uses, but to him they are simply the outward signs of his renewed focus to regain the top spot in the junior lightweight division.
BoxingTalk: Nate, what was it about Pedan's comments that you disagree with?


Nate: Campbell: You know Darren, he doesn't want to fight me again. At our last fight, the way he was talking was like he'd never see me again. He didn't expect for me to come back and be in his face again, but…I'M BACK!!! Pedan doesn't understand that. I mean to hurt him in a bad way. If he thinks he was hurt in the first fight with that body shot I hit him with…and that was just one shot…I'm going to hurt him with a lot of shots next time.


BT: Do you think it's a matter of Pedan having to fight you rather than him wanting to?


NC: Absolutely. 100%...


BT: But you do want to fight him again?


NC: Oh, with everything in me…


BT: Do want to fight Pedan more than anyone else out there?


NC: I told you this before I fought Tiger Martinez, I knew what the outlook of the junior lightweight division was, I knew what I had to do and how I had to do it, and now that I've done that, I've got keep doing what I'm doing, and I'm ready to fight Pedan again. Erik Morales can't keep the belt, he has to vacate it, so I'm fighting Pedan for the title. You see, last time the fight was so easy that I allowed myself to be overwhelmed with the easiness of the fight and get caught up in my own lack of focus. Now…I'm going to hurt him, simple as that. I am going to hurt him.


BT: Whose walking in with more confidence in this second fight, you or Pedan?


NC: He knows I am not going to allow him to be lucky next time. I beat the count with Pedan. I really beat the count. We were fighting for the number one spot in the world, let us go out like the warriors that we are. Whether he knows it or not, they were going to stop the fight in the next round from the body shots I was inflicting on him.


BT: Are you saying that the rematch is your fight to lose?


NC: It was my fight to lose the first time. The fourth round was so easy for me that I came out in the fifth round having lost focus. I'm going to hurt this guy, and I'm going to keep him hurt all fight long. As long as I keep my hands up and my chin down he'll be out of gas.


BT: Would you fight Pedan differently than you did before?


NC: Skill for skill, I'm the better fighter. I was ahead on every scorecard before I dropped my hands. The big issue with me is some of the things Pedan said on the internet after our fight, about beating me because there was something inside of me that was going to make him beat me, and that he beat me because of my personality.


BT: Do you expect anything different from Pedan when you two get back in the ring together?


NC: He's going to get in there and try to throw a whole bunch of punches, but that ain't his style, he's more of a banger.


BT: Has anything good come from your loss against Pedan?


NC: My focus is 100% better. Light years better than it was before. It made me understand what I am and who I am.


BT: I'm sure when this article goes up on BoxingTalk, Pedan will want a chance to respond to these things you are saying…


NC: Pedan does not have to call you, he can call me. He took pot shots at me after the last fight, and I dealt with it. I didn't say anything. I allowed him to talk and say those things he wanted to say, but as soon as that bell rings I have murder on my mind, but tell Pedan he can call me, he doesn't have to call you. Tell Pedan that we can meet up in Tampa, since I live in Florida.


BT: Do you have any message for Pedan right now?


NC: No, I'll give him my message in person when the bell rings.


BT: Any word on when a rematch with Pedan might happen?


NC: As soon as Morales vacates the title.


BT: Nate, some might view what you are saying as being confident, while others could interpret this as you being cocky again…


NC: I'm not cocky. This is not me being cocky, this is me being focused.


BT: What are your thoughts on fighting Joel Casamayor again?


NC: It would be an ugly night at the dance for that cat when we get in the ring again.


BT: Will we see you in the ring again soon, or are you waiting for Pedan?


NC: Preferably it will be Pedan. I don't want anything to come between me and Pedan. I don't want to focus on anything else. I want to fight Pedan. Pedan doesn't want to fight me. It's like he doesn't care if he has to fight me…I really want to fight him. He knows all he can do is rely on luck. My skills are better than him. If I fight him ten more times, I'll beat him ten more times by knockout.


BT: Nate, what would you like to say to all your fans out there in BoxingTalk Land?


NC: Darren, I want to thank the fans and it's always a pleasure talking to BoxingTalk.


BoxingTalk thanks Mr. Campbell for taking the time to speak with us. We wish him continued success both in and out of the ring.


MEMBERS CLICK HERE FOR THIS EXCLUSIVE
Send questions and comments to: Fool4Rush@aol.com