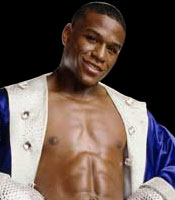 Almost 10 years ago Floyd Mayweather Jr. stormed out of the 1996 Olympic games a bronze medal winner ready to become one of boxing's premier pay-per view attractions. Now, almost 10 years later than expected, boxing will be seeing Floyd Mayweather on the pay-per view stage for the first time when he tries to win his third title in as many divisions against WBC champion Arturo Gatti.
At 21 Mayweather defeated hall-of-famer Genaro "Chicanito" Hernandez to become the first fighter out of a 1996 Olympic class that included fighters like Antonio Tarver, Fernando Vargas and David Reid to win a world title. The young Mayweather was seemingly right on track to become Top Rank's biggest star outside of Oscar De la Hoya.
On paper it can easily be argued that Floyd Mayweather has been the best fighter over the last decade.  He remains one of the only fighters in the sport undefeated at 33-0 and has won titles at jr. lightweight and lightweight and looked clearly supreme over superb opposition nearly every fight outside of the first battle with Jose Luis Castillo.
Mayweather has defeated the likes of Jesus Chavez, Diego Corrales, Carlos Hernandez and Jose Luis Castillo, all of whom have either been a champion since their loss to Mayweather or are currently champions.
Mayweather has openly blamed Bob Arum for not pushing him to be the superstar he believes he is. Instead arguing that Arum has been a favorite to Oscar De la Hoya and other Hispanic fighters in the Top Rank stable.
The public view is that Mayweather is nothing more than a spoiled brat who should be locked up for allegedly battering his baby's momma and kicking a man at a Grand Rapids night club at the end of 2003. 
Mayweather also didn't help his cause to become a star by turning down HBO's contract offer at the beginning of his career and calling it "slave wages" when compared to Prince Naseem Hamed. And it's hard to forget Floyd firing his father, Mayweather Sr. and then crediting only his Uncle Roger for making him the fighter he is today.
With a rap sheet of legal issues and controversy as long as any modern day criminal it's no wonder that Mayweather has always gotten off on the wrong foot with the boxing public.
Let us put the negativity that has followed Mayweather throughout his career to the side for a minute. Everyone seems to look at his problems in such a terrible light and perhaps rightfully so. The general public, however, only knows what the media has reported and often times it's never the side of Floyd Mayweather. While listening to Mayweather's brash tone and arrogant attitude is probably not very high on anyone's list of ''to-do's' for their lifetime, the Pretty Boy may be saying more than just a bunch of hot air.
Let us look at a few incidents in the sport of boxing that have shed negativity on the resumes of some of our most popular fighters. For instance, Ricardo Mayorga openly disrespected Cory Spinks' deceased mother during the build up to his fight with the former champion. It was something as low class as any fighter could get, yet there wasn't much of an outcry during the promotion of the fight by boxing writers and fans.
So when Floyd Mayweather made the point to bring up alcohol related issues concerning Arturo Gatti this past weekend in a via satellite interview on HBO it would be expected that there would be no heavy mention of it.
Wrong.
The incident has blown up in Mayweather's face and enraged everyone whose dislike for Mayweather was already at an alarming high. It has even made some Mayweather supporters question the level of dignity and respect Mayweather has as a person.
Oscar De la Hoya, perhaps the most popular boxer outside of the heavyweight division - OK, including this past stable of 'heavyweight fighters' - was involved in rape allegations a couple of years back but has the boxing world complained or judged De la Hoya for these allegations?
Wrong again.
Now when the same allegations are brought up with Floyd Mayweather abusing women and getting into scuffles at nightclubs they are blown through every paper and boxing website as if Mayweather is guilty by all accounts and expecting to be sentenced shortly. Mayweather has denied every allegation against him and instead of going to the big house on Saturday, he'll be in Atlantic City, New Jersey trying to dethrone Arturo Gatti of his WBC jr. welterweight title.
Reading only what has been put on Mayweather, it's obvious that he is not close to being a likeable individual.  One can only wonder, though, what Mayweather's persona would be judged by had the media decided to focus a little on what he has done to give back to his community over the last 5 years.
There has been no mention of Mayweather working with the homeless shelters of Grand Rapids, Michigan during the beginning of the new millennium.  There has also been zero coverage of Mayweather donating money to various charities around his community.  We've seen pictures of court rooms and fallen fighters, but not a single picture of Mayweather handing out turkey's on a cold thanksgiving day to those who are less fortunate.
Most people are quick to jump the gun on Mayweather and say that the reason the media doesn't cover him is because of his personality. But the real question that should be asked is, how many of the so called beat-writers in boxing would approach Mayweather without a pre-conceived notion of who he is?
Just because he is misunderstood added to the fact that he is a great boxer doesn't make him innocent. We're not talking OJ or Michael Jackson. Mayweather has put himself in vulnerable situations that he has yet to learn from. That which is a shame because the kid is truly the most talented fighter since Sugar Ray Leonard. But to say that Mayweather's decisions make him guilty by association is hardly a fair judgement to call upon.  Little Floyd still has some time to make improvements to his image, and in that same light, the people who think they know what makes him tick should take a time to reflect on just why they are perceiving Mayweather a menace to the game.
THUNDER AND LIGHTNING - The promotion for the upcoming pay-per view with Mayweather and Gatti has been carried by Mayweather. Yes, Gatti could sell out Atlantic City fighting Boxingtalk's web guru Ben Thompson, but little Floyd has provided a spark to the event with his trash talking and downplay of Arturo Gatti.  Those who didn't like Mayweather going into the fight probably hate him even more now, and that probably means that even more people will buy the fight in hopes of seeing Mayweather humbled by a right hand from Gatti. This fight has brought back the excitement that makes the build up to fights so great - which is something boxing hasn't had in a lot of fights since the Golden Age of the sport.
Send questions and comments to: tyson180@aol.com