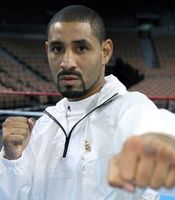 As I entered press row and was settling into my seat at the Mandalay Bay Saturday night, I knew the fight between Diego Corrales and Jose Luis Castillo was going to be a good one.  But then again, everyone else was thinking the same thing.
This was a pick'em fight if ever there was one, and it was no secret that even before their scheduled 12-round battle got underway, Corrales versus Castillo had "Fight of the Year" written all over it.  We were all just waiting anxiously for the curtains to be drawn, eager to say with as much sureness as picking heads or tails, "I told you so" to all those who doubted our opinions on such a too-close-to-call battle.
Prior to Saturday night, boxing fans, officials, and scribes all knew that Corrales and Castillo would put on a show for the boxing world that would potentially make it the best fight of 2005.  How naïve and oblivious we were.  We tried to confine this fight into the best of a single year, still unaware of what was about to transpire.  Corrales and Castillo, the fighters, the warriors, had something more planned.  Their greatness would not be restrained or held back by 2005, nor would they allow pain, exhaustion, and gravity to keep them from being heralded as champion.
What makes pick'em fights so much fun to watch is not only are the fighters so evenly matched that you don't know who is going to win even after the final bell sounds, but also, the fighters are so evenly matched that just when it appears that one fighter is getting a leg up on their competitor, the other combatant comes back to land a monstrous right or a flurry of punches to essentially turn the tide back in his direction.  And if you are one of the fortunate few who have ever witnessed first-hand such splendid mastery of the Sweet Science, your golden experience turns platinum when there are many tide-turning exchanges throughout the fight.
Could the showdown between Corrales and Castillo be as close as was being talked about?  I mean, how often does the hype given to promote the fight match the fight itself? Think back to that September when Bernard Hopkins took on Oscar De La Hoya.  Here was a fight that had so much hype to it that The Ring Magazine issued an unprecedented 162-page publication dedicated to this single event.  However, after the first two rounds were in the books, it was clear to most observers that Hopkins was going to be the man that night.
Weeks prior to Corrales and Castillo vying for each other's titles, Antonio Margarito and Kermit Cintron were involved in a potential blockbuster pick'em fight, which fizzled when Margarito starched Cintron after five rounds of action.
In Corrales and Castillo, you had two lightweights, both holding a version of the 135-pound title, both in their primes, and neither willing to say die.  Whoever you talked with about this fight, you were being given or giving compelling reasons to why Castillo was going to win or why Corrales would claim victory.  Castillo was going to wear Corrales down.  Corrales possessed more power.  Castillo will have to fight on the inside.  Corrales' chin is suspect.  Castillo can take a punch.  Corrales always gets up.  Castillo was robbed against Floyd Mayweather in their first fight.  Corrales "no mas'd" Acelino Freitas.
With neither fighter having a clear cut advantage over the other, those 18-1 odds on the fight ending in a draw suddenly were looking very good, and your mouth watered at the likelihood that with a very small wager, you might be having prime rib for dinner rather than your usual Saturday night Spam.
As the two gladiators made their way into the ring, there was electricity in the air.  It was the same buzz that was felt before Erik Morales first waged war against Marco Antonio Barrera, or when Arturo Gatti first took on Micky Ward.  Something special was about to happen.  We just did not know how truly amazing it was going to be.
To my right was super-heavyweight contender Audley Harrison.  At my left sat Sugar Shane Mosley, and in front of me was the newly crowned WBA heavyweight champion James "Lights Out" Toney.  Even with their contributions to boxing outweighing me as much as their physical sizes did, everyone in the arena was equal.  That night we were all just boxing fans, waiting for the most magnificent boxing match any of us had ever seen.
As the bell sounded to release Corrales and Castillo from their corners, I leaned forward in my seat with my eyes wide open.  I was purposely trying not to blink.  For the first half of the battle, the two warriors fought on the inside, taking shots at close range.  Castillo's best work was done with his uppercut, while Corrales was finding his target with his hard hooks upstairs.  You could hear people muttering around the arena as to why Corrales was choosing to fight on the inside for so long, essentially fighting Castillo's fight.  Corrales was patient though.  Similar to when he took on Freitas, Corrales was going to be patient, continue with his game plan, and eventually wear down Castillo with his power.
By the fourth round, a fellow boxing writer caught my attention and said with astonishment, "This is better than Morales-Pacquiao."  And he was right.  Morales and Pacquiao were able to fire off their arsenal at a higher rate of speed, but Corrales and Castillo seemed to throw more leather than their 130-pound counterparts.  In addition, for Corrales and Castillo, power would be the deciding factor in this fight.
They continued to fight toe-to-toe in ebb-and-flow fashion, with both combatants exuding an incredible amount of heart.  Just when it seemed Castillo was getting in the better shots, Corrales refused to falter, firing back with hard hooks and crosses upstairs.  And when it appeared that Corrales was landing more powerful hooks upstairs, Castillo used his superior boxing skills and experience to get on the inside of his opponent, and answered back with hooks and crosses of his own.
The climax came in the 10th round.  With both fighters' eyes swollen, cut, and bleeding, they came towards each other one last time, armed only with their gloves, heart, and determination.  Thirty seconds into the round Castillo landed a crushing left hook on the chin of Corrales to put him and his mouthpiece on the mat for the first time of the fight.  Corrales got up eight seconds later, and with time called by referee Tony Weeks, Corrales was given roughly ten seconds to have his mouthpiece rinsed off.  Once the action continued Corrales found himself on the canvas thirty seconds later after Castillo landed three more blistering left hooks upstairs.  This time Corrales rose on the count of nine, and having intentionally taken out his mouthpiece, Weeks was forced to take a point from Corrales while his mouthpiece was once again rinsed by his corner.  "You gotta f---ing get inside him now," said trainer Joe Goossen sternly as he placed the guard back in his fighter's mouth.  As the two warriors continued the action, they both tossed out hooks that missed.  However, it was the twice-fallen Corrales that landed the first meaningful punch in the exchange in the form of crushing left hook upstairs.  Castillo fired back with hooks to Corrales' head, and with the crowd jumping to their feet, the two warriors landed their punishment simultaneously.  Corrales finally got the upper hand when he landed a serious left hook to Castillo's jaw.  The crowd was going wild, while Castillo reeled against the ropes.  Corrales knew if the tide was going to turn, it would have to happen here.  At this point Castillo did not have the strength he seemed to have had just seconds earlier, and Corrales stunned his opponent with a brutal left hook upstairs.  A right hook by Corrales followed, moving Castillo further along the ropes.  A fierce left hook by Corrales quickly followed, snapping the head of Castillo so far back it stopped him in his tracks.  That would be the final blow in this amazing battle, for Weeks knew that Castillo was out on his feet, and at 2:06 of round ten, he rushed in to save the fighter before Corrales could cause any more damage.
Along with Team Corrales, who had rushed into the ring faster than a speeding bullet to celebrate their victory, the crowd went ballistic.  People were jumping up-and-down, and screaming at the top of their lungs in jubilation for Corrales, and for the battle they were so fortunate to be witness to.
Fast forward half an hour, and the arena was still full.  People did not want to leave.  Even though the fight was over, and the official time of the stoppage had been read, everyone was still taking in the amazing spectacle.  They were still absorbing the greatest portrayal of sportsmanship they had ever seen.  Their senses had been tantalized, and they wanted more.
Forget Charlie's admission into Willy Wonka's Chocolate Factory, those who were in attendance at the Mandalay Bay Saturday night had the real golden ticket, for Corrales-Castillo went light years beyond the hype.  It transcended all hopes and dreams for boxing fans, and turned the everyday average Tyson – De La Hoya boxing observer into a devout follower of the fight game.  As for me, all I could do is spend the next couple days talking to friends about the fight, telling my coworkers that Monday about what I had seen during my weekend, and being thankful that I was one of the fortunate few to be part of one spectacular evening.
Send questions and comments to: DNick@BoxingTalk.com