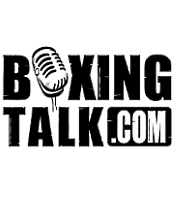 Compiled By Scott Shaffer
Fahprakorb Rakkiatgym KO9 Bobby Pacquiao...
Fahprakorb Krathingdaeng Gym, aka Fahprakorb Rakkiatgym, retained his IBF Pan Pacific Featherweight belt with an impressive ninth-round knockout over Bobby Pacquiao, the younger brother of world featherweight champion Manny Pacquiao.  The bout took place in Pattaya, Thailand, Fahprakorb's home country. In 2002, Fahprakorb was badly knocked out in the first round by Manny Pacquiao in an unsuccessful bid for the IBF 122-pound title. Today, he got a measure of revenge by dominating Bobby Pacquiao from the opening session with effective straight right jabs and hard body shots. He sent the younger Pacquiao out of the fight with a combination of punches to Pacquiao's face followed by a very big shot to the right ribs.  Pacquiao, the reigning Philippine champion at 130 pounds, was down on the floor for a few minutes. Fahprakorb, rated #25 in the featherweight division by Boxingtalk, improves his record to 48-3. Pacquiao's record dips to 21-11-3. Philippine sources sought to explain their countryman's poor showing by claiming he was out of shape. 
--Sake P.Denkaosen Kaowichit TKO7 Randy Mangubat...
Randy Mangubat, from Mandaluyong City, The Philippines, suffered a hand injury in a PABA flyweight bout against Denkaosaen Krathingdaeng Gym aka Denkaosen Kaowichit at Minburi Market in Bangkok on February 17, 2005. In first three rounds, Denkaosaen, a former WBA flyweight title challenger from Koh Samui, Thailand, landed effective right hands to Mangubat's face and body, but the Filipino used his left hand effectively against Kaowichit.  During rounds four through six, both fighters landed many powerful shots to their opponents, but Kaowichit looked a little bit more dominating. Before the bell to start the seventh round sounded, Mangubat, a former WBC flyweight title challenger, told the referee he had suffered a hand injury and could not continue. The official result was a seventh-round technical knockout for Kaowichit, who retained his his regional title. Kaowichit is rated #18 by Boxingtalk and #2 by the WBA at 112 pounds.
--Sake P.
Mike Arnaoutis W12 Roberto Santa Cruz...
Roberto Santa Cruz exposed Mike Arnaoutis' limitations but Arnaoutis showed he has the hunger to succeed and won a thrilling majority decision by scores of 115-113, 116-112 and 114-114. Santa Cruz barely threw a punch in the first two rounds, which wound up costing him dearly on the scorecards. It looked like it would be another early win for Arnaouits, who entered the ring rated #30 at junior welterweight by Boxingtalk. Then, Santa Cruz started landing punches in the third, and his confidence began to grow.  Arnaoutis, 13-0-2, took everything Santa Cruz could throw and then came back in the later rounds as the Santa Ynez, California crowd went wild. Both boxers deserve praise for their supreme efforts but Arnaouits did not live up to the ambitious press releases sent out by his management. In fairness, Santa Cruz was a late replacement for Michael Warrick and entered the ring as a virtually unknown commodity. Santa Cruz hadn't fought since May 2003 and drops to 11-3, but this performance will probably keep him busy against other prospects in the 140-pound division.
ShoBox on Showtime
Shamone Alvarez TKO4 Jose Medina...
 On the ShoBox telecast opener, welterweight Shamone Alvarez stopped Jose Medina in the fourth. The referee may have jumped in a bit too soon, but Alvarez badly staggered Medina in the previous round, so Medina doesn't have too much to complain about. It was a nice win for the undefeated Alvarez.
-ShoBox on Showtime
Antonio Margarito TKO10 Sebastian Lujan...
In Atlantic City on Friday, Antonio Margarito almost literally boxed Sebastian Lujan's ear off.  When referee Dave Fields stopped the WBO welterweight title fight in the tenth round, the top portion of Lujan's left ear was hanging from the side of his head and bleeding profusely.  It was a gruesome sight. Lujan started quickly, but Margarito adjusted to Lujan's style after a few rounds and slowly began to punish Lujan with increasing intensity. The Argentinian Lujan, making his American debut, has the physique of a welterweight Mike Tyson, and like Tyson, he came out very aggressively in the first round.  Lujan landed big punches early, but Margarito soon figured out how to exploit his height advantage.  With the win Margarito completes a successful move back down to 147 and sets himself up for a pay-per-view battle with Kermit Cintron. 
source: Friday Night Fights on ESPN2Ernesto Zepeda W9 Cesar Bazan...
In Arizona, referee Bobby Ferrara was forced to make a very difficult judgment call, and instant replays showed he probably made the wrong one.  Ernesto Zepeda was clearly ahead of ex-lightweight champion Cesar Bazan on the scorecards, when a huge gash opened up on Zepeda's cheek and blood started pouring out.  The replay showed Bazan landed an uppercut that caused the bleeding, meaning that Bazan should have had a come-from-behind technical knockout win. However, right after the punch landed, the two boxers' heads came together, making it extremely difficult to tell what caused the cut. Since Ferrara ruled an accidental butt was to blame, they went to the scorecards and Zepeda, moving up from 135 to 140, won a technical decision by scores of 78-73 (twice) and 79-72. A rematch is warranted.
source: Solo Boxeo on TelefuturaJoshua Clottey NC2 Stevie Martinez...
Joshua Clottey pulled an Evander Holyfield, leading with his head instead of a jab. Though it wasn't conclusively intentional, Clottey's tactic caused Stevie Martinez to suffer a cut that convinced the ringside physician to stop the welterweight bout after two rounds in Atlantic City.  Clottey is rated #26 at 147 pounds by Boxingtalk. Also,
Allen Litzau KO3 Corey Goodwin
(featherweights) 
source: Friday Night Fights on ESPN2Jesus Gonzalez W8 Alberto Mercedes...
In Phoenix, middleweight prospect Jesus Gonzalez went eight rounds for the first time and defeated Alberto Mercedes by unanimous decision. Gonzalez improves to 14-0, but Mercedes was stopped twice in 2004 by the likes of George Walton and Jonathan Taylor but made it to the final bell against Gonzalez on Friday.
source: Solo Boxeo on Telefutura