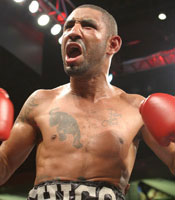 A BoxingTalk Exclusive with Diego "Chico" Corrales
This past weekend, Diego "Chico" Corrales not only picked up the WBO Lightweight title, he did it by defeating the great and then-undefeated Acelino "Popo" Freitas. The first seven rounds saw the powerful Brazilian move brilliantly around the ring landing nice shots to the head of Chico, but Corrales remained patient knowing that Freitas could not keep up the pace at which he was fighting. His training and patience paid off in the eighth round when Chico put Freitas down for the first of three times by a monstrous right hand. Now with the lightweight title around his waist, Corrales is looking for a formidable opponent to show off his superior boxing skills. Enter newly unified junior lightweight champ Erik Morales. Corrales is the best fight going for El Terrible when it comes to competitiveness and marketability. Both are tall fighters with long reaches that possess quick knockout power. If Morales wants to show how great of a fighter he truly is, he will need to jump up five pounds and give the new lightweight champ a try. BoxingTalk spoke with Chico to get his thoughts on becoming the new lightweight champion, what it was like for him to give Freitas his first loss, and how a fight with Morales would give the boxing fans a fight they would never forget.
BoxingTalk: Diego, Congratulations on a great fight and becoming the new lightweight champion.
Diego Corrales: Thank you
BT: Did your fight with Freitas go exactly how you expected it would from start to finish?
DC: The fight went exactly the way we planned it to go, and that's why you never saw any of us getting nervous in there.
BT: Freitas' pace was incredibly fast for the first seven rounds. Did that throw you off at all?
DC: Oh absolutely not. I was landing a lot of body shots – something that a lot of people didn't give me credit for. I stayed to his body early on and his pace was going good for the first four rounds. Then I started gaining speed, landing my punches with more regularity, and closing that gap.
BT: Were you ever hurt by any of Freitas' punches?
DC: No, not at all. I felt great.
BT: In between the first seven rounds, what was your trainer Joe Goosen telling you in your corner.
DC: He told me I was looking great, to keep my hands moving, keep my head moving, keep my hands high, keep digging to the body, and work on cutting the ring off. It was basically the same thing every time. Do not let him gain the confidence, don't let him slow down – keep the pressure on him. I had to keep pressuring him.


BT: That pressure paid off for you in the eighth round. Could you explain how that round became the turning point in the fight for you?


DC: The first knockdown was actually set up earlier in the eighth round from a great left hook to the body, and that's what started it off for me - a good shot to the body. I kept landing great shots to the body and I rallied. When I put him on the ropes it was harder for him to keep up with his motion and movement. I took advantage of that and landed some really big shots.
BT: Did you know that once you had Freitas down in the eighth round, that it had now become your fight?
DC: Absolutely. Once he went down I knew that everything had finally gone the way I wanted it to go, and I just had to keep it up, keep it up. Once I dropped him, I was not going to stop. I kept getting stronger and stronger, and faster and faster to make sure that I kept him on the go and kept him hurt, and I was never going to let up.
BT: When the referee called time to allow Freitas to get his mouthpiece back, you were so close to finishing him off, but had to wait in the corner for what must have seemed like eternity. What was that like for you?
DC: I was a little upset (laughing). We're in a big fight and I didn't want those things to get in the way. But the referee did his job, and he did a great job of it. He took a point away from him, but I was still upset at the time being. It kept me from being able to finish my job, but you have to give the referee credit – he warned Freitas, he took a point away from him, and then he allowed me to do my job by not disqualifying Freitas.
BT: Knowing that Freitas is a great fighter who has been in some great wars, what is it like for you to give him his first professional loss?
DC: It's nice. I hope he's OK, because he really is a good guy. I hope he's alright mentally, emotionally, and physically as well.


BT: There has been talk of a fight with Erik Morales…


DC: I hope so…
BT: Is that who you want next?
DC: I think Erik and I should fight each other. I'd love to do it next. The way things look right now, I am the best lightweight. I am the king of the lightweights. I think he's king of the junior lightweights. I left the junior lightweights and I think I ran the junior lightweight division. I think a fight with Morales, because we have been around each other for long and have been so near to each other for so long, needs to come together and happen.
BT: How would you fight Morales differently than how some of his other opponents have faced him?
DC: I would box him. I would definitely be smart in my fight with him. One thing I've shown is how versatile I really am. I would let him come to me and box him. That will make a huge difference because I would use my reach, my movement, my long punching power to take things to the next level.
BT: Has your promoter Gary Shaw said anything to you about fighting Morales next?
DC: Not yet, but I hope Gary does say something about it. I hope Gary calls me soon and says, "Chico, we have Erik on the table. We can make it happen, what do you want to do?" That would be awesome, and I'd be excited to fight him.
BT: My sources tell me that you are on tap to be the studio guest during this week's episode of Friday Night Fights on ESPN. Is that true?
DC: Yeah, I am planning on it. As we speak, they're setting everything up right now for me to do it. It should be pretty cool. I'm taking advantage of the opportunities that are being given to me, and I think that's important.
BT: What are you going to do now? Any chance of taking a vacation with your family?
DC: Yeah, we're going to New York for Friday Night Fights, then we're heading down to Florida. Then I'd like to take my daughter horseback riding in Houston, because she really wants to go horseback riding.
BT: Well Diego, you gave us a very entertaining fight like you said you would. Enjoy your time off and we'll talk to you soon.
DC: Thanks bro.
BoxingTalk thanks the new lightweight champ for taking the time to speak with us. We wish him continued success both in and out of the ring.


MEMBERS CLICK HERE TO READ THIS EXCLUSIVE
Send questions and comments to: Fool4Rush@aol.com