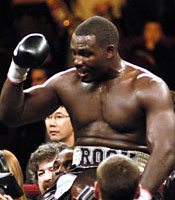 Dear Mr. Sulaiman: As you are fully aware, on November 13, 2004, Hasim Rahman defeated Kali Meehan at Madison Square Garden in the WBC  Title Elimination Bout for the right to become Vitali Klitschko's mandatory challenger for the WBC Heavyweight Championship.  
Since that time, we have corresponded with you and your offices so as to clarify our rights as mandatory challenger and to fully understand the position of the WBC in regard to this matter. In your letter, dated March 7, 2005,  you clearly ruled that (a) Hasim Rahman is entitled to a mandatory title bout against Vitali Klitschko and (b) Vitali Klitschko may not engage in a voluntary defense against any other boxer after April 15, 2005.  
Based upon your correspondence and all of the rulings issued by the WBC relative to Hasim Rahman's position as mandatory challenger for Vitali Klitschko's title, we negotiated a fair and equitable agreement with Don King to challenge Vitali Klitschko for his WBC title on April 30, 2005. The terms and conditions of our agreement were also accepted by Vitali Klitschko and his representatives.  
Almost immediately after this agreement was announced, Vitali Klitschko declared the need for a "short" postponement due to a "minor" injury. Therefore, a new date was scheduled for June 18, 2005. Again, Vitali Klitschko declared the need for more time. And once again, a new date was scheduled for July 23, 2005. Then, Vitali Klitschko's injury status was changed from "minor" to a need for surgery. A postponement would be needed to at least September 2005, if not later.  
Acting in the best interest of boxing in recognizing the medical uncertainty of Vitali Klitschko, if not just the lack of credibility in the Klitschko position, the WBC mandated that Hasim Rahman fight Monte Barrett for the WBC Interim Heavyweight Championship. Once again, Don King quickly responds to this mandate by the WBC and negotiates an agreement between Rahman and Barrett whereby they will fight each other on August 13, 2005 at the United Center in Chicago, Illinois.  
It should be noted that this date was scheduled after HBO requested that Don King not schedule this fight on July 23, 2005 which was the original date held by King for Rahman versus Klitschko. Don King accommodated this request with assurances from HBO that they would televise Rahman versus Barrett on HBO Pay-Per-View and with the assurance that this scheduling change would not allow for Vitali Klitschko to hold an additional voluntary title defense on September 24, 2005 or on any other date contrary to WBC rulings. Although HBO Pay-Per-View  has elected not to broadcast Rahman versus Barrett, it is imperative that they honor the rules of the WBC by not broadcasting any Klitschko title defense other than versus the winner of Rahman versus Barrett so as to comply with the rulings of the WBC.  
As soon as this agreement is announced, it is rumored that Vitali Klitschko has recovered from his "injury" and that he will be using your mandate for this interim title bout as a means to avoid his responsibility to defend against his mandatory challenger, Hasim Rahman. This is clearly in defiance of all rules and regulations of the WBC as well as a slap in the face to all boxing fans who expect their true champions to fight the best, not to avoid them at any cost.  
If this rumor proves to be true whereby Vitali Klitschko is seeking an additional voluntary defense supposedly on September 24, 2005 counter to WBC rules and regulations, we urge you to enforce your mandate in that Vitali Klitschko must now defend against the winner of the bout between Rahman and Barrett.  
On behalf of Hasim Rahman, we wish to advise you that if we prevail against Monte Barrett on August 13, 2005, he stands ready to accept the challenge of Vitali Klitschko on September 24, 2005 or on any other date or place which may be proposed for this bout for the WBC Heavyweight Championship. We only ask that this bout be negotiated in accordance with all rules and regulations of the WBC.  
As you know, Hasim Rahman was honored to have held the WBC title in 2001. He has worked hard to earn another opportunity to challenge again for the WBC title showing respect for your heritage while fully complying with all your rules and regulations. Please do not allow Vitali Klitschko to disrespect the sport of boxing and the WBC by evading the winner of the bout between Rahman and Barrett. It is imperative that all your champions respect and honor the rules and regulations of the WBC so as to maintain order and credibility in boxing.  
We thank you for your thoughtful consideration of this matter and look forward to your response. Very Truly Your, Steven Nelson (co-manager)
Send questions and comments to: gleon@Boxingtalk.net