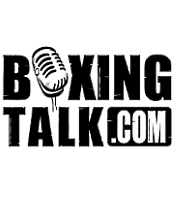 First of all, I would like to say that we at Cestus Management considers Lou DiBella a good friend and I would never disclosed any details regarding any negotiations that may have occurred between the two companies.  We at Cestus Management are professional business people and respect our fellow business peers.
In regard to Paul Malignaggi's comments on Boxingtalk, I would like to say that I completely understand why a joke like him would do this now. Paulie, we all know that you are a dancing clown who can empty an arena instead of filling one.  I mean, Come on!  Do you really think you can beat Mighty Mike?  Just be honest with everyone as to why you are doing this now.  You are broke and need money for your tap dancing lessons, hair gel and styling mousse, so you are desperately trying to land a big fight.    
You also know that the only way that a tap dancing, hair styling, injury prone clown like you is going to get on HBO is by luring a top contender like Mighty Mike Arnaoutis, who is now ranked # 1 in the world by the WBO, into a bout.  What do you bring to the table to merit you fighting Mike?  It's not money, because you're not any kind of a fan draw.  It's not ranking, because you're not a top-ranked fighter.  We have real fights on the horizon and we are there as a mandatory challenger for Miguel Cotto.  We have been on major networks many times before and just finished co-headlining a pay-per-view event this past Friday.  You, on the other hand, have had multiple surgeries on your right hand and have nothing to look forward to on the boxing horizon.   
Don't be so down and desperate Paulie, it makes you sound pathetic.  Hey, when all else fails in your boxing career and you finally realize that you will never be anyone, always remember that there is always a circus somewhere out there looking for a dancing clown to amuse their customers.  Till then, keep that hair nicely gelled, and keep practicing your tap as I hear the "Lord of the Dance" may need some new dancers soon.  Tap…tap…tap…              
Mike Michael
Cestus Management