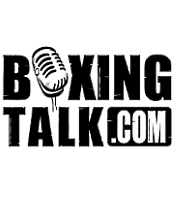 "Dibella the Peacemaker"
In front of a bigger crowd then I expected to show up due to the series of events that were taking place in Little Rock, Jermain Taylor was a dominate force against the former three-time world champion William Joppy. With many singing his praises, there are just as many that are laughing at the possibility of a 2005 showdown with either Felix Trinidad or Bernard Hopkins as this fight laid yet another platform for fans and other middleweights to point out the negative aspects and weaknesses of Taylor's performance. All in all it was not a bad showing for the middleweight contender, but the undercard was filled with exciting fights and also showed what happens when security is slow or lacking in a situation.
In the first bout of the evening, Danny Santiago got the show off with a bang as he knocked out James Brock in just over a minute in the first round.
The second fight of the night gave promoter Lou Dibella a few worries as he placed his fighter, Koba Gogoladze, in with the rugged veteran Roque Cassiani. Cassiani, who many promoters call on short notice to face their prospects, came into fight in possibly the best condition he has been in for the past few fights and it showed in the first round as he went on the attack and dropped Koba with a right hand in the opening stanza. Gogoladze was able to regain his composure and began to time Cassiani as he pressed the fight, however on many of the occasions it led to the two fighters going right at each other with Cassiani getting the better of the exchanges in the early rounds. Later in the fight, there were several instances where Cassiani went to the canvas, but each time the official ruled it a slip. In round 10, things got worse for Koba as he was deducted a point in the round. Both fighter finished the fight strong and awaited the scorecards. One judge scored the fight 94-93 Cassiani, one scored it 97-90 Gogoladze, and the third judge had it 94-93 Gogoladze to give the DBE fighter a split decision victory in what was one of the best fights of Gogoladze's career thus far.
Arkansas was given a treat in the third fight of the evening as the boxing world was introduced to 2004 Olympian Andre Berto. Berto proved he had solid skills as he pounded Michael "Tiger" Robinson. Berto scored two knockdowns in the first round and another in the second enroute to a third round stoppage. With the exciting debut, the other Olympians will have to really be on their game to separate themselves from Berto as the best prospect from the 2004 class.
Arkansas heavyweight Terry Smith was next to enter the ring. Smith had his hands full all night long with Flint, Michigan's Demetrice King. Having fought the Saturday before, Smith seemed to be somewhat flat inside the ring for the majority of the fight and later admitted that he did not do any roadwork all week before the fight which he felt hurt him in the contest. After a very close first round, King got a slight edge in the fight when he scored a knockdown in the second round. From that point on, both fighter had their moments, but it was Smith that landed the bigger punches in rounds five and six to take the unanimous decision victory by the scores of 57-56 (twice) and 58-55. It was a competitive contest with both fighters landing some big shots.
While awaiting the scores for the Smith-King fight, a fight broke out in the stands as it does at almost every event. With all the talk of security at sporting events after the now infamous Pacers-Pistons game, something very interesting took place in this situation. Being able to see the incident clearly from press row, the punches were flying as the crowd became bigger with no security in sight when out of nowhere who should appear but Lou Dibella himself who took control of the situation and started pulling people apart until the authorities arrived to bounce the culprits. Who knows, if promoting does not pan out maybe the NBA can hire Lou "The Peacemaker" Dibella to head security efforts for their games.
In what turned out to be the best fight in Paulie Malignaggi's career came to an abrupt end after Malignaggi and Sandro Casamonica clashed heads that forced the bout to be stopped. Malignaggi took the technical unanimous decision 69-64 (twice), 67-66. It was Casamonica that got the crowd support however as the Arkansas fans booed the decision and roared to life as Sandro circled the ring with his hands held in the air. This was due to Sandro landing some very clean punches to the usually hard to hit Malignaggi. The word after the fight was that Paulie may have suffered a hand injury and could be out of action for a while if it is the case.
Many at ringside felt that Malignaggi put up the best fight thus far in his career as he traded shots with Casamonica, however the fight was still up for grabs at the time of the stoppage which was actually a weird circumstance as they rang the bell for the next round, Paulie was already off his stool and ready to go. Casamonica, who received instruction from his trainer throughout the period, was still sitting on his stool. At the time of the start of the round, the referee ordered Malignaggi to a neutral corner then brought in the doctor to look at the cut on Casamonica. After examining the cut, the doctor left the ring, however the corner was given more time to work on Sandro which goes against everything you learn in boxing as the doctor did not take anytime away from Casamonica's corner in the allotted time, but yet they were given more time to work on the cut and to receive instruction, but the fight was waved off.
If Taylor v Joppy proved anything, it was that there are many middleweights out there that had their notebooks out making a game plan to defeat the Arkansas fighter. Despite a solid showing, Taylor showed a reluctance in the later rounds to take advantage of a Joppy that seemed to have thrown in the towel. On many occasions, Joppy dropped his hands and backed into the corner to invite Taylor in, yet Taylor would not oblige Joppy and just stayed on the outside looking at him. Many critics pointed out that they felt Joppy neutralized Taylor's jab and was able to get Taylor out of his game.
Taylor, who stated after the fight that he wanted a fight with Bernard Hopkins or Felix Trinidad may just get his wish if everything falls into place. The statement from Taylor made many fans and boxing managers laugh as they feel Taylor has not shown he is ready for those fights. But to give Jermain credit, he wants to test himself against the best in the division, he wants the chance. A fight with Hopkins will be for all the gold, a fight with Trinidad will be for a big payday.
While waiting for the next fights after Taylor v Joppy, a fan yelled at Emmanuel Steward asking him what he thought of Jermain and it seemed he was impressed with what he saw. Steward has been impressed with Taylor for a long time as he said last year that he felt Jermain was ready for Hopkins. The same fan asked the same question to Larry Merchant who simply stated that he would rather not comment.  
Taylor's fight with Joppy did not answer a lot of questions that the fans or the critics have been asking, yet it did give Jermain another name on his resume and he did score a fifth round knockdown over the former champion when he connected with a left hook in close. The biggest thing that has been noted is that many feel Jermain has bad footwork, overrated power, and tends to slap more with his punches instead of with big power. As Jermain said after the fight, it is a fight that he can watch over and over again and learn something about himself each time. It was the test they were looking for and the results were expected.
There were two more fights after the main event. Will Mitchell, from Crossett, Arkansas, made his professional debut. Mitchell who had been out of the ring for seven years due to a term in prison, got off to a winning start to his professional career with a four round unanimous decision against Michael Taylor. Taylor, who brought in a record of 1-3, was also a kickboxer and gave Mitchell a good test to began his career. The judges saw it 39-37, all for Mitchell. Mitchell expressed that he was grateful for the opportunity and that it was a fight that gave him confidence after being away from competition for so long.
"I know I did not look great out there," stated Mitchell, "but I also know that I can do a lot better than what I did. I should have gotten that guy out of there in the first round."
Mitchell's trainer, Johnny Dupree stated that he knew Mitchell could have done better in the ring. "I know he can do better then what he showed, I know what he is capable of and I know what he has been through."
Despite Mitchell stating that he was not tired in the ring, Dupree felt that Mitchell did show sign of fatigue in the final round. "Right now it is both physical and mental things that we have to improve on for Will. It is mainly mental things that he has to get past, both this fight does give us some things to work on."
Those things will have to come quick, as Mitchell is slated to fight his second fight on December 17 in Laredo, Texas.
"I know that I will do better in that fight," states Mitchell. "I have things to work on, but I expect to have a better showing."
Mitchell came up through the amateurs, stated he had a decent amateur career, and was a finalist in some tournaments.
In his debut, Mitchell looked a bit rusty and also seemed to be easy to find at times.
"I have to get more offensive minded," stated Mitchell. "I did not do the things that I know I am capable of. I have always been an offensive fighter, but I do see that I am going to have to get better defensively as well. I saw a lot of his punches coming, but I just did not get out of the way. I mean he threw a lot of wide shots and I saw them really clear and thought to myself here it comes, but I did not do anything defensively to avoid the punch."
In the final fight of the night, cruiserweight Adam Hubinger upped his record to 7-0 7 KO's with a third round stoppage of Jerry Stephens.
Send questions and comments to: stateofthegame@yahoo.com