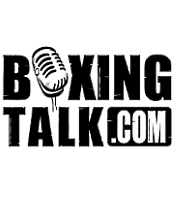 "This is my statement fight right here"
Boxingtalk.com recently spoke to undefeated Middleweight prospect "Marvelous" Tarvis Simms 19-0(11) as he was preparing for his biggest step up in class as a professional, when he takes on former world title challenger Carlos Bojorquez December 18th on the under card of Tarver-Johnson at Staples Center in Los Angeles, CA. In this one on one he talks to us about his non stop preparation as well as his plans "I am just looking to expose him and make my name before I move down to 154lbs"
RC: Tarvis, from what I understand you will be facing former world title challenger Carlos Bojorquez 23-5-6(19) on the under card of the Glenn Johnson-Antonio Tarver on December 18th, is that a done deal?
TS: It's been 100% go, it is just is just matter of just getting down there and doing what I have to do now.
RC: How long have you been in camp for this fight?
TS: I am living in camp; I have been down in camp since March.
RC: Is that a concern being that you have been in camp since Mar…
TS: (Cutting in) Nah, we had two fights in a row, and then we were scheduled to fight in the main event at Mohegan Sun which the fight fell through, and since then I have just been in camp steady preparing and just getting in great shape. 
RC: Give us your thoughts on your opponent Carlos Bojorquez, and what do you feel he brings to the fight?
TS: Like any fighter I am up against I have a lot of respect for him, but only to a certain degree, I respect him as a fighter, I know he comes and he is pretty crafty. He has fought some top name guys and he banks on that right hand. There is pretty much nothing special about him, he just comes straight at you, and I am just looking to expose him and make my name before I move down to 154lbs
RC: So after this fight you plan on campaigning at 154lbs?
TS: Yes I plan on moving down to 154lbs.
RC: How far are you away from making and staying at 154lbs?
TS: Right after this fight, in this fight we agreed to fight him at 158lbs, it's actually 157lbs plus one, and I am just thrilled to get this fight so I can continue to move on and do some great things down at Jr. Middleweight.
RC: From what I understand a fight between you and former three time world champion Verno Phillips was being discussed is there any particular reason why that fight never went through after he said he would agree to fight you at 157lbs
TS: I was never offered to fight Verno Phillips at any time. Verno's name has come up, but for some reason or another they weren't interested in the fight. To me that would make for a great fight, and like I said I am moving own and whoever wants to test me they can bring it.
RC:  He (Bojorquez) has tons of ring experience and has challenged some pretty crafty veterans, other than you being the bigger guy, how do you plan on making up for the experience factor he has over you?
TS: I am just looking to out gun him, and out box him. However he wants to do it, we can do it. I am just going to go in there and I am going to work on a lot of things we have been working on. My trainers have been watching a lot of tapes on him, and I am just going to go down there and do what we got to do. It is my job to go out there and completer or mission.
RC: After being in camp, when you started training towards this date did you know who you were fighting?
TS: No I didn't know who I was fighting, just mentally I have to play a game with myself to keep myself motivated, because I was in camp for a long time, and with that other fight falling through…its like a lot of fighters get discouraged and start developing bad habits by doing other things, and I try to remain focused and keep myself psyched that I had a fight. I just continued to train hard with my strength and conditioning Joe Pastore, he is excited with the way I have been handling my workouts and everything like that. Marshall Kauffman is the trainer, but they are all thrilled just as much as I am to get this fight and to see all of this stuff come together that we have been working on.
RC: Once you found out who you will be fighting, does your camp change any at all?
TS: Yes, I just do what is asked of me in camp, and it makes it that much easier, I just allow Joe Pastore and Marshall Kauffmann to do their job, whatever they feel we need to work on we work on, They don't try to change to much of me, they just add on to what I got and try to make things better.
RC: Where would a victor over Carlos Bojorquez a former world title challenger, place you amongst the 154lb division?
TS: I'm really not sure... But it should rank me amongst the top level guys in that weight class because Carlos has only lost to the top guys, and I am just looking to join that class to have defeated him.
RC: Your twin brother (Travis Simms) is already a world champion at 154lbs, do you guys have any goals set, sort of how the Klitschko brothers always talk about wanting to be world champions at the same time now that you plan on fighting as a Jr. Middleweight?
TS: Ooh yeah, well you know that I mean that is pretty much, not only just my dream but every fighters dream to become champion in any weight class they are fighting in. My whole reason of moving down is because my work ethic is just so intense, and I am living this thing every day and we just feel it would serve me good to move on down and be the bigger man with an advantage, rather than fighting these guys in heavier weight classes and being the smaller man at the disadvantage.
RC: Other than being the bigger guy, what else can we expect from you at Jr. Middleweight that we probably didn't get to see much of at Middleweight?
TS: You are going to see a lot more banging, a lot more combinations; I will be fighting at a faster pace, a lot of strength and just a lot of ring generalship. I am looking to make my imprint with this fight here, this is my statement fight right here. You are going to see a lot more power in my punches and you are going to see a lot of good defense too.
RC: Next year this time where would you like to see yourself in the Jr. Middleweight division?
TS: I want to be a world champion a year from now.
RC: Since your layoff, you have been pretty busy can we expect the same type of activity level from you next year?
TS: Definitely, as long as Star boxing keeps me busy, I am always willing to fight. Especially when I know I have been giving it 120% in the gym and in my training, I mean shit… I will fight anybody out there, but things got to make sense. Boxing isn't about who is the toughest, it is a business, certain fights get you good money so it all depends on what I am looking for. That is the direction we are going.
RC: Is there anything else you would like to add in closing?
TS: Just keep an eye out for Marvelous Tarvis Simms, I am on the rise and I am looking to make a statement at the Jr. Middleweight division.
RC: How does your bother feel about you coming down and fighting in his weight class where he holds a world title?
TS: I am really not sure, I haven't even talk dot him about that, we haven't really spoke about moving down there, this is just a decision my team and I have made and it is just something we are willing to try to see what happens, but I am sure he would be obliged to have my company down there.
RC: Obviously your better dedicated work ethic helps a lot in shedding weight, but do you feel that in any other areas you might be sacrificing going down in weight after fighter at higher weights your entire career?
TS: No not really, it is just a career move, just something that my team and I have discussed and we just feel that it would be better for me to move on down, and eventually we are going to come back up, as am amateur since I was 14 years old I have been fighting at 165lbs taking on these big guys, and it wasn't even a struggle, we just feel that now that my work level has intensified and we are working diligently everyday, six days a week and my weight is coming down and I am getting stronger, so they just feel that I should just campaign at 154lbs and I agree.
RC: What can we expect from Tarvis Simms? Do you have a predictions going into this fight?
TS: You can expect a good gutsy fight, again this is my statement fight so I am going to try and pull every trick out of the bag for myself. I am going to try and pull off a great unanimous win whether it is by knock out or by unanimous decision, as long as I get the "W" it doesn't matter, but I am going al out for this fight.
RC: Now this may seem like a strange question, but it is just one that I have to ask because it varies amongst siblings and I'm sure everyone would like to know where you stand with it, for instance a few weeks ago Chris Byrd said that some of his best fights were with against his brother in the amateur rankings, if it came down to it, will you compete against your twin brother in a professional prize fight?
TS: No, there is not enough money that they can offer for me to fight my brothers. I believe m brother and I, our bond is far more greater than any money, and you can't put no price tag on that, that is my twin brother.
I don't know what other brothers relationship with brothers, but again my brother and I are twins and we came in this world together rand like I said you can't put a price tag on that.
CLICK HERE FOR MORE OF THIS EXCLUSIVE
Send questions and comments to: rayocampbelljr@hotmail.com