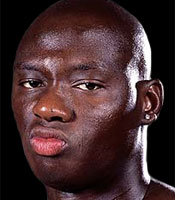 As only we can, Boxingtalk.com spoke with light heavyweight king Antonio Tarver last night to see what he had to say in response to Bernard Hopkins' proposal to make the last mega-fight of 2004 on December 4. As usual, Tarver wasn't short on words. He makes it perfectly clear that he's not turning this fight down. Members check out what the undisputed light heavyweight champion of the world had to say about his potential fight with Hopkins.
"The Magic Man" also thoroughly bashes Roy Jones Jr. and James Toney badly in this piece. "James Toney is eating himself into his own division, the sumo heavyweight division," says Tarver. And that's just the tip of the iceberg!


GL: Antonio, Bernard Hopkins responded to your winner take all challenge by stating that he's willing to make it happen December 4 on HBO PPV. I know you've read the interview, can you tell us where this situation stands as far as you're concerned?


Antonio Tarver: "To me Greg, it's obvious that Bernard is a businessman and sometimes you have to put your thinking caps on because this has the potential to be a big, big fight and obviously it's one that I'm very much interested in. I've told you long ago that my game plan is to eliminate these so called pound for pound champions that have been in way, hindering my elevation to the top of the boxing world. On May 15, I begun my mission but I'm not nearly done! Bernard Hopkins is a great opportunity for me to show the world once again that I am the most dominant fighter in the world today. I accept his proposal, so I want to make it perfectly clear to him that December 4 is perfect for me as well. Our people will begin to reach out to each in the next few days and as Bernard said, we're going to get the ball rolling. I know this is a fight HBO would love to put on, we both feel that we're the greatest fighters in the world today and I'm ready to make it happen as soon as possible. I don't want to disrespect Oscar De La Hoya because I know Bernard is going to have his hands full on September 18.


"Anyone who thinks Bernard is in for a walk in the park is truly mistaken because De La Hoya has proven that he is a true champion and he's fought every big name in the game today, so Bernard Hopkins needs to be at his best. We definitely don't want him to lose focus on the task at hand and slip up by taking De La Hoya lightly. With that being said, I've seen how some of the fights Bernard has talked up in the past fell apart faster than I stopped Roy Jones. So once these negotiations with Hopkins progress, I'm going to need some guarantees that BIND him to make it happen after September 18, just like the BINDING agreement he received for the Oscar De La Hoya after June 5. I'm willing to wait for him but he needs to obligate himself fighting Antonio Tarver, I don't want there to be anywhere else for him to run off to. With all of the options out there for me right now, I need that guarantee from him to make sure he's not wasting my time."


"And Greg, if De La Hoya's bad back acts up or anything else prevents him from moving forward with September 18 as scheduled I'm ready to step right up, so HBO need not look any further than Antonio Tarver to salvage that PPV date."


GL: Bernard feels that the fight with you is the biggest fight in boxing after he takes care of business against De La Hoya. Do you agree with him?


AT: "I have to say I agree with that. Both of us are intelligent men and we know how to express ourselves in front of the cameras and otherwise. This is a fight that the people would buy. Having a win over the De La Hoya will go a long way and when you combine that with my win over Roy Jones Jr. the bottom line is this is the biggest fight in boxing and the most interesting fight in boxing. It could be the first time in the history of the sport where the press conferences are PPV's. Without a doubt this has the potential to be one of the most memorable fights of recent times."


GL: When can we expect these discussions to commence?


AT: "As you know, I'm dealing with some personal issues that will be worked out in the very near future."


GL: The war of the words between you and Bernard has gotten ugly over the past week. Hopkins told me it's time to leave the name calling and mud slinging alone so the two of you could get down to business. How do you feel about that?


AT:" I'm in total agreement with him. It's not my style to get into name calling, but I'm not going to let anyone disrespect me as a man. We don't need to sling mud because once we step in that ring, everything will take care of itself.


GL: Brad Jacobs told Dan "The Avid Boxingtalk Reader" Rafael that Team Jones reached out to see what could be done for the rubber match before this Glen Johnson fight came to the forefront, but your personal issues prevented them from moving forward. However, more than one source inside the Jones camp has told me that Roy will NEVER accept your terms of a 60-40 purse split to make the rubber match, so what's the point of reaching out to you if they're unwilling to accept your terms?


AT: "Look, I feel in my heart that I won the first fight. Then I came back and dominated him in the rematch by knocking him out. What does Roy Jones want? He's made enough money, so when is he going to stop being about dollar signs? My left hand has given him every reason in the world to come back and show his fans that he's everything they always thought he was. This is his legacy and his reputation he's trying to put a dollar sign on which I believe is a testament to what kind of person he is, and his actions have shown the world that he isn't even half the man, and half the champion they thought he was. If he ever wants his chance at redemption he needs to be a man and get with my program because I deserve every penny I'm asking for by knocking him out in two rounds. Humble yourself Roy, because if you ever want your chance at redemption you're going to have to take 60-40. Not 50-50, not 55-45, not 59-41, 60-40! If you COMBINE what I received for the first two fights all you end up with is 40%, so I'm not budging one inch on this one. Roy could go out there and pick up every other light heavyweight title on the market and it doesn't mean anything to me and it doesn't give him any leverage at the negotiating table with Antonio Tarver. What do those other so called world titles mean when he's not even the best fighter in Florida? He needs to wake up and smell the coffee or realize that he can't beat me and throw the white flag in and let the world know Antonio Tarver is too much man for him."


GL: Can you give us your thoughts on the comments James Toney made his exclusive interview with Boxingtalk.com?


AT: "He said he's going to knock Vitali Klitschko and me out on the same day, but the only thing he's knocking out are McDonalds and Burger King. Based on how he's been looking those seem to be the only two entities he's capable of putting out of commission. He's obviously bitter that I made easy work of the man who made easy work of him and it's obvious that he wants to enter the Antonio Tarver sweepstakes. James is just crying like a scorned bridesmaid without a date. Tell James Toney that if a date becomes available and I have nothing better to do, I'll gladly accept his challenge, but rest assured Greg, a man who couldn't beat Drake Thadzi can't top my things to do list. But James please sew your mouth closed, wire your jaw, or do whatever else you need to do to prevent you from stuffing your face because you're eating your way into your own division, the SUMO heavyweight division."




Send questions and comments to: gleon@boxingtalk.com