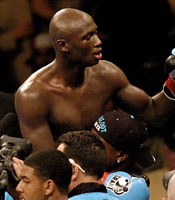 PRESS RELEASE:
Baseball Hall of Famer Ernie Banks said it best when he said, "Let's Play Two".  Luckily, when you have two elite warriors like Antonio Tarver and Glen Johnson willing to put it all on the line in boxing's equivalent of a doubleheader, boxing fans are the true winners. On Saturday, June 18, at the FedEx Forum in Memphis, Tennessee, Tarver and Johnson will square off for the second time in a battle to once again determine who the best light heavyweight on the planet is. HBO World Championship Boxing will televise this battle of champions, at 7pm (PT) and 10pm (ET).  
On December 18 of last year, the Jamaican-born Johnson scored a razor-thin 12 round split decision over Tarver in a hard-fought battle that thrilled fight fans from coast to coast. "It was a great fight," Tarver admits.  "Yes, it was competitive, but I don't feel the guy beat me more rounds than I beat him.  I should have been awarded the decision, and now, I have a second chance to show that that first fight was a fluke." Tarver (22-3, 18 KOs) is a dangerous fighter when it comes to rematches.  Just ask Eric Harding and Roy Jones Jr., whom Tarver knocked out in their return bouts.  The focused "Magic Man" is looking for a three-peat when he squares off against Johnson.  
"It's as simple as it gets – I'll be a better conditioned athlete, and every time I've prepared properly and been in the best shape of my career, I've knocked people out.  It will be no different on June 18," said Tarver. Johnson (42-9-2, 28 KOs) is not likely to go without a fight though.  Known by boxing fans as "The Road Warrior" for his long trek to the top of the 175-pound division, Johnson finally made his mark in 2004 with the win over Tarver, which was preceded by his own devastating knockout of Roy Jones Jr.  These victories earned Johnson recognition by numerous media outlets as 2004's Fighter of The Year.  
Tarver knows that the first fight with Johnson was just the beginning of what may end up being one of boxing's storied trilogies.  And though the Floridian has already made most of his dreams come true, he is still chasing after one more goal. "I want to stamp my ticket to the Hall of Fame, and I think June 18 will be the beginning of that," said Tarver.  "We've got a lot of work to do, we're not content yet, and we're just hungry.  I've got that burning hunger again and I'm at my best when it's that way."  
Now just ring the bell.  Need more convincing?  Ask the "Magic Man". "Memphis is the place to be on June 18," said Tarver.  "Boxing world get ready, because just like I told you before, its going be an electrifying night of boxing.  Don't let them say 'where were you when Antonio Tarver once again shook up the boxing world once again?"  This will be heard around the world, believe me. On June 18 – I'm back."  
For tickets to the highly-anticipated rematch between Antonio Tarver and Glen Johnson, priced at $35, $50, $90, $150, $490, and $675, visit
www.ticketmaster.com
, area Ticketmaster Ticket Centers, charge by phone at 901.525.1515, or visit the FedExForum Box Office at 191 Beale Street in Memphis.