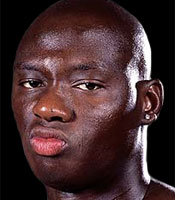 When boxing historians look back at the date of June 10th, 2006, one of two results will be crystal clear – it will be the day that light heavyweight Antonio Tarver cements his hall of fame credentials by ending the career of boxing legend Bernard Hopkins, or it will be the day when middleweight great Hopkins, ends a legendary career with a stirring win over one of the top light heavyweights of this era. However, one thing is certain. When Antonio "The Magic Man" Tarver and Bernard "The Executioner" Hopkins meet on Saturday, June 10th at Boardwalk Hall in Atlantic City, New Jersey, it will definitely be a "Fight to The Finish".  
            The two boxing superstars will meet in "Fight to the Finish"—a 12-round light heavyweight bout presented by Joe DeGuardia's Star Boxing, Golden Boy Promotions, and Borgata Hotel Casino and Spa, and will be broadcast live on HBO Pay-Per-View, beginning at 9pm ET / 6pm PT.  
            "Bernard Hopkins was a great fighter, but his time is past," said Tarver, the premier light heavyweight of this generation.  "My time is now, and I see it as a personal insult that Hopkins would even consider coming up to light heavyweight to challenge me.  I will punish him in the ring accordingly."  
            "After everything I've accomplished in this sport, and with all the obstacles I had to go through to get here, I don't even entertain the thought of losing in my final fight," said Hopkins, who reigned over the middleweight division for over a decade.  "I will win this fight over Antonio Tarver, cement my legacy and finish my career in a fashion where no one will ever forget what I brought to the boxing ring."  
            "Antonio Tarver and Bernard Hopkins are two great champions who have enjoyed tremendous success, "said Joe DeGuardia, President of Star Boxing. "Both of them will be putting it all on the line in this highly anticipated fight. Fans will see them both fighting with the intense fire that only a fight like this can inspire.  
           "Legacy is probably the most important thing to a truly elite fighter," said Oscar de la Hoya, President of Golden Boy Promotions.  "Both Antonio Tarver and Bernard Hopkins have had amazing careers, but June 10th will directly affect how boxing fans remember them.  That's a lot to have on your shoulders, but if any two boxers can handle that pressure, it's Tarver and Hopkins, and I expect both of them to leave it all in the ring when they fight." 
            "Bernard Hopkins is one of the greatest middleweights of this era, facing perhaps the greatest challenge of his career in his final fight.  Antonio Tarver is the world's pre-eminent light heavyweight whose resounding wins over Roy Jones re-affirmed his stardom," said Mark Taffet, HBO Senior Vice President of Sports Operations & Pay-Per-View.  "Tarver-Hopkins is a big fight with storylines that will intrigue boxing fans."
            Tickets for Tarver vs. Hopkins priced at $750, $600, $400, $200, $100 and $50, are on sale now and can be purchased at the Boardwalk Hall Box Office and all Ticketmaster locations by calling 800-736-1420 or at
www.ticketmaster.com
.
            "Borgata is thrilled to be partnering with Star Boxing and Golden Boy Promotions to present such a high profile fight," said Larry Mullin, president and chief operating officer for Borgata. "The June 10th event underlines our dedication to continuously raising the bar and bringing top-notch entertainment events to Atlantic City."
            The pride of Tampa, Florida, 1996 US Olympic Bronze medal winner Antonio Tarver (24-3, 18 KOs) came up the hard way in the pro ranks, forced to fight all comers as he looked for his one big break.  In 2000, "The Magic Man" was one win away from forcing a fight with pound for pound and light heavyweight king Roy Jones Jr., but he lost a hard-fought decision to Eric Harding (a loss later avenged by knockout).  
            But Tarver's time would come, and after fighting his way back into the number one spot at 175 pounds, he finally won a world title by shutting out former world champ Montell Griffin for the WBC and IBF crowns on April 26, 2003.  His brash style forced Jones' hand, and the two met for the undisputed title on November 8, 2003.  After a torrid 12 rounds, Jones retained his title via a highly controversial majority decision, and the fans and media demanded a return bout.  
            Tarver got his rematch on May 15, 2004, and in the shot heard round the world, he knocked Jones out with a single left hand in the second round, and a worldwide superstar was born.  "The Magic Man" would next split an entertaining pair of bouts with highly regarded Glen Johnson before settling the score once and for all with Jones on October 1st, 2005 with a clear cut unanimous decision that may have spelled an end to Jones' career.  
            Now he wants to do the same to Hopkins.  
            One of the most compelling figures in sports today, Bernard Hopkins (46-4-1, 32 KOs) has lived his life and built a career by doing things his way.   Born and raised in Philadelphia, Hopkins turned pro with a loss in October of 1988, but after that it was tough – if not impossible – to make him lose again.  Beginning with a 1990 win over Greg Paige, Hopkins would lose only once (via decision to Roy Jones) over the next 15 years.  
            Along the way, Hopkins - who fought the boxing industry as hard as he fought inside the ring – won the world middleweight title in 1995 and defended it a record 20 times.  He also unified the crown on September 29, 2001 when he stopped the legendary Felix 'Tito' Trinidad in the 12th round before a packed house at Madison Square Garden.  
            On September 18, 2004, Hopkins, now a bona fide superstar, knocked out another boxing legend, Oscar De La Hoya, in nine rounds in one of the biggest fights of the year.  And though Hopkins would lose his championship and the subsequent rematch to rising star Jermain Taylor via two hotly disputed decisions in 2005, 'The Executioner' still has some unfinished business to tend to in his last fight against Antonio Tarver on June 10th.  
            The Tarver vs. Hopkins pay-per-view telecast, beginning at 9 p.m. ET/6 p.m. PT  on June 10th has a suggested retail price of $49.95, will be distributed domestically by HBO Pay-Per-View and will be available to more than 56 million pay-per-view homes. The telecast will be available in high-definition television for those viewers who are HDTV capable. HBO Pay-Per-View is the leading supplier of event programming to the pay-per-view industry. Tarver vs. Hopkins daily updates can be found during fight week at
www.HBOPPV.com
.