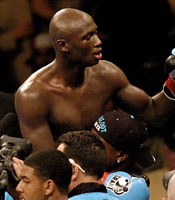 GL: What's the latest and greatest on your next move?
"My people have told me that it's something that virtually etched in stone for December 18 at the Staples Center in Los Angeles. I'm disappointed that I'm going to have to relinquish my title. It just doesn't seem the powers that be are allowing me to fight the fight the people want to see more than anything.The WBC has been good to me, and more so than anything the decision made based on personal reasons. I respect Jose and Mauricio a great deal, I just can't take the financial hit keeping that title would hit me with."
"Once I'm victorious on December 18, if the opportunity came up for me to represent the WBC I would do it in a heart beat. It really saddens me that I have to relinquish the title at this time, but unfortunately I have to do what's best for me and my family."
GL:  So the decision to vacate the belt has everything to do with the fact that there's much more money available for that fight, correct?
AT: "It's public knowledge that I've been through some rough times in court. I've attempted to settle things with my promoter, who I've been in a contract dispute with for two years. It's taken a financial toll on me, but I've ironed out all my difference and I'm happy to be moving forward with my career.
"There's almost $1.3M I would be leaving on the table by keeping the WBC title and that doesn't make sense for me or my family because my kids have to eat. It's about Antonio Tarver now. I was able to put all of the negative behind me and now I'm moving forward continuing to show the world I'm the best pound for pound fighter in the world and the one and only undisputed light heavyweight champion.
"Paul Briggs deserves his opportunity, but right now I can't give it to him. I hope he wins the title, if he wishes to fight me once he does, I'd be more than happy to fight him."
GL: In the past you've told me Johnson fought a shell of Roy Jones Jr., do you plan to prove that on December 18?
AT: "I'm not going to take anything away from Glen Johnson. The guy fought a hell of a fight. The man has been through as many ups and downs as anyone else, but he was still able to land on his feet for the biggest fight of his career. I'm not taking Glen Johnson lightly. I'm taking this like it was my last fight and I will be 110% ready on December 18.
"When you fight someone as dangerous as Glen Johnson, coming off the biggest win of his career, the guy is going to be prime and he's going to be at his best. And I'm sure he's looking at me as a big opportunity. I'm going to have be on my A game to do what I want to do, and that is to show the world that it's like apples and oranges when it comes to Antonio Tarver and the rest of the fighters out there.
GL: Other than Glen Johnson what other big fights are out there at light heavyweight?
AT: "Any fight that I'm in is going to be big Greg. I'm one of the best fighters out there, arguably the best fighter out there so all of my fights are must-see TV. I will continue to put on tremendous shows and conitnue to display my talents. The best has yet to come and I have yet to scratch the surface, we're going to be here for the next few years."
GL: Johnson is a come forward fighter, does that play right into your hands?
AT: "On paper he might not be as gifted or talented as me, but if he comes in better condition he may be able to win the fight on that alone. I'm expecting him to be at his absolute best, and to make sure I can counter that I have to come in at my absolute best. This is going to be a great fight and the Magic Show will go on."
GL: What do you have to say to Paul Briggs?
AT: "I have these personal problems that I'm going through and I needed to make the right financial decision for my family. There's no other reason other than that. He should know I have the heart of a lion. I wish him the best and if he gets the title and he wants the fight we could do it!"
GL: Is there anything you want to say in closing?
AT: "It's on again baby! The Magic Show is coming to a town near you and this time it's Los Angeles, where the stars are all over the place but on December 18 Antonio Tarver will be the brightest star shining."  
MEMBERS CLICK HERE FOR THE REST OF THIS MUST READ EXCLUSIVE INTERVIEW
Send questions and comments to: gleon@Boxingtalk.net