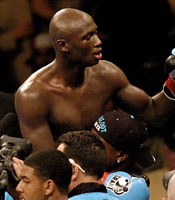 Tarver willing to whoop Hopkins, but he prefers third fight with Roy Jones Jr
GL: What's good Tarver? "
I've been hearing the rumblings, but you know we're going waiting and see what happens in that big fight on July 16. Bernard Hopkins understands what a Tarver fight brings and if he's doing more than just talking this time, I commend him for wanting to do something great at this stage of his career. Sugar Ray Robinson attempted to move up and become the light heavyweight champion. He didn't succeed for whatever, but if Bernard gets by Jermain Taylor, and that's a big if, it's definitely something that I would entertain. But there's another fighter out there saying he wants to get back in the ring, testing the waters once again and prove his greatness to the boxing world and the boxing fans who thought over the years that he was the best pound for pound fighter in the world bar none. Mr. Invincible. Mr. Unknockoutable, Mr. Undroppable, Mr. Unstoppable.
"At first he was hell bent on fighting the winner at all costs. Now the winner is me and he wants to change his tune and scream out Hopkins. But Hopkins is not one of those dumb athletes that can't see through the bullshit. I want you to put it out there just like that. I don't think Hopkins is stupid enough to allow Roy Jones Jr. to eat off his plate. But as far as me and Roy, my whole thing is this, Chicken Roy is running again. He's trying to hand pick opponents and get away with robbing the public. There's only one fight that people want to see Roy Jones in and that's a rematch with his conqueror for all the marbles. And this is what the fans are excited about. If Roy Jones was a real champion that's the fight he should demand for his fans in Pensacola. Is Mr. Unstoppable from P-COLA going out like that?"
GL: When it comes to Hopkins, Jones and Johnson, is the third fight with Jones your top choice?
AT: "Greg, listen. I think it would be the biggest fight of 2005. The trilogy. The fight that we should have given the people the first time. But Roy can still make good on his word. He's told many people, including you Greg, that if the winner of Tarver-Johnson wanted to fight him, he'd come back E-mediately. Well guess what? Antonio Tarver is willing to give him that opportunity and the only thing Chicken Roy did E-mediately was run. We don't have to wait for the outcome of Bernard Hopkins."
"I believe if Roy Jones and I sit down and hash it out, break bread, we'll be able to provide the boxing public with another super fight this year. This is the fight the people want. Can the great Roy Jones redeem himself? Pull up your jockstrap and be the man everyone rated you as. Don't let it be said that you ducked your biggest challenges. Dariusz Michalczewski, Nigel Benn, Michael Nunn. DOn't let it be said that by the time you accepted the challenge you got knocked out. You got beat the first time and you got knocked out the second time. It's redemption time Roy, here it is. Stop burning up HBO's airwaves with your indeciveness. There's nothing bigger out there than a third dance with the Magic Man. If you don't want it do yourself and the rest of the boxing world a favor and stay behind the mic."
Send questions and comments to: gleon@boxingtalk.net