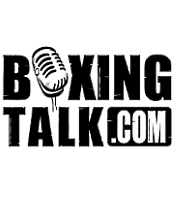 Rostock – Up and coming heavyweight prospect Taras Bidenko will top a fightcard on October 26 in Rostock, Germany, that will be broadcast live and without charge on
www.boxing.de
. The entire event in Rostock includes nine fights from which the first six contests will be shown on
www.boxing.de
, four of them heavyweight fights. The broadcast will start 18:00 German time and will end 21:00 German time. The final three fights at Scandlines Arena in Rostock will be televised live and all over Europe on Eurosport.
The 24-year-old Bidenko is 12-1 with 7 knockouts. His single defeat is a controversial loss to the still undefeated Russian giant Nicolay Valuev who he dropped a twelve round decision to. The skilful Bidenko is 9-0 since facing Valuev against who he fought in his only fourth professional contest. The much more experienced Valuev was 28-0 when they met.
On October 26 the 6 foot 4 Bidenko will fight against Mathew Elis, 18-4-1 (9), a 30-year-old Englishman trained by popular British coach Ronnie Davies. This contest will be shown live on
www.boxing.de
.
In other heavyweight action live on the internet: Dangerous looking Rumanian Konstantin Onofrei, 18-1 (11), hard punching Russian prospect Denis Boystov, 1-0 (1), and hulking Russian Valery Chechenev, 4-0 (3).
Also live on
www.boxing.de
: A jr. welterweight contest with Ali Ahraoui (2-0) and one amateur fight.
Later, in the main event televised live on Eurosport, undefeated Ukrainian bantamweight contender Wladimir Sidorenko, 15-0 (6), will fight former world champion Leo Gamez, 34-10-1 (25), from Venzuela. This contest is a WBA 118 lb. world title eliminator. Also live on Eurosport: Hard punching Russian heavyweight Ruslan Chagaev ("The White Tyson") and super middleweight contender Dimitri Sartison