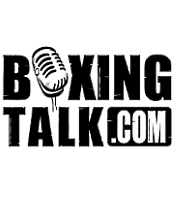 There will be no April Fools' going on when Malcolm Tann goes up against Leroy Childs on ShoBox next month in a card promoter by Goossen-Tutor.  Even though his sole loss still burns him up, Tann is determined not to let it effect the outcome of his entire career.  Instead, Tann has both mature and improve after all of his fights since then, and come April 1st, he will step in front of an undefeated opponent to simultaneously take his "O" and climb up the heavyweight ranks to one day become champion.  BoxingTalk recently spoke with Tann to get his thoughts on facing Childs, what he expects from a fighter that he has not seen footage of before, and why from April 1st on, Childs will always remember the name of Malcolm Tann.
BoxingTalk:  Malcolm, on April 1st you will be facing Leroy Childs who has a record of 11-0 (10KOs) but who has faced minimal opposition.  What are you expecting from Childs?
Malcolm Tann: I'm expecting him to come out hard for the first two rounds, and then I'm going to box him.  If I see an opening then of course I'm going to take it.
BT: When I spoke with Leroy, he said the best thing he has going for him is his "element of surprise" since you have no idea who he is.  How does an "element of surprise" help out a fighter?
MT: There's not going to be an element of surprise with me because I'm looking out for anything.  As long as I'm keeping my defense tight, and working behind my jab then there is no surprise that can come to me.  I'm not going to stand right in front of him, I'm going to be working the jab and moving around.
BT: Do you feel that even though Leroy has an impressive record that it is misleading with the opposition he has faced?
MT: With anybody in the heavyweight division, obviously he has some power because you can't just go in there and blow on the guy and get a knockout.  All of these guys can punch in this division, that's why I don't go into any of my fights overconfident, but on April 1st, that "O" has got to go.  I've got to take that zero from him.  I know he'll remember me for the rest of his life for giving him his first defeat
BT: Well, everybody remembers their first, right?
MT: No doubt, I remember mine.
BT: Good ole' Willie Chapman.
MT: Yeah, it still burns me…
BT: But you were able to go back six months later and get the decision from him in the rematch…
MT: I handled him well in the rematch.  I just hate to say 14-1.  It just burns me up.
BT
: How have you improved since your first fight with Chapman?
MT: I've matured and improved since then with my composure and not rushing in on a guy.  I have three minutes in each round, and I have more time than I think.  I used to think that I had to be throwing a punch every second, but now I'm sitting on my punches and letting them count.
BT: You fought last in February and now again in April.  Are you looking to fight every month or two?
MT: If I could fight every month that would be a blessing, because that is how I stay sharp.  That's how I progress.  When you take too much time off you fall into habits that you had in the past and things you want to get away from.
BT: Do have any message that you would like to give to Leroy before you two meet up April 1st?
MT: Just to enjoy the zero now while you have it, because come April 1st, you will have a one up there.
BoxingTalk thanks Mr. Tann for taking the time to speak with us.  We wish him continued success both in and out of the ring.
Send questions and comments to: fool4rush@aol.com