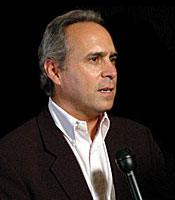 Status:
President of HBO Sports. 
DOB:
Feb. 7, 1955  in: San Antonio, TX 
Childhood Heroes:
"I had three or four - Mickey Mantle, Willie Mays, Joe Namath and Muhammad Ali. And Jimmy Brown." 
Hobbies/Interests:
"I guess my wife likes to say I'm the most narrow person she's ever met because sports dominated my life since I was five or six. At one point, I collected coins, but my brother went in and took all the quarters, dimes and nickels out and spent it. So I guess I learned from there, hobbies didn't pay [smiles]."
Favorite Movies
: "That's tough. A friend of mine did Field of Dreams - which I loved. I obviously loved The Godfather I, II. I enjoyed Miracle a lot. And 61 I thought was pretty good."
Musical Tastes:
"I was more of a middle-of-the-road rock afficianado - The Beatles, a little bit of The Rolling Stones. Today I leave my musical tastes to background music in the films that we make in the documentaries [laughs]. And I leave my kids to zero in on all the stations that I have to listen to in the car."
Favorite TV Shows:
"You mean all the way through my life? Seinfeld. I remember getting back every Friday night at 7:30 as a kid for the Flinstones. The Jetsons - which I thought was the most creative animated series ever made. And today I have to say most of what we do on HBO."
Early Boxing Memory:
"Well my earliest boxing memory was - I can remember where I was when Muhammad Ali beat Sonny Liston in Miami (1964). I was playing a little, par-3 golf course in Westchester county New York when word came that Ali won. In those days I didn't go to closed-circuit telecasts because I was so young - I was only nine. But I do remember that. I think my other vivid memory is I remember walking the campus of Brown University, listening to the ticker-tape call of Ali-Frazier in Zaire - when my classmate was doing the actual call from the AP story. And that classmate of mine was Chris Berman. He was doing a round-by-round analysis of what happened on the campus radio station (WBRU)."
Greatest Career Moment
: "I would say I have three. Hagler-Hearns - the feeling as if we'd all gone seven minutes and 42 seconds and stood in the middle of the ring with them. It was so exhausting. And such a spectacular three rounds of boxing. The other was obviously in Tokyo, when Mike Tyson went down from the uppercut and right hand from Buster Douglas - one of the most stunning moments in boxing and in sports history."
Most Painful Moment
: "Watching Roy Jones get knocked out cold and lay on that canvas (against Glen Johnson). It was a very depressing moment for all of us who have lived through his entire career. Thankfully, we didn't do Leonard-Norris and we didn't do Ali-Holmes. But there's something about the sport where they finally...when it's finally over and they take brutal beatings. And when they have as much talent as Roy Jones did - it's very painful to watch and sad to see. So that was tough."
Favorite Meal
: "Would probably be Double Z barbecue in Steamboat Springs, Colorado."
Favorite Ice Cream Flavor
: "My son has me hooked on mint chocolate chip."
Favorite Boxers To Watch:
"I love to watch Oscar de la Hoya - just because of his star power. I'm infatuated with Floyd Mayweather's abilities. I enjoyed Roy Jones immensely and think that - I've seen a lot of great talent, going back - Sugar Ray Leonard, Marvin Hagler, the great Ali - but I've rarely seen the quickness, speed and brilliance that I did when I watched Roy Jones in his prime."
Favorite Fights:
"Hagler-Hearns. Leonard-Hearns I. All three of the Ward-Gatti fights. Holyfield-Bowe I, II. Pintor-Gomez - I'll give you some real bizarre ones [laughs]. Arguello-Pryor. Hagler-Leonard - for its spectacle."
Childhood Dream:
"(What you wanted to become?) Roone Arledge. And I think I'm getting there [laughs]."
Funny Boxing Memory:
"Well, looking back on it, 45 minutes to air in Tokyo, before the greatest upset in boxing history, we had a transformer catch fire. And we were in total blackness in the television truck area, not knowing whether we would get on the air. And so, looking back, it's very, very funny. At the time, it was harrowing, and we were not laughing. We were crying and yelling. (So we almost missed that fight?) You, all in the U.S., almost missed Tyson-Douglas. (How did you guys save it?) A gentleman who has since passed away - George Wensel - feverishly worked the transformer and bypassed the transformer, and got us an alternative source of energy. And we slowly but surely came back up and got on the air with half of our equipment, at the time. Within about 15 minutes, we had our full complement of cameras and equipment."
Favorite Vacation Spot
: "Steamboat Springs."
People Qualities Most Admired
: "Honesty, integrity, passion, caring, humanity."
Education:
Brown University (Political science).
Contact Scoop:
mrbiofile@aol.com
Send questions and comments to: www.thebiofile.com