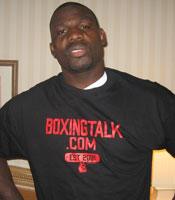 STATUS:
WBC Heavyweight Champion. 
 HT:
6-2 1/2
WT
: 240
BORN ON:
Nov. 7, 1972 IN: Baltimore, MD 
CHILDHOOD HEROES:
  "Muhammad Ali, Larry Holmes. I got word from Don Turner saying Larry said, Thank you...for beating up Trevor Berbick. You remember that fight they had when Larry jumped over a car to get at him [smiles]?"
NICKNAME
: The Rock.
HOBBIES/INTERESTS:
"Reading, play checkers, go to movies, surfing the 'Net."
PRE-FIGHT FEELING:
"Always feel a little nervous. Till my walk to the ring. I'm confident that all the hard work is done. I did enough gym work. I'm excited. I'm about to put on a show. I feel I'm gonna show them a helluva shootout. (Upon entering the ring) yeah, I look at him. Do they want to look at me? If I feel them shift their eyes off of me, I feel they'd rather be somewhere else than in there with me. Then I go right after them."
EARLY BOXING MEMORY:
"I haven't been boxing that long. When I boxed sparred with my first pro fighter, Mike Whitfield, who was called Little George Foreman, I threw all non-stop punches for the first 30 seconds. After that I had nothing left [smiles]. So he beat me up for the next two rounds. But, eventually, I turned the tables on him."
FAVORITE MOVIES:
"48 Hours, Heat, Scarface."
MUSICAL TASTES
: "Jazz, R&B, rap, Kenny G, Biggie Smalls, Anita Baker."
GREATEST SPORTS MOMENT
:  "I have to tell you that one [smiles]? I have to answer that one [smiles]?! Winning the world heavyweight championship. I did all my training, came up with one punch (KO 5 Lennox Lewis in Carnival City, 2001). The best I've ever felt. Lewis was coming on and he was boxing good. But he wasn't dominating me. I backed him up on several occasions. It wasn't a lucky punch. People looking for a lazy explanation instead of a logical one resort to saying it was a lucky punch. But it was not one, desperation shot. I backed him up into the ropes with a series of left hands. I sized him up perfectly and took him out. Delivering the punch (right hand) was the greatest moment for me. I was so calm and confident going into that fight. I felt like I was determined, so like he really had to kill me to really get me out of that ring. That's the attitude I went in there with. That's how I fought him. I hit him with a really good right hand early in the 5th round. And I felt like I hurt him. He smiled at me. And that just confirmed that I hurt him. I figured I'd just go for the finish."
MOST PAINFUL MOMENT(S):
  "Well, I would say losing to Oleg Maskaev. That's a fight I really shouldn't have lost. No kind of way. But although it happened, I think it helped me in the future."
WORST INJURY:
  "I hurt my hand, chipped a bone in my right hand - sparring before a scheduled fight with Obed Sullivan."
FAVORITE MEAL:
"Lasagna and a glass of orange juice mixed with cranberry juice."
FAVORITE BREAKFAST CEREAL:
"Frosted Flakes."
FAVORITE ICE CREAM FLAVOR
: "Vanilla."
LITTLE KNOWN FACT:
"I'm extremely sensitive. I just play it off real good. I'm one of those guys who, when they say something bad about me on the Internet, I'm gonna crack their code names and figure out who they are. Then they're gonna get a phone call [smiles]!"
FIRST JOB:
"Working construction in Baltimore with my stepfather (age 12)."
FIRST CAR:
"1987 red Ford Taurus."
FUNNIEST BOXER
: "Zab Judah. Just keeps me laughing with his stories. He's everywhere and he knows everybody [smiles]."
FUNNY BOXING MOMENT
:  "My brother (Winky) took over training chores for a fighter 1-3. And three days later he got a fight in Miami. Zab Judah and Winky worked his corner and got him knocked out in the first round. Then they wanted to take the lion's share of his purse! I think that was hilarious [smiles]."
FAVORITE VACATION SPOT:
"Disney World."
PRE-FIGHT MEAL:
  "No real meal, I like to eat pizza, a little pasta."
CHILDHOOD DREAM:
  "A police officer. I wanted to be a good guy back then."
PEOPLE MOST ADMIRED:
"I most admire my mom (Joyce). She taught me the best. She never drank or anything like that. The qualities I most admire are leadership qualities, people that don't necessarily follow a person because of where they are or what they have. I just like individuals who remain the same no matter who they're talking to. Talk and live what they say."
INTERESTING FACT:
  "Most boxers are not perceived as terribly bright. But nobody playing one game of basketball or one game of golf can make $20 or 30 million. I can fight for one second and make $30 million. Why isn't everybody boxing?"
www.thebiofile.com
Send questions and comments to: mrbiofile@aol.com