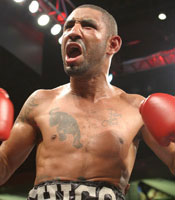 "Showtime says June or July so June or July it is!"
thehype: Boxingtalk would like to welcome Diego Corrales to tonight's T.N.T. chat session
nardfan: Diego,wassup?How is the injury coming along?
DIEGO_CORRALES: It's still sore, but it's doing well. I sneezed the other day and it caused me a lot of pain, but I should be ok in a couple of weeks.
Titlebelt: Diego, Do you feel the winner (of a third bout between Castillo and yourself,) should be considered the superior" fighter?"
DIEGO_CORRALES: Absolutely and that's why I'm going to handle my business next time we meet.
Mean_Mister_Mustard: Hey Chico, thanks for being here I wanted to ask you how hard it is fighing Jose Luis Castillo and his iron lungs.
DIEGO_CORRALES: They weren't that bad. The surprising thing about him is how tough he is. It doesn't make any sense for someone to take what he does and keep on standing there.
KingDan: Chico, if you could get in the ring with anybody, all time within your weight class, who would it be?  Please keep your right hand up for the Castillo fight.
DIEGO_CORRALES: I don't know, I've never thought of that one. Anybody in my weight division of all time? I would have to say Salvador Sanchez.
DIEGO_CORRALES: He was an unbelieveable talent. He was so smooth and I think it would have been an awesome fight.
mikerg: Diego would you consider fighting Floyd again
DIEGO_CORRALES: Yes.
lefthook: Thanks for the entertainment you have provided all us fans throughtout the years Chico. How many more fights do you think your body can take before you start to risk severe health problems down the road?
DIEGO_CORRALES: I don't know. We'll have to wait and see. But the honest truth is I don't know. You're right though. There's going to come a time where my body can't recover. Then when that time comes, I'll know, because I put my all into every fight.
Bryan_AKA_SUPERMAN: hey Chico... are you going to have an interim fight when you get better and will it be at 135? before going after Castillo?
DIEGO_CORRALES: I'm coming right back with Castillo providing he gets by Rolando Reyes.
DIEGO_CORRALES: Everybody is looking past Rolando, but the plan is to fight him next.
MasonDixon: Diego you honestly think you stand a chance againest Floyd in a rematch? He embarassed you, and made you look like a complete bum if you want to have a future dont fight him
DIEGO_CORRALES: I wouldn't take any fight I didn't think I had a chance of winning. He has two legs and arms and so do I. I wasn't right the first time, but I'm not going to make no excuses.
gio: hey Chico. what is ur favorite meal the night before the fight?
DIEGO_CORRALES: I don't have a favorite meal, but I always have my banana split after I make weight.
DIEGO_CORRALES: That's my reward.
ChrisIzAmazin: whats good diego thank you for coming in again...how hard is it to get your mind right and fight the same guy to ko you last time out...gotta be tough
ChrisIzAmazin: youre great man
DIEGO_CORRALES: Not really. I just got caught with a good shot. I think it was a lucky shot, but that's besides the point.
DIEGO_CORRALES: I know Castillo and I know what I'm going in there with. It's about making some changes that make the difference.
Aztecwarrior: Why don't you box from the outside and make the fight alot easier,your the better boxer so why not use your intellagance?(Northern Cali Baby, repersent Chico!)Stockton,ca car repersents CHICO!     Vargas or Mosley?
DIEGO_CORRALES: Ask me that question again when I come on after I tattoo Castillo.
thehype: wooooooooooo
DIEGO_CORRALES: Because it gets kind of boring out there. Sometimes it's kind of boring and I hate getting bored. I love the gladiator challenge.
DIEGO_CORRALES: I could outbox him, but then it would be boring to me and the fights wouldn't be as fun to you guys.
mike: Whats up Chico? a real honor to talk to u. any idea on your comeback date yet?  and who do u like for mosley vs. vargas? WOW u vs. salvador sanchez would be crazy!
DIEGO_CORRALES: Showtime says June or July so June or July it is.
DIEGO_CORRALES: I think Shane has a lot more left. He's very strong. He could still crack and he has good speed.
DIEGO_CORRALES: Fernando hasn't looked good lately and Shane's speed is going to make a big diference.
MakeItWork4Ya: Wassup Chico, if for whateva reason Castillo isn't available for u when u get healthy, who would be your ideal opponent(s) (realistically)....hope u get healthy real soon cous
DIEGO_CORRALES: I'll cross that bridge when I get to it. I have no idea, but I believe my resume shows I fight the best. Just because he snaked me for my belt though, I'd love to beat the crap out of Freitas again for not waiting his turn.
Castillo_sBIGLEFT: Chico was that the hardest you ever got hit with Castillos left and were you out before you hit the canvas that why you forgot to pull out the piece this time?? much props you do got heart bro!! lol
DIEGO_CORRALES: I got up, so I wasn't out. I heard the count. I've been hit harder.
nicarico@hotmail.com: hey chico you are the best. you are a nice guy and you say the right things, but honestly how bad do you want to destroy castillo. After not making weight. is there hate aginst him?
DIEGO_CORRALES: Nah, no hate. I felt like he disrespected the game plain and simple. We're supposed to be pro's and he disrespected what we do.
DIEGO_CORRALES: This is a sport where everybody isn't getting the respect that other athletes do.
DIEGO_CORRALES: Boxers deserve that credit, but actions like those prevent it from ever getting to that level.
DIEGO_CORRALES: I think he made a bit of a fool of himself and he put a black eye on the sport
Roberto_Duran: Chico what do you think aboout Barrera moving up to 135lbs? Do you see yourself fighting Barrera in the near future? And I would love to see you destroy Manny Pacquiao if he ever tries to come and in the big boys yard. and what do you think of the Zap figh
DIEGO_CORRALES: Do you think those guys will ever come near me let alone fight me? I don't. I'll remain optimistic, but I don't think any of them will come to play with me.
salazar.o@comcast.net: You are an alltime great,a throwback,a true warrior.You are a real fighter,a treat to all us fans love or hate u u must be respected!What besides beating Castillo is left in your mind to accomplish?Your boy in Seattle,much love.seahawks 24 steeler 17
DIEGO_CORRALES: Thanks for the respect. What's left to accomplish? Beat Floyd and then I don't know.
DIEGO_CORRALES: My career is going to go where it goes and I'm going be at my best and just enjoy the rest of the ride
pelon: Diego how you doin champ? any word on when you might fight castillo and did you get that clip I sent you of when we threw mike in the pool? Carlos
DIEGO_CORRALES: June or July...I'm still waiting on that clip. It's the most funniest thing you'll ever want to see. We should be sending that to America's funniest home videos. I need that clip of what we did to my cousin so email it to me asap.
The_Jab: Chico, long time fan here.  I remember when you fought Roberto Garcia and were getting your ass handed to you when you landed that jab-straight right.  I've been a fan every since.  YOu pwned manfredy worst than Floyd.  Who you want to fight in the future?
DIEGO_CORRALES: Just keeping making great fights happen.
DIEGO_CORRALES: Whoever's willing to fight me, I'm ready to go.
DIEGO_CORRALES: I'm ready for anyone who's ready to put it all on the line the same way I am.
DIEGO_CORRALES: I want to make nothing but big fights. I could make tune-ups, but I want to take and win one big fight after the other from here on out.
DIEGO_CORRALES: Freitas will be my tune up
rocbox: i think a lot of serious boxing fans hate on gatti because of all the attention he recieves from casual fans and hbo.  Objectively  being a blood and guts warrior yourself do you respect him for his heart and all the blood he has shed for the fans?
DIEGO_CORRALES: Heck yeah. It takes a man to go in there and know what you'e going to do is go to win. It takes a whole different kind of man to know he's going to get his ass kicked, but to give a better one…
DIEGO_CORRALES: I'm going to take me a pounding today, but I'm going to pound the other guys worse…you have to respect that.
DIEGO_CORRALES: Shoot, I tuned into watch.
Crisis1906@msn.com: would youj ever fight at 140 and do you really think your power would carry over?
DIEGO_CORRALES: Oh yeah, I'd fight at 140 and my power will go with me everywhere.
DIEGO_CORRALES: I don't care how high I, go my power will go all the way there.
rifightfan: Much love Chico, thanx for all the thrills you given us fans.  I was at your fight with Freitas, and the Cassamayor rematch at foxwoods, both great fights, got my moneys worth for sure.  You are a throwback to the days of the old warriors like a Graziano,
rifightfan: my question is what weight class do you see yourself finishing your career?
DIEGO_CORRALES: Thanks for that...man I appreciate it. Maybe I'll finish as a welterweight. I definitely don't think it's going to be lightweight.
thehype: Boxingtalk would like to thank Diego Corrales for taking time out to chat with us tonight
DIEGO_CORRALES: Thanks for having me!
DIEGO_CORRALES: Stay tuned to Boxingtalk for all the latest on ya boy!
DIEGO_CORRALES: See you in June or July!