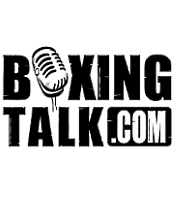 "I called out names my whole career and it never got me anywhere. At this point...SHOW ME THE MONEY!"
thehype: Boxingtalk would like to welcome Zahir Raheem to tonight's T.N.T. chat session
ZAHIR_RAHEEM: Sup Everybody
eze: Raheem you brought us a great fight last saturday, do you feel you should be taking on Manny instead of Eric? And who do you want to fight? The winner of Castillo/Coralles? I wish you the best of luck with your career.
ZAHIR_RAHEEM: It doesn't really mattter if I take on Manny because Morales beat Manny. I dont want to fight the loser, I want to fight the winner. Well of course I would like to fight the winner of Corrales-Casttilo II
nardfan: What up Raheem.Big ups on the upset.Did you ever see in any of Morales fights that he was not a complete fighter?
ZAHIR_RAHEEM: Thanks for the loveZAHIR_RAHEEM: No I never realy paid him that much attention. I just knew that I was a complete fighter.
Byrdlover: who are your favorite past/current boxers and are you single? ;)
ZAHIR_RAHEEM: WOW... Wow, that is a tough one. Wow. My favorite fighter in the past is probably Joe Louis or Pernell Whitaker. Present I don't really know. And yes I am single
Antonio00: Zahir - What kind of role did Jeff Mayweather play in your career ? I heard he helped you out after the olympics .
ZAHIR_RAHEEM: You mean Roger.  I didn't train with Jeff. I worked with Roger after the Oympics and I learned a lot from Roger
loco206: what age did u begin boxing and what attracted u 2 it?
ZAHIR_RAHEEM: Ten, I watched a fight with Ali
deeman1: you think you woulda got that shot at morales if u didn't get robbed with juarez???congrats by the way
ZAHIR_RAHEEM: No I don't. I don't think I would have. I think the Juarez fight played a significant role in getting the Morales fight. That was the only positive thing that came from that lossZAHIR_RAHEEM: Thanks for your support
handsomepat311: Raheem/Corrales March 06'  What's the outcome?
ZAHIR_RAHEEM: Raheem, 9th Round TKO
awesomeald: I did an interview with Peter Manfredo Jr, he said that there are a lot of great fighters that don't get a shot and don't get publicity. Do you feel that you were one of them fighters that has gotten that oppurtunity and took full advantage of it.
awesomeald: What has life been like for you after this fight a lot of interviews a lot of calls ?
ZAHIR_RAHEEM: Oh absolutely and it is not over. That was only a small piece ya'll got. There is a lot more of me to come. Lots of calls, but I will be able to tell you about how I am living after my next fight. It is about looking good consistently and staying on top
abrown: I don't have a question... I'd just like to give some congrats to the Z-man!  I used to follow your career quite a bit a few years ago, and I was wondering if you were ever going to make your mark.  Best of luck in the future and keep punching m'man.
ZAHIR_RAHEEM: Thank you very much. It is fans like you that keep me going strong. I appreciate the support
naqvu: Hey Zahir its good to see you get your just due-i was wondering has it sunk in yet that u beat a legend and beat him easily-are u worried people might be scared to fight u? and your name is Zahir r u muslim? i am a huge fan and wish u the best mate
ZAHIR_RAHEEM: It hasn't really sunken in. You have to realize he started his career at the same time. He moveed his carrer alot quicker and accomplished more. I accomplished more as an amateur. But never once will I take anything away from him. He is a truely a legend and I respect all he has done as a fighter
warrior: Who did you spar with to get you ready for a major fight like this was for you
ZAHIR_RAHEEM: It was about four or five guys. One of the guys was Rolando Reyes from CA. The rest I don't really know their names
Napolean2626: Sup King Raheem! Great boxing display last Sat. Are you going after a beltholder next or are you going to stay busy while waiting for a Morales rematch? Anything u want us to tell Chico next?
ZAHIR_RAHEEM: I have my site on just fighting. I don't have any eyes set on Barrera, Manny, Morales, Corrales, or Castillo. I don't know. Just what ever fight makes sense.
Praise_Him: Yo Zahir much props on your victory.....God Bless u brother.....I guess I would like to know if u have an idea of when u'll be back in the ring, will it be a tune up or a bigger fight? has hbo shown intrest in you know that u beat morales? again God bless!
Praise_Him: get rid of the mustache brother.....3 muskateers!
Praise_Him: holla though!
ZAHIR_RAHEEM: I don't know how HBO feels. They haven't given me a date yet. I will wait until I sit at the round table to get a better idea of what is really going on
paul_bedi: Were you hurt in the 11th when your glove touched the canvas
ZAHIR_RAHEEM: No, not at all. I was slipping all night from the paint in the ring. If I was hurt I would have taken a knee. I am a veteran and a smart fighter and wouldn't want a bad situation on my hands
sean: will youy next fight be a title fight at 135 or 140
ZAHIR_RAHEEM: 130lbs
TimHocking: Z, congrats on your masterful performance vs Erik.  In the pre-fight Manny, your former trainer, said that you lacked heart at times.  What has allowed you to rededicate yourself to the sport? Its all love, baby.
ZAHIR_RAHEEM: I can't agree that I lack heart. I just don't agree
cesar: Huge respect for your big win Zahir. What's next for you. Are you looking to stay at 135 and fight Juan Diaz for the belt or quality to 10 fight.
ZAHIR_RAHEEM: I will be fighting at 130lbs
whiskey: if you could fight anyone of your choice next who would it be?
ZAHIR_RAHEEM: Whoever is going to bring me the biggest payday. At this point, the name doesn't matter anymore. Just show me the money. I called out names my whole career and it never got me anywhere. At this point...SHOW ME THE MONEY!
thehype: Boxingtalk would like to thank Zahir Raheem for taking time out to chat with us tonight
ZAHIR_RAHEEM: Peace