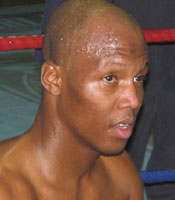 "Now I'm undisputed and I'm looking to wreck some more people in their backyard...tell De La Hoya let's go to EAST LA to get it on."
thehype: Boxingtalk would like to welcome Zab Super" Judah to tonight's T.N.T. chat session"
nardfan: What up Champ? I took you're advice and upped the ante from $100 to $200,thanks.My question is was it pissin you off it took Cory so long to get into the ring?It look like it was gettin under your skin a little.Congrats dawg!Well deserved.Stay serious!
SUPER_JUDAH: Glad you made that money. I wasn't pissed. I was anxious because I trained hard and I knew I was going to take care of business. When you're betting on me make sure you double up
attyg20: Zab, I talked to you on the phone after the last chat.  Props to you for taking short$$ and bringing the belts to the NYC. My ? is, do u feel Cosme Rivers(IBF mand) will be your next fight and then Oscar? Or is Tsyzu a fight u even want more?Congrats champ
SUPER_JUDAH: Cosme Rivera fight we still working on it right now. Of course I want ODLH first. Kostya Tszyu kinda made me wait too long. Right should I give him the opportunity right back?
ZABJUDAHUNDISPUTED: Zab first off congratulations on your huge win, I have watched the fight 6 times its great.  I was running around my house going nuts when you won.  anyway are you planning on using the tyson feints in your arsenal from now on, cause it really worked good,
SUPER_JUDAH: cmonSUPER_JUDAH: The Tyson feints worked, I take a little bit from all of all my idols...You'll see a little hagler, whitaker Tyson and Louis. I got it all in me.
Joe_Blow: Dont u feel like an Hypocrit////idiot....... wearing the star of david on ur shorts then after fight   praising your Lord & Saviour in Jesus Christ?"...Do u understand yourself?../Shit dont make sence 2 me/shed some light please...."
SUPER_JUDAH: No...why? This is not a religious convo, this all about asking boxing questionsSUPER_JUDAH: I don't hound you about your beliefs don't hound me about mine.
Mino: Yo I thought Spinks would beat you again, but u proved me wrong and showed the old Super Zab I used to route for...Who is the toughest fight for u know that your back on your A game.
SUPER_JUDAH: Nobody. Myself. If I'm on my A game nobody is beating me.
tapthatjaw: Yo Zab...What artists u listen to while training for this fight? & what was the track u had for your ring walk? (I couldn't hear!) respect for proving me right on Sat night bro u the truth!!
SUPER_JUDAH: Game. The big Payback. Thanks
Shaahir: What's poppin' Zab? I goota tell ya that November 3, 2001 was one of the worst nights of my life. I had bet $500 that you would beat Tszyu and we all know that didn't happen. Do you think you may taken him lightly after having such a good first round?
SUPER_JUDAH: That's four years ago...I don't want to talk about that. Stop trying to make me relapse. Let's talk about Spinks and Oscar De La Hoya.
Mike: zab, congrats on da great win. i predicted 9th rnd ko! was it easier 4 u 2 fight aggresive cuz cory dont hit too hard? u think u can take it 2 tsyu an DLH like that? congrats and God bless.was da after party of da chain? stay up champ.
SUPER_JUDAH: I'm 100% solid welterweight now. I'm undisputed and I'm not going anywhere. I'll bang like that on anybody.SUPER_JUDAH: Everybody I touch will sit on down.SUPER_JUDAH: That's not me talking…that's my left hand speakingSUPER_JUDAH: Every opponent that I touch since Tszyu has touched the floor. Nobody goes the distance without touching the floor.
kelvone1: judah..what really went down in that sparring session with your boy floyd?  I think that would be an interesting fight..how would it play out?  I know thats your peoples but keep it real for us.
SUPER_JUDAH: First of all, about we sparred, we got it on and that was it. Zab Judah still undisputed against Floyd.SUPER_JUDAH: Floyd is at 140 though, cmon let's talk about the welterweights
jgoo: Zab, im a big fan, congrats on the win, what sparring partners ddid you use for spinks and who might  you use in the future. LONG LIVE KING JUDAH
SUPER_JUDAH: Thanks. I had five different guys and I knocked all five of them out. I don't want to embarrass anyone, but all five of them went home, by choice.SUPER_JUDAH: They volunteered to go home.SUPER_JUDAH: They didn't want no more.
numberonelike1: Congratulations Zab!!! I met you out in Vegas at Roy's after party March/2003... you're a cool cat. You did what you said you would... you got those belts!! My man! Question, Vivian Harris has a jonz for your boy Mayweather, but if he moved up, would you be interested in a fight with Vivian?
SUPER_JUDAH: I'd be interested in a fight with anybody coming for my belts. ANYBODY. It doesn't matter who it is, if you're coming for my belts you got a problem.
bobitongo: Zab congrats great fight, by saying you want only money fights does it mean you wont go take the winner of margarito-cintron so you'll have all four belts like nard? with the welterweight division as deep as it is that would be quite an accomplishment
SUPER_JUDAH: If it pays big, we'll do it. I'd love to fight either of them, but I'd rather fight ODLH.SUPER_JUDAH: Not Shane NOOOOSELY though…SUPER_JUDAH: No Nosely here!
brownsville_slugga: ZAB PERSONALLY TOME AINT NOBODY TOUCHING DA KID YO DAS MY WORD..IM FROM BROWNSVILEL BK (LOTT AVE) WHEN U COMING TO DA HOOD OR GLEASON YO PEOPLE GOT MAD LOVVE FO R U KID
SUPER_JUDAH: That's my hood baby. Lott and Herzel that's my hood! Big up to that! I got a parade next week. Keep your ears open.SUPER_JUDAH: I'll be at Gleasons soon, I'm having a party there.
realtorchill: Zab great performance.  Could you do me a favor a come to L.A. in September and knock De la Hoya out?  Please retire him for good.
SUPER_JUDAH: NO PROBLEMSUPER_JUDAH: I got a favor for all fans…we're going to get rid of him once and for all.
tapthatjaw: Zab did Nelly sneak out the back door?
SUPER_JUDAH: He must've...lolSUPER_JUDAH: He definitely didn't walk through the front. Nelly was a real gentleman about how he did that whole fight thing.SUPER_JUDAH: The person I don't have too much respect for is Jermaine Dupri.SUPER_JUDAH: He sat there and talked about me like he was bout it.
J-Gon15: Congratulations Zab!! Could you get into the specifics on why the fight didn't take place at MSG? And although you had to prove a point, did you still feel that all the pressure was on Cory Spinks?
SUPER_JUDAH: Of course. I didn't have no pressure on my shoulders and I had a clear mind. I had one thing on my mind…KOing him! And that's what I did. Y'all know I was picking KO and I told ya'll you don't fight me in your backyard. I'm a homewrecker!SUPER_JUDAH: Now I'm undisputed and I'm looking to wreck some more people in their backyard…tell De La Hoya let's go to EAST LA to get it on.
magnum: Been watching you for years..glad to see you finally got what you deserved. My question is who is the best fighter you ever faced and would you ever consider moving up to 154 to fight spinks again(after you make all this money as a welter)?
SUPER_JUDAH: The best fighter I've ever faced is Micky Ward.SUPER_JUDAH: Why would I move up for him? I already stopped him. The rematch was good because the first fight was close, the second one wasn't. No one wants to see it again. People don't want the third fight and neither do they.
brownsville_slugga: ZAB IS THE TRUTH YO
SUPER_JUDAH: Thank you
iodine: i have no question....stay focused, champ. keep up the good work. wah'd'tah my damey. Hype, you the man.
SUPER_JUDAH: Thanks
zabs#1fan: proud of you zab. 1 down 1 to go. KT has got to go at some point. do you think you can be the first to ko oscar for real? (no body shot)
SUPER_JUDAH: Definitely. Head shot, body shot, I'll take it however it comes, but he's getting touched and he will sit down.SUPER_JUDAH: Tszyu will go at some point, just when I want him to!
byrdman: zab that headmovement was excellent, do you think you could execute the same movement against cintron or margarito?
SUPER_JUDAH: Yes. I did it once, why not?SUPER_JUDAH: If I did it once, I could do it again. No problem.
byrdman: they are a bit bigger than spinks
SUPER_JUDAH: It wasn't my fault...it was the fans fault. Y'all made this happen. I know he didn't beat me the first time, but y'all did, so I had to get back to what I do best. I told everybody it wasn't personal it was just business.
SHYNE-MOTH@FVCKEN-PO: DISCRIBE A FIGHT BETWEEN YOU AND OSCAR AND BETWEEN YOU AND SHANE PLZ
SUPER_JUDAH: A fight with me and ODLH, at the end of the day you go home smiling. With Shane Nosley, I just go home with a good KO win. I'll make some money too but it won't be as much as fighting the Golden Boy.
AGuzman: Zab I think that you are a talented fighter, however guys like DLH , Mosley and Cintron will test your chin big time. In my opinion you proved against Kostya that you can't take a big shot!
SUPER_JUDAH: Put your money where your mouth is...We'll see how my chin holds up.
Racquetman: Congrats on the W.  I'm on a boxing board and we all knew when you are focused, you are a dangerous man. I think a rematch w/spinks  would be a waste of time . Who is next?
SUPER_JUDAH: They're all going downSUPER_JUDAH: A rematch would be a waste of time so he won't be next. I'm hoping and praying for DLH
app80: Zab , for someone with ur skills why do u clown around in fights? Dont u just wanna take every MOFO out? It seems u make shit hard for yourself at times when u can be outta there anytime u want - andrew sydney
SUPER_JUDAH: I can't even answer that question. I'm undisputed now so I forgot about all that other dumb shit
Racquetman: is 140 a possibiity anymore?
SUPER_JUDAH: Nope!
nardfan: Zab, you ever met Tupac I know you were a fan and have the Outlaw tat?Who did you like more Pac or Biggie?Do you lift weights,where does all that power come from?Zab,why didnt you come to Mardi Gras in Louisiana,ever been?You a cool ass nigga dawg!
SUPER_JUDAH: Tupac was my cousin.SUPER_JUDAH: Just push-ups and things like that. It's that strength from the hood. Every time someone bets against me, I get stronger and stronger. The strength comes from the haters
nardfan: damn
J-Gon15: say word
SUPER_JUDAH: Word Pac is my cousinSUPER_JUDAH: I keep that on a low because it makes no sens to get into it and explain my family tree
Shaahir: Zab have you spoken to Pernell lately? If so, how is he?
SUPER_JUDAH: No I haven't spoke to him in a while.SUPER_JUDAH: He's out there and I know he saw my success.
attyg20: Now that you are back on top, will all of us fans see the focused Zab Judah we saw on Sat night everytime out. I noticed you threw more right hands later in the fight, was that the plan against Spinks.After u cleanup the div, please shut the frog's ass up
SUPER_JUDAH: EVERY TIME
ZABJUDAHUNDISPUTED: Zab, will there be any new shirts/posters of you coming out now that you are undisputed welterweight champ?  If so where can i get them?  Im so happy that you won im the happiest ive ever been in my life congrats again.  SUPER JUDAH TAKING OVER!!!!
SUPER_JUDAH: If you're back in NYC you'll be seeing a whole lot of stuff. Just stay on Boxingtalk and you'll find out. I'm back baby, I'm back!
SHYNE-MOTH@FVCKEN-PO: WHO WILL BE A BETTER FIGHT SHANE OR OSCAR AS FAR AS TOUGHNESS
SUPER_JUDAH: Neither would be tough and I would KO both of themSUPER_JUDAH: I'm ready to pluck their feathers. Chicken De La Hoya and Salty Shane NosleySUPER_JUDAH: I'm going to contribute to Shane's nose surgery if we ever fight.SUPER_JUDAH: I know it's not hard for him to breatheSUPER_JUDAH: If he got a cold he might suffocate himselfSUPER_JUDAH: When he goes to buy a car, he doesn't need an airbag...His nose is the airbagSUPER_JUDAH: lol
numberonelike1: Who's your pick for 2/19, Hopkins or Eastman?
SUPER_JUDAH: C'mon man, my boy B-Hop. I riddes with Bhop
thehype: Boxingtalk would like to thank Zab Judah for taking time out to chat with us tonight
SUPER_JUDAH: forgett leaving keep it coming
realtorchill: De la Hoya thought he was going to get Spinks.  Do you think he wants you?
SUPER_JUDAH: I hope he wants some of this hot shit. He never asks for me thoughSUPER_JUDAH: Hopefully that changes
iodine: Rahman or klitchko , zab?
SUPER_JUDAH: Rahman
SHYNE-MOTH@FVCKEN-PO: TAYLOR VS HOPKINS?
SUPER_JUDAH: HopkinsSUPER_JUDAH: Jermain Taylor can't fight.
nardfan: Zab,why did you kiss Cunningham
SUPER_JUDAH: Because he looked like he needed a hug. He's too mad at the worldSUPER_JUDAH: I guarantee you I loosened his ass up now. I took all that pressure off his shouldersSUPER_JUDAH: He could focus on Devon Alexander nowSUPER_JUDAH: lolSUPER_JUDAH: That was his second champion I knocked out...remember Terron Millett?SUPER_JUDAH: He has nobody else for me. I'm his worst nightmare.SUPER_JUDAH: I know he sees me when he sleepsSUPER_JUDAH: If he sleeps
ZABJUDAHUNDISPUTED: morales-pacman?
SUPER_JUDAH: Pacquiao is my boy. He fights like me. He's a little Zab Judah, he's knocking him out.SUPER_JUDAH: Pac is my little man
attyg20: When will u fight next??? May or june
SUPER_JUDAH: I don't know yet, we're about to go to Mars and be the first guys to fight on the moonSUPER_JUDAH: If somebody out there calls NASA and finds ODLH to make him sign the contract we could fight tomorrow
realtorchill: Zab, if you stay on King to deliver you De la Hoya.  I guarantee you he will.  And we all want to see De la Hoya knocked out.
SUPER_JUDAH: That;'s  right my man DK is a good guy. Regardless of what everyone says our relationship is excellent.SUPER_JUDAH: He found a little bit of lit, and I made it a tunnel
SHYNE-MOTH@FVCKEN-PO: TRINIDAD VS WINKY
SUPER_JUDAH: Winky Wright is my man, plus he's a southpaw so anything could happen.SUPER_JUDAH: It's a good fight, I'll be there ringside.
J-Gon15: zab r u a natural lefty?
SUPER_JUDAH: Yep....born and raised left
SHYNE-MOTH@FVCKEN-PO: DO YOU LIKE SHYNE ZAB HE'S FROM BROOKLYN
SUPER_JUDAH: Shyne is my dude. I keep in touch with him, he's doing well and he called me to congratulate me after the fight
thehype: Boxingtalk would like to thank Zab Judah for taking time out to chat with us tonight
SUPER_JUDAH: Be good Boxingtalk