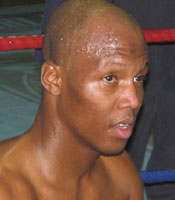 Original Chat Session on September 28, 2004
thehype: Boxingtalk would like to welcom Zab "Super" Judah to tonight's T.N.T. chat session
byrdman: do you ever watch tapes of old-school fighters like henry armstrong, sugar ray robinson, and other great welterweights? and are you going to use that up-jab more that dominated the late rnds versus spinks?
ZAB_JUDAH: I'm working on my jab more and working on being a little more aggressive and taking it to my opponent
ZAB_JUDAH: I'm in excellent shape and I'm prepared to go in there and box 45 rounds, but this is going to end short and early NY style.
Tue Sep 28 19:44:13 2004:unprofessionalguy: When does the clowning stop and the fighting start, this is Championship boxing and respect is due had you shown it you may have won both fights.  Do you plan on taking fights more seriously as to get the respect you want to achieve
ZAB_JUDAH: I've been watching these others fighters get recognition and I know I'm the best p4p fighter out there. Now there's no more playing it's just time for me to get what's mine.
superhigh: Yo Zab..Whats up man...#1 im was at your pro debt saw you on the undercard of whitaker-rivira...your one hellava fighter .....one person in the world to fight..who would it be.?and when you were workin with sweetpea did you ever put him down in sparring? P
ZAB_JUDAH: Thanks for the compliment. Pernell is like a mentor to me, a big brother. I learned more than anything sparring with Whitaker. If I could fight anybody it would be Ray Robinson, just for the experience
TheChampIsHere: How many of todays noticeable fighters did you fight in the amateurs?? What were they like then and how do they stack up to you now? I would wish you luck but you dont need it to beat Martell. I will wish you luck in securing a high profile fight after this
ZAB_JUDAH: I beat Hector Camacho Jr., Oktay Urkal, Chantiel Stanciel, Corley pulled out, Resto three times and a lot of NY Fighters.Thanks. I've been in the ring with the best baby, you name in.
adamgamz: Hey Zab..   In the past you were very vocal about being PFP the best, after two losses where do you put yourself in the PFP ladder? Also whats the best fighter you have defeated in your opinion?
ZAB_JUDAH: You name them, I was in there witht he best for years, Whitaker was the best.
ZAB_JUDAH: I'm still #1! Because I never lost a fight straight up both of my losses were controversial. I can redeem both of my losses, I still put myself p4p1
shill38: Zab who do you think is the best 140lber out there. and Why want you fight S. Mitchell or why did you fight chop chop instead of fight Sharmba?
ZAB_JUDAH: I would give it to Floyd Mayweather Jr.  I fought Corley because he was forced to fight me and I punched him in the mouth,
ZAB_JUDAH: I tried to punch Sharmba in the mouth but he ran from me,. Sharmba and me could fight in the streets, tell him to holler at me,
KYLE_THEEE_SPINKS_FAN: I dont think you won your fight against spinks nor do i think you would win a rematch.  Now that i got that off how would you match up against Margarito and Cintron.  How would u win?
ZAB_JUDAH: I will knockout both Margarito and Cintron. I think you should go back and watch the Spinks fight again from an unbiased perspective.
zabjudah187onkostya: Zab you are great, youre my favorite fighter of all time besides Tyson, anyway after you take care of spinks I know you want to KO that bum tszyu but besides that who will you look to fight?  by the way both of your "losses" are complete bs
ZAB_JUDAH: I'm looking to fighht the best. After I knockout Cory Spinks I want the best. I thank for you being a big fan of mine and I'm going to make you a proud fan.
madvibes: I hate cocky, arrogant fighters like yourself.  It was great seeing you get knocked down twice by the same punch against Tsyzu. Mayweather,Tsyzu, Mitchell, Cintron and Cotto would all knock you out.  Spinks is going to school you again in the rematch. Later
ZAB_JUDAH: Thank for you coming on the Zab Judah chat line
ZAB_JUDAH: lol
Hoot: After you KO Spinks in 6 will you fight cintron next if he is well
ZAB_JUDAH: Yes I would. If it makes sense and the money is right I have no problem fighting him. I'm not ducking Cintron, all of my fans know me and know I don't duck no one. If the fight makes sense it will happen.
ZAB_JUDAH: It would be dumb to fight hiim for nothing though.
ThisDatBigBoxingFan: Zab, I just want to say that was teh best interview I ever read with you today on Boxingtalk.com with that wanna be G.Leon name Ray Cambel(Just Kidding I like Ray). Can you be sleeping on Martel saying you are going to the 40/40club after?
ZAB_JUDAH: Actually, I didn't mean in that fashion. I'm not focused on going to the club. I've worked so hard that I know I'm going in there to put work in and then head to party. Read between the lines on that one my friend.
Method: Zab, who would you rank #1 P4p, FLoyd, Jr or Hopkins and WHY.  Also, who do you like this Sat, Trinidad or Mayo, and why?  I expect Trinidad but I am laying money on Mayo's unorthodox style/power.  Good Luck Champ.  I'll C U at Warriors to do the next Video
ZAB_JUDAH: Most definitely Bernard Hopkins. Hopkins is unbelievable. 19 defenses knockouts over DLH and Trinidad, Hopkins hands down.
ZAB_JUDAH: It's a good fight, I don't know who I like it could go either way.
ZAB_JUDAH: I think Trinidad is a helluva fighter, Mayorga doesn't have Tito's skills but his power makes up for it.
nebor: Do you get mad at how your boy floyd be using you as a example like "im not zab judah" and shit like that always putting you down to build himself up?
ZAB_JUDAH: No. I feel honored that I have fellow boxers who are able to use my name. It's an honor to me.
fullbrightsgym: Do you plan on bringing the fight to Cory earlier in the rematch, becase i think if you would have last time the fight would have ended early with you with your hand raised even though I personally had it a draw, best of luck man, big fan here
ZAB_JUDAH: Most definitely I will bring it to him. I'd be coming in to push it, I'd start fast and keep it going. I would be relentless and I wouldn't stop till it's over. No disrespect to Cory though, but I mean business.
AKay: Hey Zab big fan here. I was wondering if your interested in fighting anyone at 154 after you beat Spinks? I mean all the big fights would be at 154 and once you beat Spinks who else is there at 147 that makes dollas and makes SENSE??
ZAB_JUDAH: I can't even answer that right now because I don't even know what to say about 154. I just came to 147 and I'm looking to dominate here, but if it makes dollars it makes sense.
WAFE: you and vargas used to be tight and we used to see u'll together but a couple months ago u dissed him on boxingtalk whats up with that?and how would a fight with u a floyd playout?
ZAB_JUDAH: I never dissed Vargas, me and him are still cool. We go way back and a fight between me and Floyd, I don't know. If it ever would happen at the end of the fight I'd be victorious
superhow: zab what r ur thoughts on vivian harris as a fighter? please go back to 40 and beat that booty! dust off all the haters. you got a true fan right here. been wit ya through half your career. this cali cat got mad love for super
ZAB_JUDAH: Vivian Harris is cool. He's a Brooklyn native we're up the block and down the corner. He's a good 140 pound fighter and I wish him the best. He's the champ you have to give him some kind of credit.
ZAB_JUDAH: three more questions
BX_VicNice: Zab on your fight with Spinks why did you look away from the ring while fighting?  Woud you fight Shamba Mitchell if he wins?  What would you do differently in a rematch with Spinks?  I think your Spinks Knockdown was legit . Good Luck Saturday Man...
ZAB_JUDAH: I was playing around with Floyd Mayweather during an undisputed championship fight. I be doing some crazy shit some times. Why not? I'd fight Sharmba, I've been wanting to fight him for a while. Maybe he needs to get permission from his pimp first.
ZAB_JUDAH: I'm not going to keep telling everybody because I don't want Spinks to get hip to it.Just know it won't go twelve rounds though.
Judahfan4life: Hey Zab when you fight Spinks you need to go in there and take care of business!!!! don't go in there trying to show boat go in there and K.O him make him bow down like the punk he is!!!! its time for my boy SUPER ZAB JUDAH TO BE ON THE TOP AGAIN
ZAB_JUDAH: I'm going to knock him out and make him do that dance while he's on the canvas.
ZAB_JUDAH: one more question
Landover: There has always been a rivalry between DC and NYC boxers. What are your thoughts on the rivalry(i.e. you and shamba) and what differences do u see in the city's style of boxing?
ZAB_JUDAH: I don't know I guess they're jealous because we produce more world champions than they do.
ZAB_JUDAH: Actually, I like some DC fighters because I'm cool with Joppy, Holmes and Too-Sharp, I just don't like that Sharmba Mitchell
ZAB_JUDAH: Your boy doen't like none of those skirt wearing fighters.
thehype: Boxingtalk would like to thank Zab Judah for taking time out of his busy schedule
ZAB_JUDAH: Peace Boxingtalk I'm out.
thehype: Zab told me to tell you guys that you can email him at
zabsuperjudah27@aol.com