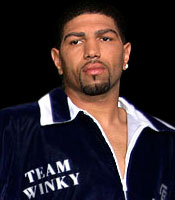 WInky_Wright: What's Up Boxingtalk.com
WInky_Wright: BADMAN YOU"RE UP
Badman: Would you really fight Bernard on September 18th if Oscar pulled out?
WInky_Wright: No, not on September 18. But I would fight him. If Oscar pulls out and they show me the money we could do it, but they'd have to reschedule it'
Brian_from_Alaska: winky, does having joe goosen in shane's corner give you anything different to prepare for or are you convinced that no matter what he does, if you fight your normal fight he cant beat you.
WInky_Wright: Having Joe Goossen doesn't concern me. He may try to teach Shane some new moves, but I'm going to focus on what I do and just be stronger and do what I do better to win the fight
Damien: After Mosley , do you want the hopkins oscar winner or the tito, mayorga winner? or someone else?
WInky_Wright: AFter Mosley, I want Tito. Tito would have fought me when none of the rest of them would After Tito then I want the winner of Bernard and De La Hoya
WInky_Wright: And after that I call the shots
WInky_Wright: I would sit back and take the next biggest fight out there for me.....If they have a choice to fight me or Roy, they'd fight ROy because of the money, but if it's Bernard he'll fight me
WInky_Wright: If we both win that's a fight we could make.
Dan_the_Man: Wink, are you coming to the gym tommorow?
WInky_Wright: Hell Yeah I'll be there!
Gerald_Nobles: so Winky, I hear that you spar with Jeff Lacy and Antwun Echols, do they make you sharper defensively and does sparring with them make Mosley's punches feel like a little girl's shots?
WInky_Wright: I do spar with them and they're alot bigger than Mosley and hit harder than Mosley, so yeah Mosley punches feel like nothing compared to them because he's a lot smaller
gilmoredog: yeah you beat mosley senseless the first fight but can you really knock him out
WInky_Wright: I'm not going out there to knock him out, but if he runs out there feeling better, he says he wasn't himself the first time he says. He comes to fight he could get knocked out because I'm coming to beat him up for twelve rounds
Hoot: I'm a AM fighter from Orlando… how's my boy Tank looking in sparing against Lacey? I would ask you a question about you next fight but I know you are going to win easy!
WInky_Wright: Tank is looking good and he's looking sharp and if I was getting ready for a lefthander I'd be using Tank too!
Kyle: Hey winky I am a really big Cory Spinks fan but admire your style. When Cory is done at 47 would you give him a fight?
WInky_Wright: Of course. Cory is my man, but if they want to move up and we could get the money right it's all about seeing whose the best.
Kyle: thanks winky
WInky_Wright: Cory is my man though and I got nothing against him, but we could make that.
mino: when tito wins and if you fight him next, is there anything you would do differently, to prepare for his power
WInky_Wright: He only hits that hard if you're standing there for him. I'm a smart boxer and I would prepare myself right for him. I hope he wins because like I said that's the fight I want.
nycvicnice: if you defeat mosley will you consider moving to middleweight division even if the winner of hopkins/delahoya does not want to fight you? What fight do you feel will give you the respect you deserve worldwide?
WInky_Wright: One of them fighters will give me that respect and another is Trinidad. I need to keep fighting the elite to remain elite. If I can't fight them I want the next best thing for me.
OnFire: What's good State Prop? Just want to holla and let you know you're doing the damn thing. Been a fan since the B.McKart fights. And still........
WInky_Wright: I appreciate that, keep supporting me. We've got some big fish out here to fry and we're going to do it!
OnFire: I'm sure we will. thanks champ
WInky_Wright: Cool
superhigh: winky what the type of fight with mosley same as last or KO this time
WInky_Wright: I'm going out there to dominate him. If the KO comes it's a bonus, the outcome will be the same though.
WInky_Wright: ha ha
superhigh: cool
superman121802@yahoo.com: Wink, how's training coming along champ? My name is Bryan and I was fortunate enough to meet you at DK's big fight card in Atlantic City last December and I took a picture with you. What is your "dream fight" assuming you beat Mosley? Is it Hops at 160??
WInky_Wright: My dream fight is De La Hoya at 160. But Hopkins and Tito are right there. Those are the three that I want
WeAllKnowTheTruth: Roy Jones made the phrase "not being able to get up for a fight" very popular this year...Everyone has you crushing Mosley in the second go round...any chance You might fall victim to the same type of mentality?
WInky_Wright: There's no chance I'll fall into that because I feel I have to get up for every fight because I'm not Roy JOnes where if I lose I still make millions. If I lose it's back to the ghetto and that's what keeps me up
WeAllKnowTheTruth: good point...thanks Wink
WInky_Wright: Your welcome
puffy: Firstly, thanks for the chat, GL, you're the best. Hey Wink, you and Roy still friends? What weaknesses do you see in Hopkins, DeLa Hoya?
WInky_Wright: Yes me and Roy are still good friends. Well, there's really no weaknesses. They are both good fighters, I think I have the skills and defense to cope with either fighter.
Dan_the_Man: See you tommorow champ
WInky_Wright: If I had to put a bet on it, I'm going with Bernard . Oscar is slick but his last performance makes Bernard the winner in my eyes.
WInky_Wright: I'll see you at 10
eze: Hey WInk. How do you feel about you next match with Shane? And what do you think of Roys plans in a recent interview he did? He plans to move ot 168. IF you keep winning do you see yourself at a fight with him at 168 or aa ctach weight?
WInky_Wright: I feel good about it. I'm happy to give Shane back the opportunity he gave me, but that's all I'm giving back. Roy is not going to be fighting at 168 but I think he's still one of the best fighters out there.
WInky_Wright: To me Roy Jones is the best fighter of this era though. And no, me and Roy wouldn't be fighitng at 168.
boxx-fann: Winky does delahoya have a chance with boxing skills and quickness or is nard too big and strong? also what your prediction for the fight? See you at MGM.
WInky_Wright: I already answered that one
cool: who do you think will be the winner of trinidad or mayorga
WInky_Wright: Trinidad
cool: and y?
WInky_Wright: Mayorga is going to come in swinging them wild punches and get caught
cool: by thye way i am a big fan
WInky_Wright: thank you, so am I
superhigh: wink.. do you lift weights during camp on how long is camp for mosley
WInky_Wright: Camp will be eight weeks. Yes I lift weights
WInky_Wright: One more the hype
mino: good luck and GOD BLESS, hope you and Trinidad hook, it will be fight of the year...
WInky_Wright: thank you, so do I
p4p#1: wink s since vargas is back do u plan on avengeing your loss and do u think roy will get tarver back
WInky_Wright: Nope. The whole time I was trying to get Vargas he dipped and dodged me and always made excuses.
WInky_Wright: I'm going to let him keep the excuses. He'll make good money though. He won't need me.
p4p#1: god bless and thanks wink and greg
WInky_Wright: Your welcome
WInky_Wright: Be Good Boxingtalk.com the official jump off of Winky Wright!!!!!!
WInky_Wright: Be Good Boxingtalk