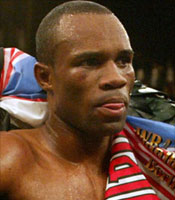 "I want the people to see the champion that nobody wants to fight and I'm going to be giving the fans what they've been missing."
thehype: Boxingtalk would like to welcome Vivian Harris to tonight's T.N.T. chat session
VIVIAN_HARRIS: What's up, Brooklyn in the building.
TRINIDAD: hey harris , when you gonna fight cotto?
VIVIAN_HARRIS: Right now I was trying to get the fight at the Garden and his people didn't take the fight. I want to thank Carlos Maussa for fighting me on June 25, but right now that's what's my focus is. Miguel Cotto has turned me down like five times already so it makes no sense to think about that cat
Tee101: What's up Champ, do you feel that Emanuel Steward has managed your career into a better direction, and what are your plans after you beat this bum on the 25th
VIVIAN_HARRIS: We're working together and everything has been good so far. I can only talk about what's going on right now and right now everything is fine. I don't look past nothing, but I'm looking for the best after June 25, but right now I'm focused on Maussa. I stay focused on one fight at a time. It makes no sense to call these cats out, because they don't want to fight.
dipset: waz up champ, luv the juelz video. what happened between u & super judah. i heard he punked you out & now you are saying he's your boy. that true? why don't you move up in weight if nobody will fight you at 140. 147 is were the money's at(dlh)
VIVIAN_HARRIS: I'm saying the money is at 140 too, and there's great fights at 140. I don't know where you heard that but nobody punks Vivian Harris, I'm a gangsta. Me and Zab is mad cool, that's rumors and I'm not really feeding into that right now, ya heard?VIVIAN_HARRIS: I beat people for fun, ya feel me.
fausto: what's the plan champ? i need you on tv...i don't care if it's espn tune ups...get out there and beat some people like the stole something from you. i seen you fight ONE TIME when you beat hurtado and nothing sense....you have to be seen more often!!!
fausto: fight some top 10 contenders on tv every 2 months
fausto: sooner or later all roads will lead to vivian....
VIVIAN_HARRIS: I appreciate that, and that's why I'm taking this fight for nothing on June 25. I want the people to see the champion that nobody wants to fight and I'm going to be giving the fans what they've been missing. I beat boys for fun ya know.
Avon_Barksdale: does it upset you that Main Events has given almost all of their other fighters the big money fights against the big names and you have to sit back and watch everyone else get the spotlight?
VIVIAN_HARRIS: To be honest at first it really upset, but as I get older I realize that things happen in life. Right now I'm sitting back and chilling and I'm going to dispose of whoever they put in front of me.VIVIAN_HARRIS: I'm not upset, I'm just more focused. At the end of the best the best can't be hidden.
Ray_NY: wut up, Why is tito your idol, have u met him, and what do you think went wrong with his fight with Winky?
VIVIAN_HARRIS: I've met him before and he's a very nice person and a great champion. He trains real hard and he fights the best always. I think what went wrong was he was trying to knock Winky Wright out. He didn't come in there to win a decision, he came for the koVIVIAN_HARRIS: and that's not the right strategy for Winky. I don't think he prepared right for the fight, I think he thought he was going to blast Winky out. I don't think he prepared the way he normally does for a fight, but he's still my  boy and I still love TrinidadVIVIAN_HARRIS: I'm going to carry on his legacy.
Kikin_21_PR: Yo Harris, you are an excellent fighter man, and you will be one of th gratest, hall of fame thing, you call out Cotto you think he will be an easy W for you?, I Want too se that one, Thanks champ and for one of the grats you have to stop Cotto
VIVIAN_HARRIS: I think Cotto would be the easiest fight of my career. It would be hard work preparing for him, but the fight would be easy. Like I said, right now I'm eating sleeping and shitting Carlos Maussa.VIVIAN_HARRIS: Cotto didn't want to fight me in NY where all the Puerto Ricans are so I don't even have time to think about bitch ass Cotto.VIVIAN_HARRIS: He could never be like Trinidad doing things like that.
TRINIDAD: are you willin to fight mawaether, i wanna see you beat that sucka
VIVIAN_HARRIS: Definitely. He turned me down like three or four times and then he acts like he don't know who I am, which just goes to show how stupid he is.VIVIAN_HARRIS: He thinks everything is about money, how could he not know the champs in his weight class. But I definitely want to kick Floyd's ass, but I'm not feeling none of these cats right now.
Tee101: How frustrating is it that Floyd keeps ducking you?  I'm not going to lie, I think you have a punchers chance, but I dont think you can beat him, I'm just being real even though he ducks you I think he just does not want to give you the opportunity.
VIVIAN_HARRIS: That's cool, I like that. Everybody can't pick me all the time, but I could definitely beat Floyd. I'm too big for him, I hit hard, I could switch shit up and adapt and he's not a Pernell Whitaker like he says.VIVIAN_HARRIS: Fuck Floyd and I want him to know that thing he said about slapping me, I'm not one of these bitches he slaps in the club. I will hurt him, word to my mother.VIVIAN_HARRIS: All that shit he's talking I'm going to put it right back in his mouth before the fight.VIVIAN_HARRIS: Don't forget I'm going to be in AC too. The walls got ears man.
fausto: viv, why do you have to go to the level of this young punks? just do  it like kostya...let them talk
VIVIAN_HARRIS: And I'm definitely doing that, that's why I'm saying I don't even want to talk about these cats, but I have to answer the fans questions to let them know that the people they rep are nobody. They've had it given to them. They didn't do nothing to get where they at. Floyd always tries to disrespect people but what has he done?VIVIAN_HARRIS: He's a piece of shit and he tries to talk down on my boy Hopkins and Oscar, but he ain't do nothing.VIVIAN_HARRIS: He could never be a Golden Boy!VIVIAN_HARRIS: I will hurt Floyd, staying away from me is the best thing he could do.
jeremy_from_www.docsports.com: hey viv, you obviously are one of boxings most avoided fighters. if floyd wins and kostya wins, who do you prefer to fight. also, being that you need a superfight to get known, will you be such a hard negotiator? winky took the deal and now he is the man.
VIVIAN_HARRIS: It's not who I prefer to fight it's who wants to fight Vivian Harris, I don't want to pick nobody. It's about who wants to fight me, I'll fight anybody. I prefer whoever really wants to fight me.
thehype: Boxingtalk would like to thank Vivian Harris for taking time out to chat with us tonight