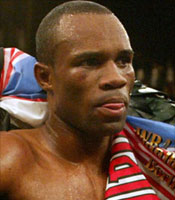 "When somebody is ready to shut my mouth, I'll stop talking!"
thehype: Boxingtalk would like to welcome Vivian Harris to tonight's TNT chat session
magnum: Vivian, How long do you think it will take cotto to set up a fight with you??I mean is it looking like you or a rematch with corley??and if your not next do you got in the rematch?
VIVIAN_HARRIS: I don't know. The way they're acting right now it'll probably take four years.VIVIAN_HARRIS: By then someone else will have knocked him out so I won't even want to fight him
info1@m-base.com: Vivan, why do you think Arum lied on you regarding Cotto?
VIVIAN_HARRIS: Because he doesn't want to make the fight and he wants the public to think the same thing that happened with Warren and Ricky Hatton will happen with himVIVIAN_HARRIS: He's lying.
AKay: Vivian im putting you on the spot who wins Winky or Tito and why?
VIVIAN_HARRIS: I think Trinidad will win but it's hard to pick because I don't know how they're going to prepare for each other.
todaline: vivian why not offer to fight cotto for 50k, just to make sure you get the damn fight?
VIVIAN_HARRIS: Bob Arum is lying and he should stop lying. I know the Puerto Rican fans don't appreciate liars. I'm not looking for spectacular money for Cotto because it's no risk fighting him at the Garden.VIVIAN_HARRIS: I know I'm going to knock him out and I have no problem knocking Cotto out at the Garden. Arum is lying because he don't want the fight
FAT_FRAUD_PHONEY_TONEY: it true tho..all vivian harris does it talk lotta shit.
VIVIAN_HARRIS: Well, Vivian Harris talks like this for three years and nobody shut my mouth. When somebody is ready to shut my mouth, I'll stop talkingVIVIAN_HARRIS: Please call Cotto and tell him to do it
Ronnie_StL: Yo Viv, pleasure to talk to u man , i honestly think u wil become the next aaron Pryor , everyone scared and runnin from u , i think u are the truth at 140 and just keep buggin them suckas to fight u , if u need help, just call me HYPE got my #.
VIVIAN_HARRIS: I want to thank you for that, you sound like a true fans who knows about boxing and knows what's really going on.
Ronnie_StL: im a harris too ViV
Ronnie_StL: im a fan for real VIV
VIVIAN_HARRIS: That other guy must've been a relative of Floyd or Cotto so he should shut up and Greg shouldn't let him back on the chat
RealPuya: Harris, from 1 to 10, how you rank Cotto?
VIVIAN_HARRIS: Cotto is  a 4VIVIAN_HARRIS: Cotto is a 4 because his promoter did a good job…other than that, I'd  give him a -1
G-DOG: HARRIS.... you dont thing COTTO has the CHANCE to KNOCK YOU OUT???
VIVIAN_HARRIS: No, never that. And this is real talk.VIVIAN_HARRIS: I've been in a lot of tough fights and I've been hurt, but I've never been out like Cotto was. Cotto can't fight in front of his fans and he was trying to prove something and he almost got knocked out.
AKay: Wooooooo Viv gotta do more chats wit us man
VIVIAN_HARRIS: ALL of my chats will be Boxingtalk from now on!
nardfan: Vivian,how do you stay sharpe and in shape when you dont know when your next fight is going to take place?I know that must be difficult.Give me your top 3 hitlist.
VIVIAN_HARRIS: I stay in the gym everyday because this is what I do for a living. Cotto, Gatti and Tszyu.VIVIAN_HARRIS: Mayweather already ran like a little bitch three timesVIVIAN_HARRIS: got questions? Bring it I got answers
RealPuya: Hey, Harris the only good fight that you have is Urkal. So Cotto will be the first Macho that you will enter to the ring...So are you prepare??? to be KO!!!
VIVIAN_HARRIS: You must've just started watching boxing because of Cotto if you think that. I've fought many top guys you need to do some more homework. I blow away Hurtado, beat Mbaye,  beat Urkal, beat Johnson, email me I'll get you some tapesVIVIAN_HARRIS: lolVIVIAN_HARRIS: Miguel Cotto isn't even a mega-fight for me, he's my tune-up
attyg3: Vivian u claim nobody wants to fight you, but you have turned down great money to fight Hatton and decent money for Abdulahev.  How can u make those claims and Zab took way less money to fight Spinks and look where he is now, u can learn from him
VIVIAN_HARRIS: I turned down Hatton because they weren't treating me like a champion so I didn't feel comfortable going to his backyard treating me like nobodyVIVIAN_HARRIS: Because Zab is Zab and I'm me. You sound like somebody close to the source and the answer is I don't want Abdullaev because he just got knocked out. I said no to Hatton because Main Events and Shelly Finkel werre making more than I would have.VIVIAN_HARRIS: You sound like your close to the sources mouth though
litzauNEXTlegend: Larry was the only one speaking the truth last weekend
litzauNEXTlegend: Why didn't you fight Hatton?
litzauNEXTlegend: there is a question
litzauNEXTlegend: the people want to know
litzauNEXTlegend: why did Harris turn down 750k?
litzauNEXTlegend: there
litzauNEXTlegend: answer
litzauNEXTlegend: how can you turn down fights when you've declared for bankruptcy?
VIVIAN_HARRIS: Don't ask me why I fought Hatton, ask him why he would never come to America? Or ask me why Main Events wanted to take $250,000 from me.
Killa_Clancy: Vivian, how heavy are you right now...what are you walking around at?
VIVIAN_HARRIS: Right now I'm walking around 150.
Killa_Clancy: are you 5 foot 11 with flat foot, no shoes, or more like 5 foot 10?
VIVIAN_HARRIS: 5' 11
CoryR: Hey viv, you should have taken the hatton fight?  You could be rollin now son.  Even Litzau knows you woulda carved little Ricky up. *choochoo*
VIVIAN_HARRIS: I would have carved Ricky Hatton to bits but there was no money at the end of the day and I didn't trust the situation.
Killa_Clancy: Vivian, my dad is a referee, he's friends with Emanuel.  Bill Clancy, you heard of him?
VIVIAN_HARRIS: yeah, I've heard of Bill.
WAFE: hey vivian it seems like no one wants to fight you, what are your plans to get these guys in the ring with u will you take less money  and how long will you sit idle b4 you take any fight even a tune up or mandatory? plus are you still mad at main events?
VIVIAN_HARRIS: Right now I'm willing to take less money to fight Miguel Cotto. I'm willing to take whatever offer they bring as long as it's DECENT.VIVIAN_HARRIS: If I can't get Cotto I will have my mandatory, I'm not mad at nobody.VIVIAN_HARRIS: And I definitely will defend my title against whoever I have to to keep it. I want the Miguel Cotto fight on June 18. And if Gatti and Mayweather can't do it., I want Gatti on June 11. Either one.
info1@m-base.com: Vivian, I agree that you should not let them punk you.  Man, just keep hounding these cats like Ali did Liston, they can't ignore you forever! None of these cats want to fight you cause they want to keep their titels to make money
VIVIAN_HARRIS: Thank you. I appreciate all fans like you who know what the deal is. I don't appreciate the fans who ask stupid questions so much.
RealPuya: Harris, IT TOOK YOU 12 ROUNDS WITH UBALDO HERNANDEZ, COTTO IN 7; YOU LOST OLIVERA...AND FUSTRATED. THATS WHAT IS GOING TO HAPPEN WITH COTTO...my E_MAIL is luigimoon@hotmail.com sent the tapes...anyway I have seen half of you carrer. I give you a 6.
VIVIAN_HARRIS: Okay. You are a Miguel Cotto fan and I respect that. I'm happy I lost that fight because it was a learning experience. And I'm going to be the learning experience for Miguel Cotto. I'm glad Cotto KO'd Hernandez and all that, you should save your email and email your question to Bob Arum. Maybe then they'll want to fight Vivian HarrisVIVIAN_HARRIS: I don't care who he beat, styles make fights and he can't beat me.VIVIAN_HARRIS: That's all you need to know.
WAFE: hey vivian you doing anything for the flood back home in guyana?
VIVIAN_HARRIS: I can't do nothing right now because I'm bankrupt. Once they show me the money, of course I'll help.VIVIAN_HARRIS: And that's sad.VIVIAN_HARRIS: I send out alot of prayers for them and I know God is taking care of the, last one
nardfan: Whats your take on Larry Merchant?
VIVIAN_HARRIS: I don't have nothing against Merchant. He's trying to do his job I guess. I want Larry Merchant to let the world know that Vivian Harris wants to fight everybody…they just don't want to fight me.
thehype: Boxingtalk would like to thank Vivian Harris for taking time out of his schedule to chat with us tonight
VIVIAN_HARRIS: Peace Boxingtalk!