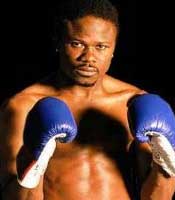 Original Chat Session on September 9, 2004
thehype: Boxingtalk.com would like to welcome Vernon Forrest to T.N.T. Chats
Vernon_Forrest: What's good fellas?
OnFire: Hey Vernon. Thanks for taking the time out to chat with us. How is the rehabilitation coming along and are you back in the gym?
Vernon_Forrest: The rehab is coming along. Yes, I'm in the gym and I'm working hard for the possibility of getting back into the ring around November
OnFire: looking forward to seeing you back. Good luck champ.
Vernon_Forrest: Thanks.
TheChampIsHere: I ahve a 2 part question if everyone doesnt mind. how do you respond to Cory Spinks saying you are at the back of the bus and if you had your way, politics aside what would be your 2 year plan to get back to the top??
Vernon_Forrest: It's not going to take two years for me to get back on top, it will just take a couple of fights. I'll be back on top by the fall of next year. And as far as Cory Spinks, he could get it anytime at any weight.
Bryan_AKA_Superman: Vernon, what's the good word champ?  :) I think 154 is going to be a good weight for you. I think you'll be stronger at that weight.  I'd like to see you fight Wright at 154.  Will we be seeing you against Javier Castilejo in November when you return?
Vernon_Forrest: I'm not sure yet. I'm not sure who we're going to have but I'm just anxious to getting back into the ring and getting back on top like I did the first time.
Bryan_AKA_Superman: Thanks Vernon, and I thought you edged out Mayorga in the rematch 7-5!
Vernon_Forrest: Thank you.
Secret_Master: Alot of your critics say you have a boring fighting style. Does that bother you and what makes your style boring?
Vernon_Forrest: I don't fight for the critics, so I wouldn't even know how to answer that question.
BX_VicNice: First I thought you won the second fights with Mayorga. how would you fight Mayorga differently if there was a 3rd fight? who will you fight next if you know? thanks for talking to us the fans :) ..Great work with the handicap..you have a big heart.
Vernon_Forrest: Thank you. I'm definitely going to fight Mayogra again. I would fight him the same way I did the second time. I think the strategy that I used in the second fight, I would haven't cruised the first half of the fight. The game plan was to let him get tired
Vernon_Forrest: early, and turn it on late. In a third fight, I would change that and force the issue a little bit more.
Method: Viper, my question is twofold.  First, what did it feel like to have Sugar Sham squealing like a stuck pig when you drilled him with those body shots late in the first fight (I loved it).  Secondly, Who do you like in DLH/Hops (& BREAK IT DOWN). THX, Champ
Vernon_Forrest: Actually, the body shot was fantastic. I didn't think he was going to do all that, but I was pleasantly surprised. I think the best fighter in the world right now is Hopkins. To break that fight down, I think DLH is exceptional and he's good enough
Vernon_Forrest: to make it through the first half but after that he's in trouble. The fight will go seven at most.
mightyjay: Hello Mr. Forrest, I just wanted to commend you for creating Destiny's Child. Its a great service that you are doing, keep it up! Thank you sir.
Vernon_Forrest: You're welcome.
fausto_in-D-Town: champ, thanks for being with us here today. i loved your dismantling of shane mosley, that hook in the first round was brutal...i looked up at the sky looking for shanes head!. Now to my question, is your next fight going to be a tune up or are you...
Vernon_Forrest: I don't know. Right now I'm just training and working everything is negotiation, so we'll see/
fausto_in-D-Town: looking to fight a big name? any idea who? who would you like to fight next? btw....i think you are betterboxer than mayorga any day of the week
Vernon_Forrest: Thank you.
Vernon_Forrest: I agree.
Brian_from_Alaska: What's up Vernon, considering how things are heating up at 147, if Mayweather and Spinks get it on would you ever consider going back down to 147 to take on the winner should the right opportunity present itself?
Vernon_Forrest: I can't make the weight. I'm going to try to get down as far as I can do, but I don't think I can make 147. If they ever come up in weight we could do it anytime.
KYLE_THEEEE_SPINKS_FAN: ok first off i respect you doing all the charity work and stuff and i know your a gentleman, but you shouldn't be callin out cory like that unless you serious about getting down to 147 because last time i check you at 54.  So which weight division is it??
KYLE_THEEEE_SPINKS_FAN: by the way no offfense but i do feel cory would beat you
Vernon_Forrest: We'll see in late November when I step into the ring. We're in America everyone is entitled to their opinion.
booger: Vernon what excatly happened to the shoulder? and are you watching intently this Sats jr middle fight?
Vernon_Forrest: I had arthroscopic surgery on my shoulder and elbow. I won't be watching intently on Saturday. That fight is for boxing fans, not for boxers.
ForrestDookieFighter: p.s. - my username is a play on jin mosley's comments about him, not an insult...i like vernon
Vernon_Forrest: This dookie fighter beat her husband's ass twice, so she could say whatever she wants. Actually I whooped his ass three times.
cuban: Being as though you have faught both men, who would have won between Mayorga and Mosley if they would have faught?
Vernon_Forrest: Whoever came to fight that night.
nardfan: Vernon after the two losses and a long layoff  how will you mentally get yourself up?What weight will you fight at?
Vernon_Forrest: I'm already mentally ready to go and we're going to soon see what weight I'm fighting at. Haven't decided  for sure yet.
kelvone: How would a trinidad forrest fight turn out?
Vernon_Forrest: That's the fight that you all should be dying to see, that's a fight that of course Vernon Forrest wins, but that's the PPV blockbuster right there. You should be all writing letters to HBO boxing to make that fight right there.
kelvone: ko or decision
Vernon_Forrest: a win is a win
Joe: What is the highest weight you see yourself ever fighting at? What fighter, past or present, would be your dream fight?
Vernon_Forrest: I wanted to fight at heavyweight, and that was my goal, to finish at heavyweight. It's hard to say how high I would go up, maybe 168. The dream fight? I never really thought about it like that, I don't worry about stuff I can't control. I only worry about
ForrestDookieFighter: vernon, i thought you won the mayorga rematch by a couple points. what would you change about that performance to ensure you got the win?
Vernon_Forrest: Kick off those two judges who didn't know what the hell they were looking at!
SurroundedByFrauds: Give us your take on Kermit Cintron, and would you consider a move to 147 to face off with him?
Vernon_Forrest: I don't really know anything about him, so why would I want to move down to fight him? Who is Kermit Cintron?
OnFire: Forrest, in response to one of your comments, are you not a boxing fan ? If so then isn't Saturday's fight for you as well in more ways than one?
Vernon_Forrest: That fight is for boxing fans to enjoy. As a fighter, it's a mismatch so I'm not interested in mismatches.
TheChampIsHere: How do you think Trirnidad will respond to Mayorgas power and whats your prediction?? Who is a more realistic opponent, and who would you prefer Tito/Mayo winner or De La Hoya win lose or draw?? What did you think about our olympians??
Vernon_Forrest: Mayorga used to be his sparring partner so he knows about his power. I would want to fight DLH because it's more money. I didn't watch the Olympics so I don't know but anytime you make the Olympic team you should do well in the pro's.
Bryan_AKA_Superman: Vernon, I must say that I think you are a very gifted boxer and major props for helping out the people in Destiny's Child. Who do you give the most credit to for your success in the ring up to this point?
Vernon_Forrest: Thanks for the props. I'm the one who got to fight, so I give myself the most credit after God.
Bryan_AKA_Superman: Thanks Vernon
Vernon_Forrest: You're welcome.
Method: Viper, my question is twofold - First, Breakdown the Mayorga/Trinidad fight (I expect tito, but will lay an odds wager on Mayo).  Second, being from Atlanta, is it Tru MC Hammer hangs in arcades challenging kids to that crazy dancing game for milk money?
Vernon_Forrest: Mayorga will not last five rounds. Tito's sharpshooting will catch up to him.
Vernon_Forrest: lol
coaks: Hi Vernon I am a fan from England. Sorry if this question has already been asked but who where/  was your boxing idol and who's style did you try to incorperate most into your own?
Vernon_Forrest: I watched a lot of old fighters and incorporated a lot of their stuff in my game. My stuff is a combination of many styles.
Method: what about the MC Hammer rumor?
Vernon_Forrest: That was hilarious.
Vernon_Forrest: one more question
nardfan: I saw you on FNF and you cuold not wait to see Raheem vs. Rocky were you upset with the outcome?
Vernon_Forrest: Absolutely.
Vernon_Forrest: Yeah. It should have been done right. I really believe that this game should have some kind of integrity and I just feel that the bottom line is the best fighter should win.
KYLE_THEEEE_SPINKS_FAN: Hey dude I got some respect for you but i scored the 2nd fight for Mayorga and the first fight is history.  You did pretty good against mosley, but i hear you got problems with southpaws.  Thats why i think spinks will win.  Good luck.
Vernon_Forrest: In terms of me having problems with southpaws, I've beaten every southpaw I fought. Tell Cory I said hello.
OnFire: Before you go. Besides donations tell people how they can get involved with your cause and organization?
Vernon_Forrest: call 404-696-4400 and ask for Charisse.
thehype: Boxingtalk.com would like to thank Vernon for taking time out of his busy schedule to chat with us today
thehype: yo Kyle
thehype: Vernon said loosen up and quit holding on to Cory's balls so tight