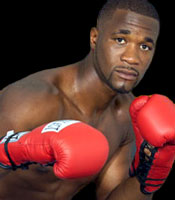 "It really doesn't matter what he wants to do, I'm coming to execute him."
thehype: Boxingtalk would like to welcome O'Neil Bell to tonight's T.N.T. chat session
O__Neil_Bell: What's going on everyone!
Bell_Lover: Female fan here...are u single? ;)
O__Neil_Bell: Definitely...eligible bachelor right here
IronMike21: o neil im going to be at the fight on sat, and was wondering how u plan to fight him
O__Neil_Bell: I plan on fighting him doing everything I know how to do. This is like a boxer versus a one dimensional fighter
O__Neil_Bell: It's going to be a bull and a matador
nardfan: Whats up O'Neil?In your fight with Brown you seemed to have some stamina issues,would you say you've addressed them to go a hard 12 if neccesary?
O__Neil_Bell: It wasn't really stamina, it was mental issues. There were certain things going on the night before the fight. I was up the night before with my managers trying to get out of a lawsuit.
O__Neil_Bell: I was at 80%...against Rachman I was at 100%
O__Neil_Bell: And with Mormeck you're going to see me at 150% because I've eliminated all of those problems
SugarDusMosley: Bell. You refer to Mormeck as one dimensional... yet you failed to display yourself as a multi-dimensioned fighter in your last two fights... what exactly do you see in Mormeck that makes him beatable to you right now?
O__Neil_Bell: If you go back to the fight before I fought Dale Brown, you'll see I was labeled a slugger for my last two fights. We got away from the slugging and I was in a transitional faze
O__Neil_Bell: Now there's still room for improvement but on Saturday you're going to see a boxer/puncher
O__Neil_Bell: Mormeck is just a slugger.
Titlebelt: O'Neil, If successful against Mormeck, how long will you remain a Cruiserweight, before moving to the Heavyweight division?
O__Neil_Bell: Until the cruiserweight division gets some notoriety and we get the paydays we deserve. But then again, if there's a doable fight, we'd look at it.
O__Neil_Bell: And if Antonio Tarver would have the heart to step up, we could do that
O__Neil_Bell: Right now my goal is to rule the cruiserweight division undisputedly
boxfan: No disrespect O'Neil. But you have been either hurt or knocked down by some fighters who cant even be compared to Mormeck as far as skill and punching go. With that said have you been working on defense and outside boxing for this fight more than ever?
O__Neil_Bell: My defense will be superior. I've shown resiliency in my fights by coming off the canvas to knock my opponent out.
O__Neil_Bell: People know I get charged up when it gets bloody
O__Neil_Bell: It doesn't matter what the onlookers say. I'm able to come back from being on the canvas and dominate
O__Neil_Bell: To me, that's a well rounded fighter
ringsidemike: Oneil, this is your first time fighting in the fight mecca, MSG, how excited are you about that?
O__Neil_Bell: Very excited! I'm elated to the point of...I ain't going to say that...I'm just extremely happy to be a part of an event of this magnitude
O__Neil_Bell: I know the world is watching and I love the Garden. There's no pressure on me. I just have to rise to the occasion
ZABISKING: O'neil ive been a fan since i saw you fight arthur williams. what if he tries to box with you and doesnt come forward like you expect.  good luck and who do you want to fight after mormeck.  btw i thought you beat brown by 3 points.
O__Neil_Bell: Well, then he'll be stepping out of his nature. I don't think someone with a six week camp can do that. If he comes to box, he's stepping out of his personality and it wouldn't take me long to check that
Bell_Lover: June 8-11 is induction weekend at the boxing hall of fame in canastota, ny...think you come come? :)
O__Neil_Bell: I would love to, I got nothing planned and I'm bound to be the undisputed champion which means I'm going down in history so I'll be there.
Elements: I'm sittin in Popo's town right now (Salvador Brazil - hot as hell). You have a habit of having to get up off the canvas to finish fights. Best not to do that with Mormeck, he's too strong.  You plan to box rings around him?
O__Neil_Bell: If you want to judge a man by his stature, you have to realize most real punchers aren't built like Mormeck
O__Neil_Bell: Look at my resume and see what I do. I knock guys out.
O__Neil_Bell: People need to look at his record before they call him a devastating puncher.
O__Neil_Bell: I don't think his record compares to mine
Titlebelt: O'Neil, With your high KO percentage, wouldn't it be to your advantage to slug it out with Mormeck?
O__Neil_Bell: I would love to do that and I love it bloody, but for the last seven or eight weeks we've been getting away from that.
O__Neil_Bell: They want me to box. My power will always be there, but I want to box him to show my versatility.
O__Neil_Bell: But if it comes down to it, I like it bloody!
O__Neil_Bell: It really doesn't matter what he wants to do, I'm coming to execute him.
thehype: Boxingtalk would like to thank O'Neil Bell for taking time out to chat with us tonight
O__Neil_Bell: Thanks for having me!
O__Neil_Bell: Boxingtalk #1