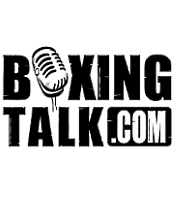 "...this time around I'm just going to punish him from ding to dong and not get stupid"
thehype: Boxingtalk would like to welcome Nate Campbell to tonight's T.N.T. Chat sesssion
NATE_CAMPBELL: Hello everyone
nardfan: Nate,whats up man?how many times have you watched thr first peden fight
NATE_CAMPBELL: I just watched it again two nights ago. I've watched it countless times already.
attyg3: Nate, I'm curious who your toughest fight has been in career, and when u get through Peden, what are some of the names u want to see in the squared circle?
NATE_CAMPBELL: Toughest fight of my career was Angel Rios. I want to fight nothing but the best. You name them. If they have a title I want them, if it's who the public and press says is the best I want them too.
litzauNEXTlegend: If you could fight anyone right now who would it be?
NATE_CAMPBELL: I don't have that kind of wishlist. I really can't make that statement right now because I'm completely caught up with Robbie Peden right now. I'm eating, and sleeping Peden and soon I'll be shitting him.
NATE_CAMPBELL: lol
AKay: hey nate was up my question is why the hell did you drop your hands man!!!!!????
NATE_CAMPBELL: Can you be original? I made a mistake, I never tried to hide it, but I tell you like this, I'm not going to be making the same mistake twice so Peden is trouble
duvallsfinest1234567: what do u think of the hyped up 130 pound puncher edwin valero
NATE_CAMPBELL: I'm so sick of hearing about that guy. I'm sick of people hyping him like he's something when he can't even fight. He's never fought anybody and he's not ready for any of the top guys at 130.
NATE_CAMPBELL: Everyone can punch out bums, can he do it to a real fighter?
Method: Sup Nate.  Best of luck to you in '05.  My question is THREE-fold:  Are you still training up in Vero?  Who gives/has given you the best sparring work?  Who are your favorite current fighters to watch and why?
NATE_CAMPBELL: No I'm not training up in Vero no more. Best sparring work…there's been a lot. Teddy Reid gave me great work
NATE_CAMPBELL: I've been blessed to have great sparring partners, Sharmba Mitchell, Ricky QUilles. Cory Spinks is one of them. He's a superb boxer, I like a lot of guys Lacy, I've been watching him since he was an amateur.
Method: Where ARE you training these days?
NATE_CAMPBELL: I'm training in California.
One_Punch: hey Nate, if you happen to break free from Dibella after this fight, would you consider signing with a smaller promoter.? I know this great company down in Tampa....One Punch Productions....heh....heh.... who knows....maybe they could even convince DeCubis to give you the casamayor rematch
NATE_CAMPBELL: Terry, it's going to cost your house, your car and a bunch of trips to the museum.
One_Punch: lol
Method: Thanks for taking time out of your schedule to kick it with the hard core faithful....best of luck....Oh yeah, Naughty By Nature called...they said GUARD YOUR FUCKING GRILL""
NATE_CAMPBELL: I will
nardfan: What up again Nate,do you hang out with many boxers or is it tough to hang out with other fighters b/c of ego's? What will you do different(other than not drop your hands)in this fight? What weight do you walk around? You'll kill him this time.Good Luck
NATE_CAMPBELL: I used to hate hanging out with fighters. There;s a lot of ego there, but now when I'm in camp we're able to coexist peacefully. I walk around at the most 140, and this time around I'm just going to punish him from ding to dong and not get stupid
attyg3: Curious on your take on some fights coming up, Spinks vs Judah, Trinidad vs Wright(if Wink is smart and takes the $), and later in the year Gatti vs Mayweather?
NATE_CAMPBELL: Spinks in a close one. Wright in another close one. I wouldn't bet against Winky. Mayweather if he boxes, but if he tries to fight...Gatti.
litzauNEXTlegend: How did sparring with Matt Vanda go?
NATE_CAMPBELL: Sparring with Matt Vanda went great. he's a good guy and he could be a great fighter. After all of these fights I think he's still learning who he is and what he can really do.
NATE_CAMPBELL: We'll be sparring together next week.
duvallsfinest1234567: who did you fight in the amateurs and how was your career in them
duvallsfinest1234567: and who di u think are some good up and coming amateurs
NATE_CAMPBELL: I thought I had a great amateur career. I fought a few of the top guys at the time but none of them made too much noise as pros.
NATE_CAMPBELL: Andre Ward has shown a lot of promise. I think Berto is another good young fighter. Even Jason Estrada might be able to make some noise.
One_Punch: are you concerned with this fight being in Australia? Lets say for a second that the miracle happens and Peden finishes the fight on his feet, are you worried about getting home cooked, with the fight being in his backyard?
NATE_CAMPBELL: I'm concerned that they won't let me kill him and if I do, they may hang me. lol
NATE_CAMPBELL: There's a better chance of the crowd rioting than this guy beating me. And the fight's not going to the juddges.
NATE_CAMPBELL: No judges
Method: Although you are probably as disgusted/bored with the heavyweight division as ALL OF US, if it were up to you, what would you do to sort out the debacle
NATE_CAMPBELL: Make em fight each other. All of the champs MUST fight each other
One_Punch: sorry to but in, but i know nate would just shoot anyone over 190 pounds
NATE_CAMPBELL: lol
Method: Also, if you could bang any female music artist, who would it be and WHY?
NATE_CAMPBELL: Anita Baker. I've had a thing for her since I was 14.
NATE_CAMPBELL: lol
litzauNEXTlegend: What happened between you and Dunne when you two sparred together a while back?
NATE_CAMPBELL: Nothing happened, it was good sparring just two guys going at it.
NATE_CAMPBELL: he's my favorite little up and coming featherweight.
nardfan: Nate,is Casamayor as dirty as they say he is?What do you plan on doing after fighting?What is your perfect retirement age?Who is the rapper that you get ready for a fight too?
iNATE_CAMPBELL: He's diritier than they say he is. Elbows, heads and all that.
L
NATE_CAMPBELL: I'm still messed up about that music question cause there's alot of girls I want to put my hands on.
Method: lol
thehype: Boxingtalk would like to thank Nate Campbell for taking time to chat with us tonight
NATE_CAMPBELL: BE GOOD BOXINGTALK