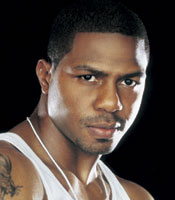 "After I rid myself of Beck, I'll deal with Ruiz."
thehype: Boxingtalk would like to welcome Monte Barrett to tonight's T.N.T. chat session
nardfan: Monte waddup?Do you think some wouldnt take you serious,considering you beat quinn who ended up being a bit of a bust and you lost to Mesi who is a bust?I think you're a good contender just need to get more active.Good Luck!
MONTE_BARRETT: At least we agree on something. I will be a better champ when I am more active. Sometimes the ball bounces your way, sometimes it doesn't. But when I give 100% of myself into this fight I get the best results out of it. The best is yet to come.
litzauNEXTlegend: QUEENS BABY!! Good to see you Monte! Who is the hardest puncher you've ever faced? Klitsckho?
MONTE_BARRETT: Erik Kirkland.
MONTE_BARRETT: Q-U
litzauNEXTlegend: yeah baby!
Albaholic: you came from journeyman to contender and top 10 heavyweight, what was the turnning point? Trainning? Managment? Mental? And who win this march, Pacquiao or Morales
MONTE_BARRETT: The turning point was I've always been a contender in my heart. Promotional, managerial, the passion to love what you do, see I feel back in love with boxing. Not for the money or anything other than my passion for the sport
MONTE_BARRETT: That's what lead to me reiventing myself.
J-Gon15: Monte in this lackluster heavyweight division, What separates you from the rest of the pack? why should people pay attention to two gunz?
MONTE_BARRETT: Well, for one I think people should pay attention because people are interested in heavyweights and I'm that product. I bring a lot to the game I live a clean life, I'm educated I have a sense of humor I'm down to earth, and I won on the Price Is Right.
MONTE_BARRETT: When you put all those things together it becomes sorta like a story line.
J-Gon15: And how do u feel about Andrew Golota getting another title shot?
MONTE_BARRETT: I feel that he deserves it because he could have been 2-0 in his last two fights. He's dealing with the best promoter in the world and Don is giving him the chances he should go for it.
attyg3: Monte,do u feel the long layoff will hurt u at all? Who besides yourself do u feel are the best heavyweights in the world? Who wins Spinks Judah rematch
MONTE_BARRETT: No it won't. I feel everything in life is about timing. I was anxious to stay active but I've learned to adjust and deal with the inactivity
MONTE_BARRETT: I keep my life together so when the time to fight comes, I'll be ready. I do plan to be more active after I break Beck's neck.
MONTE_BARRETT: I got to go with my boy Judah.
Mino: who do u have in the klitchko rahman fight and who will be ur biggest challenge in the near future, after beck?
MONTE_BARRETT: I like Rock all the way if he fights with the intensity he fought in his last fight. My biggest challenge now is Owen Beck on February 5. After I'm done with Beck I'll be back on Boxingtalk, the best place to be on the internet and tell you about my challenges. Right now Beck is my past, present and future.
AKay: Monte waddup! What do you need to do to get to the next level? Whats the last piece of the HW championship puzzle for you? And can you please relieve us of Ruiz.
MONTE_BARRETT: After I rid myself of Beck, I'll deal with Ruiz. I need to win on February 5 and then put it all together. I want to unify the division.
eze: Monte... I think you have a good future and have a good chance at becoming HW champ from one of the title holders. Who do you want to fight for the HW title? ANd if you ever get the chance to fight Ruiz just take the fight, so someone can end this pain!
MONTE_BARRETT: Thank you. Right now my championship fight is against Beck. It has no title. Even though Ruiz, I mean people might not like him but the guy is a champ. He's lucky enough to get a good roll every time he fights.
MONTE_BARRETT: After Beck, I'm going to cross all those other bridges. Right now I'm focused on Beck. Nothing can make me lose that focus.
litzauNEXTlegend: Who have you been sparring with while preparing for Owen Beck?
MONTE_BARRETT: of course I have a couple of secret weapons, but I have Lawrence Clay-Bey. I have Talmadge Griffis whose fighting Tua. I'm focusing on making Beck's strong points his weak points come Feb 5
nardfan: Whats up again?What is the date for the Beck fight?Who is your favorite fighters to watch?Who do you listen to to get ready for a fight(music that is)?Where did you get the nickname 2Gunz?
MONTE_BARRETT: Feb 5. Floyd and Hopkins are my two favorites. They're both masters. Hopkins is the ultimate Shaolin Guru and Floyd already went through the 36chambers
MONTE_BARRETT: Hip hop
J-Gon15: Gimme your thoughts on the baby joe mesi situation?
MONTE_BARRETT: My prayers go out to Joe and his family, They've only shown me love and respect.
attyg3: Monte, why are u even fighting Beck? Do u think this fight helps you move up at all in the heavyweight rankings?  I know u are going to kill that guy, so hopefully u get a bigger fight later. Is there anybody u want more than others?
MONTE_BARRETT: I have to fight him to become mandatory. He's going to be my comback fight. Right now I'm focused on Beck, the next time I'm back we'll talk about the others.
thehype: Boxingtalk would like to thank Monte Barrett for taking time to chat with us tonight
MONTE_BARRETT: PEACE OUT BOXINGTALK