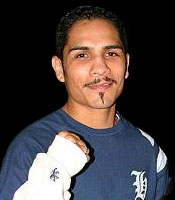 "That's what's in my future...good fights against good opponents that help my name and help me make better money."
thehype: Boxingtalk would like to welcome Martin Castillo to tonight's T.N.T. chat session
Titlebelt: Martin,  Congratulations on your victory over Munoz.  Where would now place yourself on boxings P4P list?
Martin_Castillo: For me I think I'm the best pound for pound, but it's better when someone else like a reporter or a fan tells me. Thanks you.
Slipx: Are you prepared for Pacman?
Martin_Castillo: He's in a different weight class
pbf: Martin will you ever fight Rafeal Marquez and are you fighting on the Judah-Mayweather Undercard?
Martin_Castillo: I would love to fight with Marquez. It's a very good fight and hopefully we can make the fight. I don't know if I'm fighting on that date. I leave that to Top Rank and my manager.
GMS3ll: What do you think of Jorge Arce and would you like to fight him?  What are the chances that we will see a fight between the two of you?
Martin_Castillo: I think he's a good fighter, but at his weight. I think 115 pounds against me would be too much for him.
Trinidad: I speackI speack spanich. Martin , pelearias con jorge arce , Cuales son tus planes futuros , te felicito por tu ultima pelea lucistes muy bien.
Martin_Castillo: That's what's in my future...
g
ood fights against good opponents that help my name and help me make better money.
boxingstar: Gallito..very good but tough fight with Munoz, last time you boxed him so easily , but the second time you sat there with Munoz...why?
Martin_Castillo: I felt very comfortable fighting with him and stadning there. I felt confident that I was trained properly for the fight and I knew I could win the fight. Munoz fights longer, so I felt strong on the inside and I wanted to show people that I could fight standing there with him.
Bobbito: Que Pasa El Gallito, ur one of my favorite fighters. I would like to see you fight montiel next,i hear you may be fighting him on the judah mayweather undercard,verdad? And is it true you beat mayweather in the amateurs? Thanks and Good luck w/ ur career
Martin_Castillo: Thank you. I don't know if I'm going to fight him yet. We're still in the process of seeing who we'll be fighting next. And yes, I beat him in the amateurs twelve years ago
big_bIll: hey champ, How did your loss to Machado (BS) help you grow as a figher
Martin_Castillo: It gave me more courage and more dedication and desire to become champ. It let me know I have to give everything for every second I'm in there.
Mike: Martin, you're 1 of my favorite fighters right now.  I can't find your previous fights anywhere! Is there any way I can get my hands on some of your previous fights? I would love to see them and collect them.
Martin_Castillo: Thank you. I don't know if I can obtain those fights. I don't even have them. Univision and Channel 34 probably have them so I'll have to see how to obtain those.
Tru_KO: I'm just here to listen. Mad respect Martin. Keep doing your thing. You are one of my favorite fighters. Come fight in Northern Cali sometime.
Martin_Castillo: Thank you for coming on to chat with me.
Celtic1888: hi martin, im a big fan from ireland. Would you rather unify the belts at super-flyweight or move up to challenge Rafael Marquez? and how do you think mexico will do in the soccer world cup in the summer? Tiocfaidh ar La!!!!!!!!!!!!!!
Martin_Castillo: I didn't know people that far away watched my fight. Thank you. I would rather move up to 118 to fight Marquez, but like I said, I leave that to my manager and promoter
naqvu: hey Martin whos your favorite fighter of all time? and whos your favorite fighter in the heavier divisions?
Martin_Castillo: I like a lot of fighters, but the one I will always remember is Julio Cesar Chavez...I don't really follow the heavyweight division.
bxny: Hammer congrats on a though win against Munoz you started a little slow.  Why do so many fighters suffer from that? Is it physical or mental?
Martin_Castillo: I think that you start getting stronger after each round and it takes time to study your opponent.
push-ya-wig-back: What was your highest payday for a fight?  I like watching you fight because you are all action.  Thanks and best of luck in the future.  You and Tim Austin would be a great fight, but he might be fighting higher in weight.
Martin_Castillo: Austin is a little bit old for age I think. My best payday was in Japan but I'm not going to tell you the number.
ArturoGattiKnocksOutCarlos: Martin you have to accept Arturo gatti as being part of the latino warrior clan, The man goes to war like the all time mexican greats, You know he knocks out carlos though right?
Martin_Castillo: Gatti has a lot of heart and a lot, a whole lot of love for boxing. Even in his losses he goes and gives everything in the ring.
Martin_Castillo: He does everything he can in the ring
Martin_Castillo: A great fighter.
drez24: Martin what is the highest weight you see yourself fighting at?
Martin_Castillo: 122 is probably the highest I can go
Martin_Castillo: Well, maybe featherweight, but they would have to pay well.
e-money: just wanted to thank u 4 chatting on the best website in the world ,great fight with munoz I thought it was the best fight of the night and my man was asking me if u were part black cause u move like a brother, I hope u go up and fight marquez I no ull win
Martin_Castillo: I'm all Mexican...that cannot be denied, but a lot of people have told me that I fight like a black fighter and a lot of people like how I fight, so I have heard that before.
Martin_Castillo: Thanks for telling me about Marquez. I also think I'm going to win.
Martin_Castillo: lol
thehype: Boxingtalk would like to thank Martin Castillo for taking time out to chat with us tonight