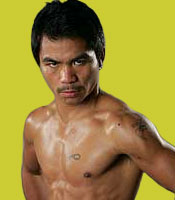 "I would like to fight Barrera again to prove once and for all that I'm the better fighter."
thehype: Boxingtalk would like to welcome Manny Pacquiao to tonight's T.N.T. chat session
ErikMorales: hey Manny, Is the third fight between you and Morales set in stone, has Morales agreed to fight at 130? Do you think you winning the rematch was a case of you improving from the first fight or has Morales deteriorated after all the wars, thank you goodluck
Manny_Pacquaio: It's in the works now and Morales has agreed to 130..but the fight is stil in the works.
Nay_Sayer: Manny, how is your weight and how is training camp going? Good luck in your next fight and much love.
Manny_Pacquaio: My weight is good and my camp is really great. It's quiet and thank you for your love.
Titlebelt: Manny, What's the latest regarding your fans in the Philippines? Will all of them be let in free of charge or will there be an admission fee for some of the seats? Also have you met, spoken to, or played against the "Black Widow"?
Manny_Pacquaio: We're giving away some tickets, but other will be at a charge. But yes, we are giving away some tickets
spike_77: manny,is there a plan to move at 135lbs or 140lbs? thanks!
Manny_Pacquaio: Right now, I'm very comfortable at 130. I usually weigh in at 128-129
freeworld: is it true that ur gonna fight at 135 before u end ur career?? and what can you say about bobbys performance??
Manny_Pacquaio: Like i said, I'm pretty comfortable at 130. Bobby did great and i'm very proud of him. He fought a great fight against a great fighter.
jmspb: there's a debate on a future corrales vs pacquiao fight? is this possible?
Manny_Pacquaio: I really don't know. Corrales is a big 135, but I can't say for sure right now.
Manny_Pacquaio: It would be a great fight though.
lefty_jake: Many after defeating Berrara, could we see another fight between the two of you in the near future? thanks...
Manny_Pacquaio: It seems right now that I'm fighting Larios, and then I'm fighting Morales. After that, I'm busy with those fights, but I would like to fight Barrera again to prove once and for all that I'm the better fighter.
bknumber1: Magandang gabi Pacman! My wife and her family are immigrants from the Phillipines and we all love you. I have never seen my wife so angry as when she saw you get screwed in the Marquez fight! What is the top weight for u? God bless and good luck! Mike~
Manny_Pacquaio: Thanks for the support, and again, I'm really comfortable at 130.
vicman: Manny its been reported u like the night life. whats your favorite beer? Did use to get into a lot of street fights growing up? Wheres your favorite place to visit in Asia? Are you human or a terminator robot? i never seen u show emotion or hurt in a bout
Manny_Pacquaio: I didn't get into many fights growing up and my favorite beer, the only beer, is San MIguel beer.
Manny_Pacquaio: My favorite place to visit in Asia is Thailand, Hong Kong and Japan
hitman_hatton1: have u seen the marquez-chris john fight and what did u think??? would u consider fighting chris john after the morales fight???
Manny_Pacquaio: I have not seen the fight...who? Just joking.
Manny_Pacquaio: I have to fight Larios, Morales, and Barrera. If Chris john is still around, then maybe.
Flipson: How you doing Manny? This is Flipson a huge fan of You! Will you be in 100% Condition in july 2nd, to fight "Chololo"? and how's your training so far?whats your tactics to bring him down? Good Luck!
Manny_Pacquaio: Of course. Right now i'm working on that. I should be at 100% come fight time
boxing_fan: Manny who do you think are the top 5 boxers today other than yourself?
Manny_Pacquaio: Mayweather, Wright, Barrera, Hatton, and DLH
naqvu: WHO IS THE HARDEST HITTER U HAVE EVER FACED? WHO IS YOUR FAV FIGHTER OF ALL TIME?
Manny_Pacquaio: They all hit pretty hard. My favorite fighters are Trinidad, DLH, and Tyson.
eazy@cali#1: WHo do you see, pound 4 pound, giving you the most trouble, and who gave you the most toughest fight in your boxing career? and which mexican fighter of all time would give you the most trouble?
Manny_Pacquaio: I can't think of anyone right now that would give me trouble
Munoz520: Would you ever move up and fight Mayweather Jr. at a catch weight sometime in 2007 or 2008? Mayweather could make 140 with no problem so meeting at catch weight would make for a great fight between the top two pound for pound fighters.
Manny_Pacquaio: Im willing to fight anyone at any time, but fighting someone at 147-154 probably won't work.
thehype: Boxingtalk would like to thank Manny Pacquiao for taking time out to chat with us tonight
Manny_Pacquaio: Thanks Boxingtalk for having me. See you soon :)