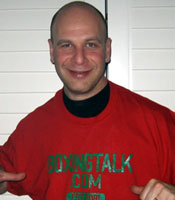 "Paulie will prove he's world class on Saturday and haters like you will eat their words."
thehype: Boxingtalk would like to welcome Lou DiBella to tonight's T.N.T. chat session
LOU_DIBELLA: Sorry I'm late. I was in heavy negotiations working the opening fight for the August 5 Quartey-Forrest card that will take place on August 5 at MSG
Titlebelt: Lou, Paulie is talking so much now, that if he doesn't back it up, no one will ever believe his proclamations before a significant match again. In your opinion, is this overwhelming confidence or good promotion?
LOU_DIBELLA: In his case, it's overwhelming confidence. But if he doesn't back it up, I agree with you that he's in for some heavy shit.
aspistasvic: hopkins twice now winky tough schedule. when can a brother get a brake? whats your educational background?
LOU_DIBELLA: Regis High School, Tufts University and then Harvard. So I'm smarter than I look.
LOU_DIBELLA: You're right. It's a tough schedule, but when he beats Winky on HBO, we have a new superstar in boxing.
LOU_DIBELLA: After Winky, his next fight will definitely be in Little Rock.
LOU_DIBELLA: It won't be a stinker, but it won't be King Kong.
LOU_DIBELLA: Juris Stockton
Jason: What up Lou Will you get Augustes back on tv soon
LOU_DIBELLA: Yes. He deserves to be back on TV. I'm trying to get him a rematch with Burton or the kids ass he kicked in Texas. I'm trying to get Emannuel that well deserved money fight.
Boxing101: Rumor has it you are cashing out on Paulie this weekend. What's the back up plan once Cotto crushes him?
LOU_DIBELLA: The back up plan is to laugh at you when Cotto can't crush him. Paulie will prove he's world class on Saturday and haters like you will eat their words.
LOU_DIBELLA: If Cotto crushes him he would deserve props, but I don't think that's happening.
CalzagheOWNSboxing: Lou do you think the takeover of the Heavyweight division by Slavic fighters is bad for boxing in america???,Its seems like its hard for eastern euro fighters to become stars in america.
LOU_DIBELLA: The takeover of the heavyweight division of anything but Americans is bad for boxing in America. What's particularly bad is that there isn't a Lennox Lewis or any other fighter that captures the public's imagination.
LOU_DIBELLA: This is a weak heavyweight division.
hitman_hatton1: would u make a jermain taylor-joe calzaghe fight in the uk if the money was right? good luck to paulie on saturday, i think he'll need it lol
LOU_DIBELLA: Yes.
LOU_DIBELLA: Two fights...one defense and one at 168, but the money better be good.
LOU_DIBELLA: Jermain Taylor isn't afraid to fight anyone anywhere. It's all about the Benjamins.
lacyfan716: Mr Dibella Do you think you should have put jermain taylor in there with winky wright after his 2 close fights with bernard hopkins doesn't he deserve a make money in his home town against a top ten opponant type fight?
LOU_DIBELLA: That was the original plan, but my fighter wants to fight the best and I was able to negotiate a tremendous economic deal with little risk. But not only that, he's going to beat Winky's ass and Jermain knows it.
magic_man: yo lou whats good, how does it feel to be associate with the new delahoya,after he win saturday will u get with arum to make acastillo fight. watch your back with arum hell steal paulie away from u. paulie will save boxing now that delahoya is retired soo
LOU_DIBELLA: I'm not looking past Saturday, but if Paulie does what we think he's going to do, then Ricky Hatton is an easier fight than Castillo.
LOU_DIBELLA: Isn't Castillo a 154 pounder?
chea!!: how has taylors camp been going have u seen alot of significant changes now that emmanual is on deck
LOU_DIBELLA: Kronk Gym is a different environment than the gyms he's worked at before.
LOU_DIBELLA: Emanuel is Emanuel so things have been great and it's been a tremendous camp.
godi: After beating Winky who's next for Jermain. Sturm, Abraham? or even a fight with Joe Calzaghe? Whats next for Jeff, a fight against Kessler?
LOU_DIBELLA: We would love to fight Sturm in America, but his people are too smart for that. We're not looking past this fight, but his next fight will be in Little Rock, Arkansas.
ck1: andre berto is your best 147 lb fighter, how long before he starts fighting the best and gets into title contention?...i know he will be a champ and possibly best p4p one day soon..see u in memphis
LOU_DIBELLA: We agree on that. I would put him in with Pedro Feliciano in the next three or four months and he should be in title contention in roughly a year.
SloneArt.com: Hey Lou, thanks for joining us here, we appreciate it. As a promoter what is the main thing you've learned since leaving HBO? Are you still enjoying boxing?
LOU_DIBELLA: That there are a lot more nasty motherfuckers than I thought. Disloyalty and dishonesty is as rampant among fighters as it is with anyone else in boxing. I also learned that there's a lot of good people and you could have a lot of laughs
LOU_DIBELLA: So yes, I still enjoy it.
thehype: Boxingtalk would like to thank Lou DiBella for taking time out to chat with us tonight