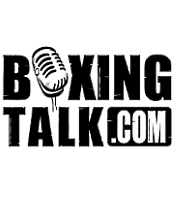 "I would move up to 140lbs to fight Hatton"
thehype: Boxingtalk would like to welcome Juan Diaz to tonight's T.N.T. chat session
JUAN_DIAZ: What's up Boxingtalk?
fausto: juan, fellow texan here! you are a very entertaining fighter and i can't wait to see you fight again on tv. what happened with the ebo elder fight? when you guys gonna get it on? who would you like to fight corrales or castillo?
JUAN_DIAZ: The Ebo Elder fight fell out because it was a one time thing.
JUAN_DIAZ: Ebo wasn't the mandatory.
JUAN_DIAZ: He has a fight coming up in the WBA.
JUAN_DIAZ: If he wins he will get the opportunity to fight me
JUAN_DIAZ: Either of them guys that give me the opportunity first I would fight
mandojr: juan are you still going to college
JUAN_DIAZ: Yes I am. I took the summer off but I start back in August again
pbc: Juan what has een you hardest fight so far and who will win Hopkins-Taylor and the Chico-Castillo rematch?
JUAN_DIAZ: My hardest fight I would have to say was when I was 17 years old against Ubaldo Hernandez
JUAN_DIAZ: It was the toughest because it was the 1st time I got knocked down in my pro career
JUAN_DIAZ: I'm going with Taylor because I think youth is going to win it in this one.
JUAN_DIAZ: I'm also picking Castillo in the rematch.
boxfan: WOULD YOU FIGHT MORALES at 135 IF YOU HAD THE CHANCE JUAN?
JUAN_DIAZ: I would love to fight any of those guys. I would fight Morales or Barrera
JUAN_DIAZ: Alot of guys still think I have the diapars on but I'm ready fight any of those top guys
ringsidemike: Juan, how much longer do you want to fight?  When you retire, how do you want to utilize your education to give back to Houston and local boxers?
JUAN_DIAZ: I plan to fight for another maybe 8-10 years
JUAN_DIAZ: I've been doing it sionce I was a kid so I have another 8 years in me
JUAN_DIAZ: As far as being a lawyer there are alot of people that need lawyers and can't afford it and that's where I come in to help out in the community
Roberto_Duran: would you be willing to fight marques or paquio at 135?
JUAN_DIAZ: I think that Pacquio is very strong and so is Marquez
JUAN_DIAZ: Whatever opportunity comes first I would fight either one
boxingman22: Juan Diaz, wsssssup? Anyhoo, we're the same age and at a university like you. My question is, when will you pick up the action in terms of the amount of fights you will take on and who is flying under Juan Diaz's radar? And a side question: who wins in this fantasy matchup: barrera or mayweather.
JUAN_DIAZ: Right now I plan to fight about 4 times a year.
JUAN_DIAZ: Those are my teams plans.
JUAN_DIAZ: All these champions. Morales, Barrera, Castillo or Coralles. I would love to fight any of those guys
JUAN_DIAZ: The only guys calling me out are the ones who don't have much to offer. Give me a chance to fight them.
nardfan_: Whats up Juan?I like your style and hope your injuries are heeled.How difficult is it for you to fight and go after a degree?Much props for that and who do you enjoy watching fight now?You're probably one of the only fighters who type his own shit!Good Luk
JUAN_DIAZ: Getting my degree and boxing at the same time is not easy but it keep my occupied
JUAN_DIAZ: School and boxing go hand and hand
JUAN_DIAZ: school keeps me in boxing and boxing keeps you in school
JUAN_DIAZ: I like Ricky Hatton right now.
Titlebelt: Juan, did you ever find the perpetrators who stole your belt?
JUAN_DIAZ: No I never found out who it was. I did get a duplicate. I had to buy it but I got it back. Thanks.
Jermaine: do you feel you have the heart/courage to be the greatest lightweight of all time? is that  your goal? and what would you do to beat mayweather if u guys were to fight? i have mayweather beating u
JUAN_DIAZ: You know I do want to be the best lightweight
JUAN_DIAZ: I have not really thought about that much
JUAN_DIAZ: My goal is to unify the division
JUAN_DIAZ: As far as Mayweather goes I don't think we'll meet anytime soon because I'm sure he's moving to 147lbs looking for bigger and better fights
Sunny: Will you move up in weght, or will you stay at 135?  Do you feel that you are being overlooked by Corrales and Castillo right now?
JUAN_DIAZ: I think so. All the champs close to the lightweight division are overlooking me.
JUAN_DIAZ: They're not thinking too much about me.
mikey: Do you see yourself unifying any time soon?  And when/who will you fight next?
JUAN_DIAZ: Those have been my plans since the fight after January to unify.
JUAN_DIAZ: Next saturday I fight Arthur Cruz and after that whatever fight comes up I'll fight it.
kover: im good, my questions already been asked, ill just say good luck to juan
JUAN_DIAZ: Thanks kover
fausto: what do you do to pass the time when not in training or school?
JUAN_DIAZ: When not in training I do go to school. In the summer I just relax and just do what I enjoy. Bowling, fishing and going out once in a while.
mandojr: Juan Diaz love the way you pound the body keep it up, and I was inquiring about your education earlier because when I first heard of you, I heard you were going to school for Civil Engineering, I will be graduating this August with a BSCE
JUAN_DIAZ: No actually I changed that about two years ago. I was doing that but I want to be a lawyer.
JUAN_DIAZ: Good luck
pbc: do the ringcard girls distract you
JUAN_DIAZ: Not at all. I'm focused. I worry sometimes when you see them at the weigh-ins but once in a fight that doesn't cross my mind.
boxfan: would you ever consider a move up to 140?And if so what would it take for you to make the jump?
JUAN_DIAZ: Right now I feel very comfortable at 135lbs but if the right opportunity like the fighter I enjoy watching, Ricky Hatton I think it would be a dynamite fight. Punches thrown everywhere.
JUAN_DIAZ: I would move up to 140lbs to fight Hatton.
ringsidemike: Juan, tell us about Genaro Alarcon, is he a relative?  Also, when is Jose gonna get signed by Main Events?
JUAN_DIAZ: Genaro Alarcon is my cousin. He's 17 and we thought it was time for him to turn pro.
JUAN_DIAZ: He will debut on the July 16 when me and my brother fight.
JUAN_DIAZ: It would be great if Main Events signed him but our manager is taking his time for the best deal for my brother right now.
boxingman22: Juan I have much respect for you for being articulate and level headed. Im pretty sure you're typing your responses right?I hope you're not pulling a Mosley and have R2D2 typing your responses. Also, whose top 5 in your pound for pound?
JUAN_DIAZ: Top 5 pound for pound right now I would go with Hopkins, Mayweather, Morales, Hatton, Corrales.
nardfan_: Whats up Juan?Where you gettin it handed to you in sparring when you got cut?
JUAN_DIAZ: It wasn't that it was getting handed to me. It was the second time I fought a southpaw so I wanted some tough guys to move with.
JUAN_DIAZ: It's not that he hit me with a punch. He threw a punch, I slipped it and he caught me with the end of the glove and cut me.
Titlebelt: Juan, would you also move up to 140 to fight Carlos Maussa?  Say it with me, Maussa is the Man... Woooooo!  Thanks, champ.
JUAN_DIAZ: I don't know who he is so I would not be able to answer that question.
JUAN_DIAZ: Oh, he's not really known
Jermaine: do you think you have the skills to beat a Pernell whitaker or Roborto Duran?
JUAN_DIAZ: Right now I'm thinking if I was to fight a guys like that I would give them good fight.
JUAN_DIAZ: I don't know what the outcomes would be but it would be great fights between us.
Sunny: Is the Hatton fight necessary if you can not get a fight with the winner of Castillo/Corrales?  Do you feel that your chin can hold up against Corrales?
JUAN_DIAZ: It's not nessecary for me to fight him but the fight will boost up my name and let everyone know who I am in the boxing world.
JUAN_DIAZ: My chin will hold up because I've been knocked out before and proven I can get up.
Sunny: knocked out?
Sunny: you mean knocked down, right?
JUAN_DIAZ: yes down, sorry
mikey: what was it like watching corrales-castillo as another title holder at 135
JUAN_DIAZ: As a fan you're just glad to be watching a fight like that and as a fighter you hope not to be in any fights like that.
fausto: so what are you going to do with your degree champ?
JUAN_DIAZ: My main goal with my degree is to help people that can't represent themselves.
JUAN_DIAZ: Alot of minorities are ripped off and misrepresented and I want to be that guy when I do get my degree.
mandojr: After you destroy Prawet Singwancha, can you please fight Frietas and work your way up. Will you ever come fight in Corpus Christi TX (about 15 minutes from my town Robstown)
JUAN_DIAZ: That's what we're trying to work out right now because Freitas doesn't have a name to fight right now though he's fighting on the 16th.
JUAN_DIAZ: I would love to fight Freitas.
JUAN_DIAZ: I would love to fight in Texas but that up to the promoters. I just fight wherever they put on the shows.
boxfan: which fight would would you consider your signature win up to this point?Lakva Sim or Billy Irwin?
JUAN_DIAZ: Lakva Sim because alot of people saw him as a tough guy. Hard puncher and alot of people didn't expect that win.
JUAN_DIAZ: I still have alot of people talking about that fight.
pbc: whats the best way to get conditioned for fighting lots of sparring or running?
JUAN_DIAZ: I do the stairmaster which alot of fighters still believe in old ways but I do stairmaster and swimming which keeps me in great shape.
JUAN_DIAZ: Also my sparring, and mitts plus heavybag.
ringsidemike: Juan is it true you wanted to pull a JC Chavez and put on some makeup and fight anyway!?
JUAN_DIAZ: I told the doctor to stitch me up and I would fight.
JUAN_DIAZ: I was focused and ready and that had not happened in 27 pro fights.
JUAN_DIAZ: But the doctor said no so we had to cancel the fight.
boxingman22: Its Boxingman22 again: Which musicians do you listen to on a routine basis? Also, what do you think of Vitali Klitschko as a champ? Would you modify your fighter selection after him?
JUAN_DIAZ: Vitali is a good champ. The only thing is that he gets tired in fights.
JUAN_DIAZ: I like 50 cents, LL Cool J and alot of rap artist that are hitting right now.
Sunny: I am an Amateur boxer, what advise can you give me?  How many amateur fights did you have before turning pro?  When did you have your first amateur fight?
JUAN_DIAZ: MY first amatuer fight was at 8 years old.
JUAN_DIAZ: I had 110 amateur fights.
JUAN_DIAZ: The best advise is to train hard and listen to your trainers.
JUAN_DIAZ: get as many fights as you can before going pro. It will turn out better for you in the pros.
Titlebelt: Juan, With your boxing career taking off, what year do you anticipate obtaining your degree?
JUAN_DIAZ: About 2 years and starting law school right after that.
mandojr: your awesome Juan Diaz I really hope the Best For You
JUAN_DIAZ: Thanks. I appreaciate all the support for everything.
thehype: Boxingtalk would like to thank Juan Diaz for taking time to chat with us tonight
JUAN_DIAZ: Thanks Boxingtalk for having me.