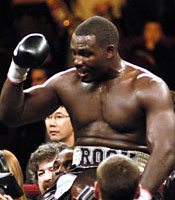 Original Chat Session on October 21, 2004
thehype: Boxingtalk would like to welcome Hasim Rahman to tonight's chat
HASIM_RAHMAN: What's up? How's everybody?
Bernardo: What's good Rock...you have a really good jab, and a good straight right (when you decide to throw it), but how come you don't use a quick hard left hook or uppercuts with both hands?
HASIM_RAHMAN: Actually, I've been working on every punch and those are punches yhou will see me throw in my future fights and every fight I have.
Bernardo: use the hook rock!
HASIM_RAHMAN: I'm going to use that hook, the uppercut, the body attack, I got a whole aresenal and we're not going to cheat the fans.
mino: who your toughest comp out there rock?
HASIM_RAHMAN: I would have to say Klitschko. He's probably the toughest guy out there. Chris Byrd poses a problems to every fighter.
HASIM_RAHMAN: Klitschko would probably be the one though.
nardfan: What up Rock?What happen in the Lewis rematch were you not motivated?
HASIM_RAHMAN: I just thought all I had to do was so up and hit him. The first hook I hit him with buckled him and I just got careless and I was so relaxed that I forgot he was a big puncher in his own right.
Bryan_AKA_Superman: Rock, how are you doing bro?  Good to see you getting back into the heavyweight landscape once again.  I thought you beat Tua in the RE and you even dropped him in the 12th.  What do you know about Kali Meehan?
Bryan_AKA_Superman: and how many more fights before your next titleshot?
HASIM_RAHMAN: I agree with that Tua fight. Kali Meehan is a tough fighter and I'm looking to fight for the title in my next fight.
RealDeal: Since you fought them both, who did you feel was more skilled and complete, holyfield or Lewis?
HASIM_RAHMAN: I would definitely say Lennox Lewis.
HASIM_RAHMAN: I think he can control the fight using his height as an advatnage, plus he's much stronger than Evander.
RealDeal: thanks, good luck on the 13th
HASIM_RAHMAN: Thanks
Method: Rock, first and foremost, I gotta say thank you for dropping that big pussy Lennox Lewis like the limey cunt that he is.  My questions is two-fold:  First, what was it like working with BOuie Fisher (pros/cons).  Second, who are your favorite fighters to watch below heavyweight?
HASIM_RAHMAN: Your welcome. Bouie was an excellent trainer and it was an excellent experience working with him, I feel like I cheated myself with that opportunity, because I was coming in out of shape and I wasn't able to soak up what he was teaching me. It's my fault
HASIM_RAHMAN: that never worked out. I'm just looking forward to showing everyone Rock is back and I'm focused now...I would say Zab, Floyd, Cotto, Trinidad, Corrales are some of the guys I like to watch'
p4pKing: Hasim,Iknow u saw tito-mayorga. all i keep hearing is how he would ko hopkins the 2nd time around.i think hopkins would kill him! what do u think? As for u,I think you'll get upset b/c youre oponent is HUNGRY!!we know whos king,whos next king at middle??
HASIM_RAHMAN: Well, I believe Hopkins would not stand in front of Felix. He's got enough skill to win a decision. I respect your opinion and based on my recent  fights I could understand where you get that from but you couldn't be further from the truth brother!
jabmalassie: who is the biggest money fight out there for you????? What do you think boxing needs to bring it back to its glory days.???
HASIM_RAHMAN: I first believe I have to win a title and Tyson, was and still is the biggest attraction out there, but I think there has to be a world title on the line for it to happen.
HASIM_RAHMAN: I think boxing needs top fighters to fight top fighters. I think with the help of mainstream tv,  and exposure it could come right back.
Bx_VicNice: Rock Sup! I was curious do you party and slack off in the gym as it has been hinted in the past by some sources? and Do you feel you have to win your next fight by knockout or dominate impressively to build up your reputation again as a top heavyweight?
HASIM_RAHMAN: The answer is, I used to do those things. That's why there was that lull for a couple of years, but that's all behind. I believe my conditioning and my performance not only in this fight, but for the rest of my career will speak for themself.
C8======D: ay Rahman,  you seemed to be on a pie diet for the second Tua fight, what was you
HASIM_RAHMAN: Muching on everything. Steaks, every snack there is. I was eating what I wanted to eat and I couldn't get the weight off.
Bernardo: Hey Rock would you love to fight James Toney and why?
Bernardo: I heard u two are great friends hahah
HASIM_RAHMAN: Obviously thats a fight I would like if he wins the title. I'm looking to unify once I win the title. If he doesn't get a title, there would be nothing I'm interested in.
HASIM_RAHMAN: And that's James Phoney not James Toney.
mino: what problems, does Vitali pose for you and what can you do to counter them.....And can your boy get some tickets to the show...lol
HASIM_RAHMAN: His height is a problem in and of itself. You have to make him fight. I don't believe he's been in a real gritty fight other than the fight with Lennox and he was about to get stopped in that fight.
nardfan: Was it hard for you to take these fights for half the money im sure you had got accustomed to making or was it more like a reality check.What happened with Roger Maywhether?
HASIM_RAHMAN: I would say that it was both because I wasn't on top of the game so I didn't deserve to get paid. It was a reality check, I know where I was and I know that's where I would want to be. Once Iget this title, I'm going to get the paydays that I'm used to and
HASIM_RAHMAN: it'll be all good. That's why I took the path I took, because it was necessary. Roger is a cool guy we were just on two paths.
HASIM_RAHMAN: three more questions
byrdman: do you still hold a grudge against lennox and would you like to fight him one more time
HASIM_RAHMAN: How can I hold a grudge against someone who made me a millioanire? I can't hold a grudge against him, but of course I would love to fight him again!
byrdman: did you call him a fairy and piss him off when you brawled on espn set?
HASIM_RAHMAN: That brawl was real. The only reason punches weren't being thrown is because I didn't want to risk injuring myhand.
Method: Rock, who do tou spar with?
HASIM_RAHMAN: Ed Mahone, Zuri Lawrence, David Defiagbon and Stanley Allen.
AKay: just got in but wanna say Good luck to rahman
HASIM_RAHMAN: Thanks brother.
HASIM_RAHMAN: last question
Bx_VicNice: Rock will you have any open work out session in NYC? and Any prediction on your upcoming fight as far as your weight and the result of your win? Thanks again for answering in advance
HASIM_RAHMAN: I'm going to be between 235-240. I don't know about the workout situations in public but I wouldn't have a problem with a light publick workout.
HASIM_RAHMAN: I'm looking forward to knocking Kali Meehan out, thanks for having me Boxingtalk, I'll be back after I KO Meehan.
HASIM_RAHMAN: Peace
thehype: Boxingtalk would like to thank Hasim Rahman for taking time to chat with us tonight