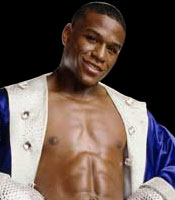 "I'm going to treat Arturo Gatti like a speed bag. I'm going to put him on a swivel and beat him to death."
thehype: Boxingtalk would like to welcome Floyd Mayweather Jr. to tonight's T.N.T. chat session
BoxingAfterDark: P4P KING!
ArturoGattiIsGod: Hey Floyd
FLOYDKILLSGATTI: floyd kills gatti
FLOYD_MAYWEATHER_JR.: What up baby! Glad to be on Boxingtalk
nardfan: What up Floyd,where did you and your pops go wrong.
FLOYD_MAYWEATHER_JR.: I love my pops. Me and my pops haven't went wrong. Pops is pops.FLOYD_MAYWEATHER_JR.: He always will be
superhigh: Floyd...whatz up Champ...after you whoop Gatti will you go up and fight your BOY Judah...do you lift weight??Peace Champ
FLOYD_MAYWEATHER_JR.: Zab is my man. Right now he's doing his thing at 47, I'm going to rule 40. If someone throws a bunch of money at us, we'll do it but right now we're just doing our  things.FLOYD_MAYWEATHER_JR.: Yes I lift weights, but nothing heavy.FLOYD_MAYWEATHER_JR.: I have a great strength trainer in Leonard Ellerbe. We work on different things and most fighters don't realize how strong I am until they've been in there with me.
ArturoGattiIsGod: Floyd why so much negativity in this promotion? Arturo respects you why not return the gesture?He has not dissed you at all.He has shown you major respect.
FLOYD_MAYWEATHER_JR.: I just gotta be myself. I'm not a fake person.FLOYD_MAYWEATHER_JR.: I call it as I see it.FLOYD_MAYWEATHER_JR.: If I think he's a bum he's a bum.FLOYD_MAYWEATHER_JR.: I respect him as a man but as a fighter he's a bum.
pound4pound: Floyd, its a pleasure I will gladly pay 59$ to watch you fight any time. Your the best  I personally think you should onyl fight on ppv. gatti has no chance with you so I just wonderd what kinda rides you got?
FLOYD_MAYWEATHER_JR.: Thanks for the support. You know me, I'm flashy and flamboyant. Bentley's, Ferrari's Phantom's...FLOYD_MAYWEATHER_JR.: you name it , I got it.
BoxingAfterDark: You've stated a few times that you'd like to fight Oscar de la hoya, shane mosley, and obviously that would take place at 147. No doubt there's unfinished business at 140, but why not go to 147, become a mandatory or wait for the WBC to order or mandate the fights?
FLOYD_MAYWEATHER_JR.: The fights at 47 are big money fights, I'm not just taking fights to take them. I'm elite and I'm just looking to get the best from now on. I'm looking to fight nothing but the best. After Gatti I'm looking for Kostya Tszyu.FLOYD_MAYWEATHER_JR.: I want Tszyu ASAP
jgoo: floyd, what fight out there do u think would be the hardest you to prepare for and who is the biggest name you have sparred with?
FLOYD_MAYWEATHER_JR.: I prepare every fight like it's going to my toughest, but I get up according to my competition. I think that Kostya Tszyu is the best person out there at 40, so he could get it next.FLOYD_MAYWEATHER_JR.: They say he's the best and I know I'm the best.FLOYD_MAYWEATHER_JR.: I want to test my skills against the best. I've had a lot of good sparring partners, there's a ton of them.FLOYD_MAYWEATHER_JR.: I would say Pernell Whitaker now that I think about it.FLOYD_MAYWEATHER_JR.: But I would never want to call him a sparring partner or anything, ut I've  been in there with the best.
FLOYDKILLSGATTI: Floyd first off i just want to say what a huge fan i am of yours.  im glad to see you finally get that pussy gatti in the ring, i know youll rip him apart, hes a fucking bum compared to you by far.  how many more fights do you think youll have at 140?P4P#1
jgoo: nice i feel u
FLOYD_MAYWEATHER_JR.: Thanks again for the support. I don't know how many more at 40. I want the best and biggest fights out there. I want Tszyu. I want to test his chin anyway. You know he's been down three or four times so I want  to check his chin. And if I can't get him ..FLOYD_MAYWEATHER_JR.: I want De La Hoya or shitty Shane Mosley
AKay: Floyd if Kosta Moves up and after you beat Gatti could you still make 135 and catch one of these dudes thats talking about going to 135 barrera, morales? Was up with holding belts in multiple wieght classes I know you could hold belts at 135,140,147 at once!
FLOYD_MAYWEATHER_JR.: I'm not going down chasing no one. If someone wants to move up so be it. But I'm only looking for the big fights that are out there. I'm a throwback from the old school, like Sugar Ray Robinson. These other cats stick around in one classFLOYD_MAYWEATHER_JR.: I move up, by the end of 2006 I'll have belts in four different weight classes.FLOYD_MAYWEATHER_JR.: And in just 10 years.
Trav: Floyd,  you are clearly the best thing going. Let me ask you a question if you fought sweet pea in his prime at 135 how would you beat him?
FLOYD_MAYWEATHER_JR.: WOW. It would be a great fight, a great, great, great, chess match. I'm like a modern day Pernell Whitaker with a lot of pop. That would probably be my toughest fight.
j.igle: My bad for earlier. will you shut vivian harris'smouth or will you and can you beat judah at 47?
FLOYD_MAYWEATHER_JR.: Vivian? Who in the hell would name their boy Vivian? I don't really know who he is. My people did some research on him and he's a belt holder in my weight class, but  if he keeps talking trash I might slap him when I see himFLOYD_MAYWEATHER_JR.: Has he ever been on HBO before though?FLOYD_MAYWEATHER_JR.: Who is he?FLOYD_MAYWEATHER_JR.: I've been world champion longer than he's been a pro probably.FLOYD_MAYWEATHER_JR.: I didn't even know who he was until someone pointed him out in a
byrdman: you and james toney are similar stylistically, where did you learn your style from? who did you watch tapes of or did it come naturally? also do you have an email people can drop a line to you at?..............
FLOYD_MAYWEATHER_JR.: It came naturally,I learned since I was a kid and my style has been honed over the years and now I've got it to a science. No other fighter can fight like me.
nardfan: What up Floyd,you can only do Btalk chats,p4p for p4p best site,you feel me?Do you ever come club in New Orleans and what will you come to the ring to?I like that RaekwonThe man like Floyd Maywhether."Thanks for coming!"
FLOYD_MAYWEATHER_JR.: Without a doubt baby. Boxingtalk #1 the best in the business hands down, just like ya boy Flamboyant. I got BIG plans for my entrance, but wait till you check out my outfit.FLOYD_MAYWEATHER_JR.: You know I'm a trendsetterFLOYD_MAYWEATHER_JR.: can't no other fighter do it like me.
superhigh: Yo...you are the real deal man...what's your favorite cobo to hit someone with?? and whatz your hardest punch..Floyd #4#
FLOYD_MAYWEATHER_JR.: I can do it all, my favorite punch is the one that hits you.FLOYD_MAYWEATHER_JR.: I'm a complete fighter and I can do it all, and come June 25 Arturo Gatti will see it.
ArturoGattiIsGod: All I want to ask floyd is when all is said and done do you really feel the negativity helps you or hurts you?You say arturo is a bum yet he sells out every fight, He sold this fight in 30 hrs.Maybe take a lesson.You are turning all T-O people hate U
FLOYDKILLSGATTI: atrurois, real fight fans appreciate Floyd and don't respect Gatti for his no skilled style
FLOYD_MAYWEATHER_JR.: First off, when has Arturo sold something by himself in one day. It wasn't by himself, it was with me. 41 of 45 have been on the East coast for him. He's a draw on the East Coast in the tri-state. But I don't look at it that way because if I fought in Grand Rapids every time out, I'd sell out. But I go all over, but I hope that you're sitting there ringside on June 25 so you have a good seat when I whip his ass.FLOYD_MAYWEATHER_JR.: Only 4 of my fights happened in Grand Rapids
southpaw: floyd howd you and diddy become  tight
FLOYD_MAYWEATHER_JR.: I've been knowing him for quite some time, he's flashy and flamboyant like me. Us young black millionaires gotta stick together.
BoxingAfterDark: Why do you think it is, that so many boxing website including Boxingtalk, has Bernard Hopkins p4p #1 and not Floyd?  And what are you thoughts on Bernard?
FLOYD_MAYWEATHER_JR.: I guess they respect their elders. Bernard Hopkins knows who the best is.
Elements: Floyd, that fast stuff that you do when you are training with roger, how does this help in a fight?  Is it just to misdirect the other fighter?
FLOYD_MAYWEATHER_JR.: It's part of my training. I'm able to throw combo's at will. I can do that with my eyes closed. God gave me this talent and I can't stop thanking him enough for it.
MrUnstoppable: Honor and a priviledge having you here, Floyd. You've proven yourself as one of the best pound for pound fighters of this era.  What do you have to do to complete the transition of becoming a mainstream crossover star to the general public? Best of luck...
FLOYD_MAYWEATHER_JR.: Continue to keep on being me, taking the big fights out there. I'm looking for NOTHING but the biggest and best fights out there. All I'm looking to do is keep on winning.
Trav: Floyd what was the hardest that you were ever hit. Sosa hit you pretty good.
FLOYD_MAYWEATHER_JR.: I don't know who hit me the hardest, I haven't taken too much abuse.
AKay: Floyd i want you to know Jersey is in here and we want you to whoop Gatti! lol
FLOYD_MAYWEATHER_JR.: I knew the whole state couldn't be against me. I'm going to treat Arturo Gatti like a speed bag. I'm going to put him on a swivel and beat him to death.FLOYD_MAYWEATHER_JR.: He's nothing but a punching bag.FLOYD_MAYWEATHER_JR.: He'll be having to see his plastic surgeon who did his nose job that helped him run away the first time.
FLOYDKILLSGATTI: Floyd rspect you for all the trash your talking about gatti give it to him more and more hes a bum
FLOYD_MAYWEATHER_JR.: I talk it and I could walk it, that's why I'm the best out here. 33-0 baby!FLOYD_MAYWEATHER_JR.: 34-0 come June 25FLOYD_MAYWEATHER_JR.: I'm going to punish this bumFLOYD_MAYWEATHER_JR.: He' won't see the distance
thehype: Boxingtalk would like to thank Floyd Mayweather Jr. for taking time to chat with us tonight
FLOYD_MAYWEATHER_JR.: Be good boxingtalk! I'll be back!