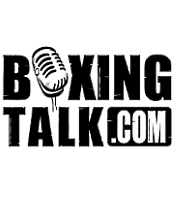 "I'm the first one who made him [Mayweather Jr.] bleed and I'll be the first one to bring him to his knees if he fights me again."
thehype: Boxingtalk would like to welcome Emmanuel Augustus to tonight's T.N.T. chat session
EMMANUEL_AUGUSTUS: What's going on everyone?
Purist: I was watching Legend of Drunken Master today and was reminded of u. Anyway, what went down between u and Elder in sapaerring u beating him dat bad?
EMMANUEL_AUGUSTUS: Nothing happened, I just came there to do a job and my job at that time was as a sparring partner. I understand the coach wanted the feel of a real fight, but there's certain things you don't say and his dad was trying to entice me
EMMANUEL_AUGUSTUS: The first day he was like good work, good work, then he got stupid.
nardfan: What up Emmanue?Great fight and way to show pity at the end of the beaten up warrior.How did you manage a double punch,while doing the wop?
EMMANUEL_AUGUSTUS: I can't leave them video games alone
EMMANUEL_AUGUSTUS: I like Tekken and Street fighter
EMMANUEL_AUGUSTUS: in this case Tekken 5
goldenboy: how are you able to train to win fights and still smoke weed?, athletes say smoke takes away years off your career and reduces your stamina
EMMANUEL_AUGUSTUS: I don't smoke no more, but when I did, I don't know man I can't answer that question. I know how I feel and I know how I feel about boxing. As long as it doesn't hinder from boxing, I'm straight.
EMMANUEL_AUGUSTUS: But kids don't do drugs
pbc: Emanuel u great man 24 loses dont mean shit. Did you investigate the judges and the ref for the burton fight because they were the worst i have ever seen. Also whats up with the crazy showboating? lol
EMMANUEL_AUGUSTUS: You can't investigate those people because they won't allow it. As far as the craziness, it's anything to keep my opponent off balance and whatever. Boxing is a robitic form and it can be tampered with. And if it can be tampered with, I'm doing it. I guess when I leave boxing, at least I'll leave my reputation behind me.
EMMANUEL_AUGUSTUS: I've added my own style that I've added, hopefully they don't disallow headmovement.
Elements: I go to Brazil a lot. There was no doubt to me that you are at least acquainted with some Capoeira type stuff.  Were you into this back when you fought Mayweather?
Elements: That was a great fight, would love you two to do it again. I asked Floyd about you, he gave you big respect man, said you could beat most of the boxers at 140. My girl is from Salvador Brazil, she said she would be glad to show you more (LOL)!
EMMANUEL_AUGUSTUS: Actually, a little bit further than that, but yeah I was practicing some of that to play with it in the gym.
EMMANUEL_AUGUSTUS: I look forward to that! As far as fighting Mayweather, I got to win the right fights and that fight with me and Mayweather could have gotten a lot furtther than that. I don't want to get into that because it upsets me when I think of it but...
EMMANUEL_AUGUSTUS: 140 is my weight class. I'm the first one who made him bleed and I'll be the first one to bring him to his knees if he fights me again
jermaine: hey emmanuel i seen you bloody up mayweather that was a great fight,when is ur next fight? can we see u fight b4 this year ends please?
EMMANUEL_AUGUSTUS: I might be fighting Kendall Holt on August 26, but that ain't done yet.
queencity: Whats up Emmanuel, you seem like you comming into your prime right now.  How do you think you would stack up against the top fighters in your division
EMMANUEL_AUGUSTUS: I think I'll beat em all. I think anyone would say that but I look forward to all challenges. I've been in with many styles but I'm trying to give it a good ass go and see how far I get.
EMMANUEL_AUGUSTUS: I do feel good and working with my new promoter Lou DiBella has been great.
nardfan: Emmanuel,i talked to you on the phone after the 1st chat you did.Whats keeps you grounded,and do you think you are to high of a risk for big name fighters now?You funny as hell too!
EMMANUEL_AUGUSTUS: I've always been too much of a risk to them but as long as I keep winning I've got a good promoter behind me that will make things happen for me. Seeing how he is welll known and well established in the industry I don't think they're going to be able to turn me down real easily for long. All I need to do is my part, win  and that's what I'm going to do, win. If I get Holt, I'm going for Mayweather, if he's scared to fight me again, let's go to Hatton. I'd prefer to fight Hatton first because this way he woulldn't be able to stay away from me if I have a belt.
EMMANUEL_AUGUSTUS: And if anyone can make that fight happen, Lou DiBella can.
pbc: Emmanuel how many of your loses do you beleive to be legit? Do you think u can get a fight on with maussa because i think u could beat him and get a belt
EMMANUEL_AUGUSTUS: 4 and don't ask me who they are, I don't remember. Hey, I probably would beat him down but everytime I'd ask they'd come up with an excuse. I would fight anybody, I heard he has an awkward style, but it can't be more awkward than mine.
goldenboy: If you could make your own dream fight, who would you fight and why? thanks for coming on
EMMANUEL_AUGUSTUS: Ali. I think I would like to fight him right about his prime. Maybe a little bit before. Back then he had a lot of good speed
jermaine: emanuel my girlfriend wants to kno why your cornows look so kinky? you still my nigga
EMMANUEL_AUGUSTUS: I don't know. I guess my hair's not long enough yet.
thehype: Boxingtalk would like to thank Emannuel Augustus for taking time to chat with us tonight.
EMMANUEL_AUGUSTUS: Peace out man