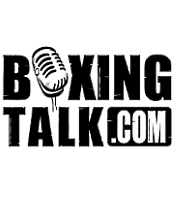 Original Chat Session on November 2, 2004
thehype: Boxingtalk would like to welcome Emanuel Augustus to tonight's T.N.T. chat session
EMMANUEL_AUGUSTUS: Hello to everyone, even those who don't like me.
EMMANUEL_AUGUSTUS: It's a honor to be here.
nardfan: E.a you are very hardnose who did you watch growin up
EMMANUEL_AUGUSTUS: I watched Kung Fu flicks the kind where dudes still be fighting in the air. In my first street fight I fought like dudes in the movies! I fought with my hands down, I only got the defense part,
EMMANUEL_AUGUSTUS: I didn't understand how to hit but I won my first fight without throwing a punch.
nardfan: love watchin you fight
EMMANUEL_AUGUSTUS: Thank you brother, what is it you like the most?
EMMANUEL_AUGUSTUS: This way I can have an idea of what to do more of?
Praise_Him: Hey Eman I would just like to ask in what direction do you see your career going from here? what goals would you like to accomplish at this point in your career? GOD BLESS
travismarks@hotmail.com
: i have a question
EMMANUEL_AUGUSTUS: I know where I would like to see my career go. I would like it to pick up by joining up with Lou DiBella and having him help me get the fights that bring big money. I want to keep living and retire a grateful man.
EMMANUEL_AUGUSTUS: If things keep going the way they going it will be nothing but more controversy and if that happens I see the refs and judges and commissions beating me. Not the fighters.
EMMANUEL_AUGUSTUS: They always have help from the judges ref and promoters.
EMMANUEL_AUGUSTUS: I'm trying very hard to get this thing with DiBella done. The longer I wait the worse things get for me.
Method: Emmanuel, who do you spar against, or, rahter, what big names have you sparred with and how were the experiences.  Who are your favorite current fighters to watch?
EMMANUEL_AUGUSTUS: I sparred with Kostya Tszyu, De la Hoya, Cotto, Leija, Judah, Vanda,
EMMANUEL_AUGUSTUS: Barrera and many of the other Mexicans from the lighter weight classes.
EMMANUEL_AUGUSTUS: They have their technique down a lot better.
EMMANUEL_AUGUSTUS: Barrera is my favorite one to watch,
Bryan_AKA_Superman: Emmanuel, how are you?  I will never forget your fight with Mickey Ward. That fight was unbelievably exciting! The decision in the Burton fight was total BULLSHIT bro. What do you see happening in your career in the not too distant future? Who's next?
EMMANUEL_AUGUSTUS: That all depends on how well me and Lou DiBella can hook up. Basically, I'm on standby with Lou DiBella, whatever he got planned, that's basically the route I'm going to go. If we can't do nothing, then it's back to the drawing board.
EMMANUEL_AUGUSTUS: Last minute fights, getting robbed on the decisions. You know the usual.
Bryan_AKA_Superman: 135lbs?
Bryan_AKA_Superman: is that where you will be campaigning?
EMMANUEL_AUGUSTUS: no. it's not my weight class. I fight better at 140
EMMANUEL_AUGUSTUS: I'm not comfortable fighting at 135. People have told me if I lose weight I'd be stronger at 135, but that's just not the case with me. I don't like how I look there.
travismarks@hotmail.com
: manny it's honor. You are the true definition of a warrior. Who can forget ur epic battle of mythmic proportion against the great Micky Ward in 2001. I want to ask you how are you doing health wise? And with 59 pro fight, how much longer will you fight?
EMMANUEL_AUGUSTUS: Thank you first of all. Health wise I'm doing marvelous. Nothing is wrong with me physically, people have always called me crazy. I feel good, I will keep fighting until I can't see the punches coming.
EMMANUEL_AUGUSTUS: I will work with what I have and see how far it takes me. Shoo, I'm going to fight until the government won't let me.
deadlyonetwo3: Mr. Augustus, I'm a fan of yours and as a fighter who's in the gym consistent, I'm very impressed with your ring abilities. I was wondering what kind of amateur experiences you had? How long were you in the gym before you really felt confident in ur skil
EMMANUEL_AUGUSTUS: Not long in the amateurs at all. I walked in the gym, started at 17. The coach put me in there with a 14 year old who was a golden glove champion and we went six hard rounds. I fought amateur for two years and then I turned pro. My coach always used to
EMMANUEL_AUGUSTUS: tell me it's not about how long you've been fighting, it's about what you've learned.
nardfan: What part of Lousiana are you from?Have you ever been to Slidell?Do you hang out with other boxers?if so which ones.Good Luck!
EMMANUEL_AUGUSTUS: I was raised in various parts of Louisiana.
EMMANUEL_AUGUSTUS: I've been all over the place. I was at like five places in Louisiana
Praise_Him: has Lou let you know anything in regards to what it is you're looking for? have you stopped smoking? what's a weeks roadwork routine look like? GOD BLESS YOU!
EMMANUEL_AUGUSTUS: Yes I have stopped smoking, in face I regret smoking big time now because of the opportunities that have passed me by. It's unfortunate I learned things the hard way but it's better late than never. I haven't missed all of my chances yet either. It's on me
EMMANUEL_AUGUSTUS: to buckle down and get my mind right.
EMMANUEL_AUGUSTUS: I'm still waiting on the Michigan Commission to get it together, but I'm still right around my weight ready to go with anybody!
Bryan_AKA_Superman: would you fight Mayweather again at 140 and would you fight him differently?
EMMANUEL_AUGUSTUS: Man I would demolish him at 140. He doesn't want to fight me. He's happy I can't get in thereright now. I'd DESTROY him at 140.
EMMANUEL_AUGUSTUS: I was the first one to make blood come out of him and I'm still disgusted my corner stopped that fight. He talks about his hand was broke, but his next was about to get broke in the next few rounds.
EMMANUEL_AUGUSTUS: two more questions.
travismarks@hotmail.com
: in my opinion you are in the best division in boxing. Both from a level of skill and a level of competetiveness. Where do you stand in this division? And how would you match up against the top ten in the divison.
EMMANUEL_AUGUSTUS: I stand ready to fight anybody else in the division. I don't know about rankings but I'm ready to beat everybodys ass.
deadlyonetwo3: what do you consider you're biggest fight today, and what is it like fighting in front of bigger crowds, how does it affect your ability to perform, i feel at this point in your career it doesn't effect you at all but what was it like at first?
EMMANUEL_AUGUSTUS: I really consider the Micky Ward fight the biggest one.
EMMANUEL_AUGUSTUS: I've always fought for the people and I'm an entertainer first, I don't care about the politics of boxing, as long as the people feel they got their moneys worth.
thehype: Boxingtalk would like to thank the always entertaining Emanuel Augustus for taking time out of his schedule to chat with us tonight
EMMANUEL_AUGUSTUS: Thanks a lot everyone.