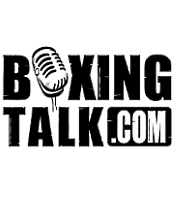 "I see that he's vulnerable for a number of things and we're planning to take advantage of all those things on Saturday night."
thehype: Boxingtalk would like to welcome DaVarryl Williamson to tonight's T.N.T. chat session
Rocky: TOS, Will you try to overwhelm Byrd from the start and get him out of his fight plan ? I think you have what it takes to win God Bless
DAVARRYL_WILLIAMSON: Absolutely. Thanks
Antonio00: Davaryl , WHats your prediction for Sat's fight
DAVARRYL_WILLIAMSON: A win..convincingly.
JohnnyDub: Hey Tos, tell me about what Coach George has meant to your career as well as your personal masseuse Leland has meant to your career? Drew Marie sends her best wishes
DAVARRYL_WILLIAMSON: Both coach George and Leland go hand in hand. Coach George has been a pertinent part of my career. He has been able to motivate me to no end. Leland has been able to get the kinks out.
DAVARRYL_WILLIAMSON: God Bless Her, give her husband kisses for me.
snapxl: davarryl are you worried about a bad decision because byrds last couple have been very questionable to say the least....i hope you put him to sleep
DAVARRYL_WILLIAMSON: Thank you very much. I'm not worried about any bad decision because I'm going to win convincingly.
#1boxing_fan: What is your favorite thing to eat the night before a fight?
DAVARRYL_WILLIAMSON: Chicken and Shrimp and some mashed potatoes and gravy, got have the greens...string beans or peas...maybe a tall glass of water and apple juice and orange juice mixed.
George_M: Hi Davarryl, who do you look forward to fighting after Chris Byrd ?
DAVARRYL_WILLIAMSON: no one. All I'm looking for is Byrd, Byrd, Byrd.
lilyoungin: williamson: do you listen to go go and who is your favorite band from d.c.  THX   5-double-0 4 ever
DAVARRYL_WILLIAMSON: Chuck Brown and the soul searchers 4ever
Adam_Gambuzza: Hey Davarryl, how do you plan to take on Chris Byrd's speed? Are you planning on boxing or brawling?
DAVARRYL_WILLIAMSON: Probably a bit of both. I'm going to have to outsmart him and be  a better boxer, brawler and mover than him. I will stay two steps ahead of him the whole night for the whole fight
E-Rock: DW when you say you'll win convincingly do you mean we'll be treated to a KO? God Bless you.
DAVARRYL_WILLIAMSON: I don't want to predict a ko, but I will confidently pick a convincing win. There won't be a shadow of a doubt in anyone's mind. Including the Byrd camp.
d-downs: Bryd is a VERY beatable fighter yet he's the longest reigning current champ. How will you take advantages of his weaknesses?  Too many opponents have been content to stay on the outside and let him throw weak jabs and single shots from distance. Punish him
DAVARRYL_WILLIAMSON: You hit it on the head. You have to be aggressive and beat him to the punch and beat him at his own game. Sometimes you have to box, sometimes you have counter and be ready to punch, with him after him and before him.
Eliott_El_Angel_Salter: Williamson u have my respect as a boxer...did u stay in the amateurs to long? What age do u recomend leaving amateurs?
DAVARRYL_WILLIAMSON: I didn't start boxing until the age of 25. I had the opportunity to earn my masters as well as prepare for the 1996 Olympic Games, it was a deal I couldn't beat with a bat. I stayed until I accomplished my goal of getting my masters and I want to tell you  that it wasn't a moment too late because I'm going to win the heavyweight championship of the world. Stay there until you feel you perfected your craft and feel ready for the next level.
exxfactor: davarryl, gluck for ur fight bro, if u get a chance will u try to ktfo byrd?
DAVARRYL_WILLIAMSON: Absolutely.
fausto_in_dallas: yo d, punish him! i want someone who can get in there and mix it up instead of bitching and moaning about their promotional situation. nobody told him to sign the contract. ko his ass!
Dus: Hey Davaryll, been a fan of yours for a few years now. Have you been watching any tapes on Byrd lately and if so what have you seen? p.s. he's a sucker for the left uppcut, good luck champ
DAVARRYL_WILLIAMSON: Will do fausto. I have been watching films of Byrd. I see that he's vulnerable for a number of things and we're planning to take advantage of all those things on Saturday night.
DAVARRYL_WILLIAMSON: Including the left uppercut!
sean: DAVARRYL.  Way to represent for Denver.  Thoughts on Byrd's strengths in relation to your fight?  Thoughts on Klitschko Peter given that you have been in against Klitschko?  Have you worked with Ron Lyle at all?  I'm sure you know he has a gymn in town.
DAVARRYL_WILLIAMSON: I think he's fast, I think that he has the mentality coming in being a southpaw that he has the advantage. He's elusive and I will find a way to overcome those advantage and come out victorious on Saturday night. I have no thoughts on Klitschko-Peter.
DAVARRYL_WILLIAMSON: it's just Byrd, Byrd, Byrd for me.
jeremy_from_www.docsports.com: Davarryl, are you going to fight every second of every minute this weekend? It seems to me you're a good fighter when you are aggressive, but when you stay back, you get caught. Basically, are you going to take the fight to Byrd?
DAVARRYL_WILLIAMSON: I'm going to have to do a little bit of everything. I'm going to have to take it to him, back off, run him into punches. I'm going to have to be the better man and at my best if I'm going to be victorious.
C-Lo: Davarryl - I wish you the best of luck in your fight. I predict you will win via a 3rd round KO. Byrd doesn't stand a chance and doesn't deserve to have a belt. He is running away from everyone especially Wlad Klitschko.
DAVARRYL_WILLIAMSON: Thank you and I hope your prediction is absolutely right.
snapxl: davarryl  who did you spar with to get you ready  for byrd....and did you watch the tapes of him and ike....ike gave him no mercy i hope you do the same ...and did you know leavander johnson...(rest in peace champ)  good luck and god bless
DAVARRYL_WILLIAMSON: I did not get my hands on that tape. I saw the fights years ago, I watched his last five fights because I want to see how he's looked recently. His last four or five will indicate the patterns that he has that I'm going to take advantage of.
klitschko2005: davarryl what did u think of wlad perfronce
DAVARRYL_WILLIAMSON: I thought nothing of it, because I didn't see the fight. I was out with my wife and kids, we went to see a play called Wicked.
Dus: Hey Davaryll, I know you are concentrating on Byrd but are you looking to take out anyone specifically after him?
DAVARRYL_WILLIAMSON: I want to take out the biggest and baddest out there but it's just Byrd, Byrd for me and then after Saturday when you'll hear AND NEW then ask me that.
thehype: Boxingtalk would like to thank DaVarryl Williamson for taking time out of his schedule to chat with us tonight
DAVARRYL_WILLIAMSON: Thanks for having me.
DAVARRYL_WILLIAMSON: And yes their will be tears of joy for me on Saturday night!